According to a news report by Reuters, there is Tesla is in the process of designing a modernized Model 3. The news is said to come from a bunch of people who are well-informed on the redesign plan 'Project Highland' but wish to stay unnamed.
The world's foremost EV maker wants to reduce manufacturing costs and make their five-year-old electric sedan more attractive through this revamp.
Tesla Motors is one of the most innovative companies in the world. They have made significant advances in alternative energy sources and electric vehicle technology, with their flagship Model S leading the way.
Tesla is one of the few automakers that emphasize software updates instead of physical model changes when introducing a new design every year. By updating their over-the-air methods, they can stay up to date with innovative mechanics without having to replace parts over and again.
Tesla is aiming to roll out the new Model 3 from their Gigafactories in Shanghai and Fremont, beginning with Giga Shanghai by Q3 of 2023. Here's everything that we know so far!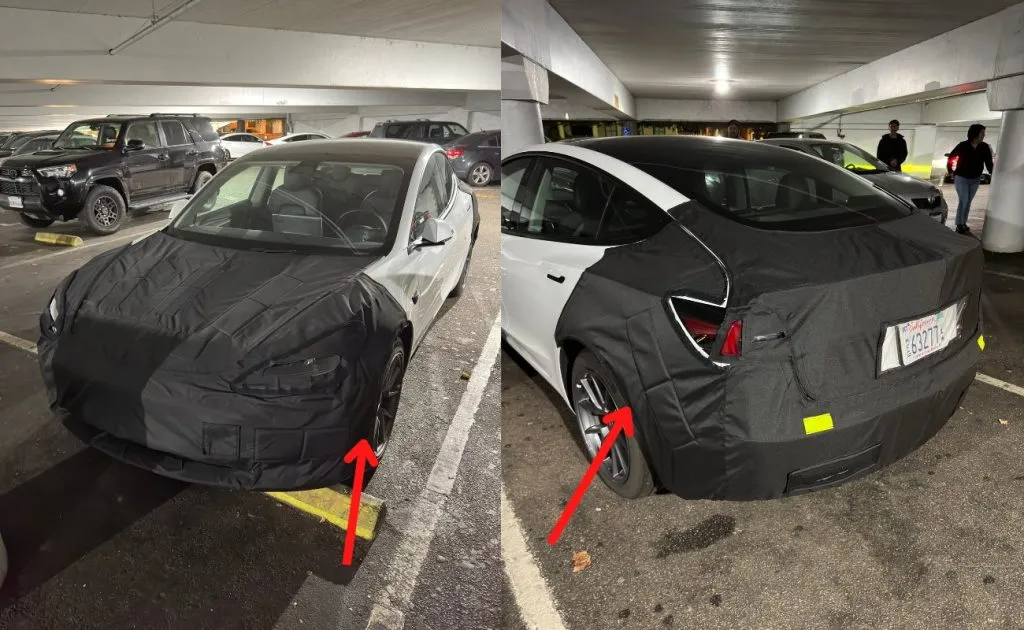 Project Highland
Late in November, Reuters reported that Tesla was internally engineering a revamped version of Model 3 with fewer components and enhanced infotainment systems. They also added that the redesign project has coined a name as well, Project Highland.
The news states that the information is coming out from those who are well aware of the plans but wish to stay unnamed as there is no official news so far. According to those familiar with Project Highland, alterations may be made to Model 3's external design and power systems.
Tesla's "Highland" redesign has aim to streamline the interior of the Model 3 while focusing harder on the feature that Tesla customers value most, its infotainment display. This will be done by minimizing components and decreasing complexity within the vehicle.
The plan seems to be hinting towards a more cost-effective and reimagined Model 3 to further excite Tesla consumers.
But is the news true?
The Tesla prototype was recently spotted in a parking lot of Santa Cruz, California by omg_Tesla/Rivian, a Twitter user.
What's going on here? @klwtts @WholeMarsBlog @teslaownersSV pic.twitter.com/uFpxcsVh4D

— omg_Tesla/Rivian (@omg_tesla) December 3, 2022
Could this be a glimpse of the much-anticipated Tesla Model 3 redesign?
As the alleged prototype has been spotted in Santa Cruz, California, and it just might provide the needed hints of the Project Highland.
The photos taken were undercover with camouflage but allowed some indication of the modifications that Tesla will bring about. One significant change may appear to be the camera near the headlight which could mean Tesla is working towards eliminating a possible blind spot for the current Model 3.
But Tesla has not made any public statement on the report, and there is no indication that Project Highland relates to the Model 3 or if it ever even existed.
Despite a lack of formal statements, it appears that the manufacturer is planning to adjust and launch an updated Model 3. When further looking into the details if this was really happening already, we discovered they were in the process of making changes to their GA3 (General Assembly Model 3) section at their Fremont factory.
Apparently, Tesla has put a series of applications in to put up a bunch of temporary tents to keep Model 3 stuff to become operational mid-year in 2023. The EV manufacturer had previously resorted to utilizing tents to expand the section of their factory where the Model Y is manufactured (aka the GA4.5 area).
At first, these tents were meant for temporary use only. But Tesla then eventually opted for keeping them as a permanent fixture and this could very well be the same thing that happens with the new ones.
Possible Changes in 2023 Tesla Model 3
The said reports from Reuters lack specifics about the redesign, but it does state that cost reduction is a priority and production at Gigafactory Shanghai and Fremont factory should begin in Q3 of 2023.
The news merely states that the Model 3 redesign could be inspired by last year's Model S makeover. However, all this info is without verifying if it will include the eye-catching yoke steering wheel—the standout feature of its redesign.
According to Ed Kim from Auto Pacific, Tesla likely intends to update the look of their vehicles as consumers tend to interpret physical changes in design as "newness." As a result, it is evident that Tesla accepts modifications are essential.
He said, "The upcoming changes that potential customers can see and feel will be very important in ensuring that EV customers still have Tesla at the top of their minds as truly excellent alternatives to Tesla are starting to flood the market."
It is rumored that the upcoming Model 3 and Y models will contain a dual gauge cluster display, touch-sensitive steering wheel buttons similar to those on the current Model S ad X automobiles, as well as a likelihood for a yoke steering.
Would you want a yoke on the upcoming Tesla Model 3?
It was with expectations that the recently revived Model S and X from Tesla would make a dramatic transformation, yet unfortunately only the interior of these vehicles was altered.
If Tesla is aiming for a simpler interior design for the upcoming Model 3, eliminating the stalks would definitely be an effective way to achieve this goal. Like we see on the current Tesla Model S, X, and Tesla Semi.
But coming back to the latest news of the sighting of the redesigned prototype might hint better at the possible changes that might be part of the project highland. The pictures from the post of the coveted Model 3 revamp prototype parked inside a parking lot that are doing the rounds on Twitter are from early December.
The said prototype car's front and back part is covered in black camo covers.
Interiors
Although the Model 3 prototype photos and video shows the car camouflaged, one cannot get a detailed look inside.
However, the inside looks similar to the current model and as no effort is made to keep the interiors hidden, so it's likely that no changes were made there. Yet!
Nevertheless, we do anticipate that this Model 3 refresh is not the true indicator of what would be changed in its upcoming interior design.
Exteriors
Even though its front and back sections were cloaked in camouflage, you can catch a glimpse of what appeared to be either an integrated camera or a sensor within the headlights. However, other than this detail it seems like the camouflage was successful in concealing any further information about its design.
How Different Could 2023 Refreshed Model 3 Be?
On the surface, Tesla updated the Model S and X's interiors when they refreshed them from a consumer perspective. However, underneath it, all lies an entirely remodeled vehicle as far as Tesla is concerned.
The vehicle has been completely redesigned with a new powertrain, battery pack, infotainment cluster, and several other savvy features which make it an entirely fresh build for the manufacturer.
If the Reuters report is verified, we should anticipate a new Tesla Model 3 with design cues from the updated Model S.
The exterior of this car is unlikely to have any aggressive major alterations, however, slight visually appealing changes inside can be expected. Inside the hood, significant engineering and platform advancements are anticipated that will lead to a more affordable manufacturing process for Tesla.
Tesla might save on production costs but a cheaper version of Model 3 looks like a far-fetched vision so far.
It appears that the Model 3 could be made using Giga Press, similar to Tesla's current production with the Model Y and upcoming Cybertruck production plans.
By Q3 2023, we will have a better understanding of the upcoming changes of this advanced car. Tesla may even incorporate 4680 cells and a structural battery pack for maximum performance in it.
What to Expect in the Future?
After five years on the market, Model 3 is still a best-seller in many regions. Despite no major design changes along the way, it continues to prove itself as an industry leader.
Undoubtedly, Tesla is aiming to lower their build cost and complexity for the Model 3 to reap greater profits.
But what we are trying to instill here is the fact that Tesla might be onto something with Model 3 in 2023 if you look at the efforts Tesla is making to put some change in its Fremont Giga Factory.
Teslarati claims that Tesla submitted documents to the City of Fremont as early as June this year, which had the title "Highland BL3 HOL Demo." The documentation included a description of the project:
"Demolition of existing equipment and utilities in preparation for new Hang on Line. Demolition of existing slab-on-grade, pit excavation, and construction of new concrete pit at the first floor of the assembly building."
Did you know?
The acronym HOL stands for "Hang On-Line," a method of assembly that Tesla's Fremont factory uses to produce the Model 3.
Teslarati states that Tesla's $20,000 Highland filing was also submitted recently on December 8 for the construction of Sprung Structures that will serve to accommodate equipment necessary for Model 3 production.
The news of such changes does give us some substantial pull to believe in the possible Model 3 revamp soon. Moreover, the prototype sightings add to the positive confirmation of 'Project Highland'.
It's essential to keep in mind that Reuters has not had a fantastic history of being right when it comes to those "exclusive" reports sourced from unnamed sources about Tesla. In fact, multiple recent stories have been proven false even with accurate evidence.
Bottomline
The real question is if Tesla's revision will be a major shift that customers need to adapt to or something so minuscule they may not even recognize it.
There are two possible outcomes: either the same look and feel of the Model 3 remain while changes occur behind-the-scenes for going toward more effective production, or there could be a completely new Model 3 design in comparison with what we are seeing for over five to six years.
Tesla is definitely bumbling and fumbling to keep its promises for quite some time now. Twitter's fiasco is not leaving Elon Musk alone, and many Tesla supporters are noticing a change in Musk's priorities.
Moreover, Tesla China is another story altogether, as they had to lower the price of Model 3 in China soon after its launch. One of the first for Tesla. Model 3 refresh can bring a fresh lease for Tesla to stay the top player of EV automaker globally.
Take Reuters Model 3 revamp news with caution for now. Also, there is so little information in it that could shed light on the specifics of the redesign. Except for the fact that Tesla is going to be keeping a cost-oriented focus for Model 3 and might begin production in 2023.
If all goes as planned, soon consumers will have access to an improved version of this renowned Tesla electric vehicle, but price cuts look still far away. Whatever is the case, what do you think Tesla is trying to do with its popular Model 3?
Please share your views with us!