Sony and Honda recently launched the revolutionary Afeela electric vehicle brand to take on Tesla in a direct challenge. These two big companies joined hands to make a new kind of electric car, and they want to have it ready for people to buy in North America by 2026.
At Sony's press conference at the Consumer Electronics Show in Las Vegas, Yasuhide Mizuno, CEO of the JV company, made a groundbreaking announcement that left everyone awestruck with Sony Honda Mobility.
He was there to proudly present what the JV would bring to the table by combining AI and interactive entertainment. He announced that to create an immersive experience, the car would leverage Sony's knack for entertainment, artificial intelligence, virtual reality, and augmented reality.
Kenichiro Yoshida, Chairman, President, and CEO of Sony Group Corporation left the stage with a promise of having more in store for EV lovers. He made it clear that collaboration with creators who create an emotional connection, also known as Kando, is critical to achieving Sony's Purpose of filling the world with emotion through creativity and technology.
Here's everything that we know so far.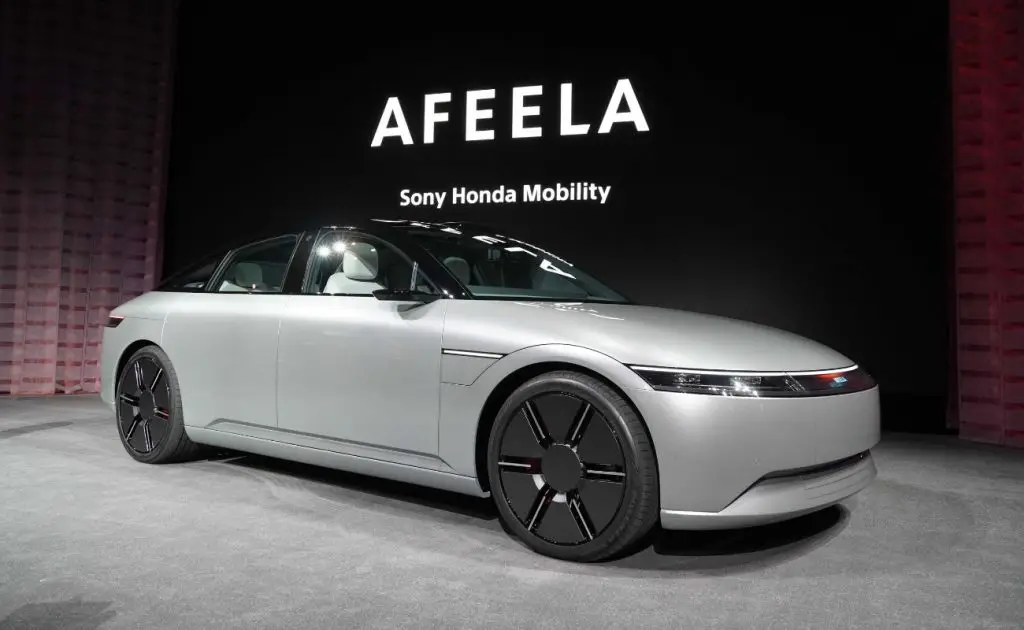 Sony Honda Mobility Joint Venture
Unveiling the venture's prototype, Sony Honda Mobility Chief Executive Officer, Yasuhide Mizuno announced that EVs bearing the new marque will capitalize on a combination of expertise from both Sony Group Corp. and Honda Motor Co.
He also mentioned how collaborating with Qualcomm and Epic games will help them to turn their EV dreams into a reality full of features and entertaining user experiences. He said:
"Afeela represents our concept of an interactive relationship where people feel the sensation of interactive mobility and where mobility can detect and understand people and society by utilizing sensing and AI technologies."
Sony has long been renowned for their reliable batteries, electronic devices, sound equipment, optics, and entertainment systems. Their music systems, cameras, and televisions are a testament to its legacy of excellence.
Sony is uniquely positioned to capitalize on the growing demand for electric vehicles, given its experience in entertainment technology and other electronic components required for building a kickass electric car with Honda.
At 2020's CES event, Sony presented their concept car – the Vision S electric sedan – to a shocked world audience. Although they made it clear that this was merely an experimental model and not intended for production, its unveiling certainly caused quite a stir at the time.
EV Brand AFEELA
The latest news has set the internet on fire with reports coming in on how Affela could become the new market leader of EVs.
Tesla is leading the pack for now.
By continually offering innovative games and enhancements, Tesla has redefined the in-vehicle experience for all drivers. Their commitment to providing a connected car journey is unparalleled – no matter how long you own your vehicle, there will always be something new to explore!
Afeela might just be the right combination of mind and design to define a new era of EV generation in the coming years.
Sony fully understood that creating an EV from scratch would be no easy feat; however, they cleverly devised a plan when forging a partnership with Honda and other market leaders to master the craft.
Sony would constantly update their Afeela vehicles, and Cristiano Amon from Qualcomm mentioned that his company's Snapdragon Digital Chassis was tailor-made to make regular updates possible.
Prototype Highlights
As the fresh Afeela logo and name were revealed, a prototype of what is likely a Vision-S concept car rolled onstage with an updated front end adorned by the company emblem.
Sony understands the worth of subscription services in its main line of business – entertainment, and it looks like a similar model will be used for Afeela cars too.
Many unique features could be unlocked with a subscription model just like Tesla cars, which come pre-equipped with Autopilot hardware but are only available once payment is made.
This approach provides consumers with the convenience of not having to make repeated purchases while still being able to access an array of specialized and advanced functions.
Design
Afeela prototype is a spacious luxury EV that will seat five and have an understated design aesthetic. The Prototype Afeela featuring a long black roof and smooth corners surely looks captivating.
Interiors
The venture states that the interiors of Afeela are an exploration of purity and gentleness, creating a rounded ambience that envelops its occupants in the comfort of a cosy cocoon.
The wraparound screen creates a panoramic view, and the ergonomic steering is said to be specially designed to reduce distraction from your peripheral vision. The entire dash of this vehicle is a stunning array of screens, stretching from door to door.
At first glance, the interface looks just like a PlayStation console screen.
Obvious, Sony footprint!
A sleek and sophisticated design. The simple patterns and shape resemble that of a spaceship, giving it an elegant yet modern look.
Boasting a sleek, understated design that rivals recent electric vehicles like the Lucid Air and Tesla Model S, this vehicle will surely impress. We are still uncertain of what it shall be christened when it is released for production.
Exteriors
Following the same structure as its predecessor, it features a raised lip in the front along with a black grille that stands out between air scoops which direct airflow to the wheels to provide extra stability while driving.
Clearly, Porsche and Lucid Air have served as major sources of inspiration for Afeela's design, from the front LED light bar to more intricate details.
Unlike Apple and Google, who are said to be looking after only the software part of their cars, Sony's involvement in the design and development process is prominent.
The headlamps are designed in a leaf-like shape, split down the middle by an eye-catching LED DRL strip or media bar forming the subtle Sony Mobility logo.
The Media bar is the most attractive feature of the car as you no longer need to make an effort to watch the score or get weather updates or find the charging level of your EV. You can get everything right standing outside of the vehicle with the media bar.
Imagine boasting this new feature to your friends while chilling with them outdoors.
With its sporty fastback design, the Afeela's exterior offers clear panoramic views. Its body displays a gentle yet powerful shoulder line under the windowsill, which is further emphasized at the rear end for an extra touch of style and strength.
Specifications
Little is known about the tech specifics of the Afeela electric sedan prototype. However, we can anticipate an immense battery of 100 kWh providing 500 km worth of range per charge along with electrifying acceleration capabilities.
Sony Honda Mobility (SHM) has set its sights on developing level 3 autonomous driving that is tailored to certain conditions and providing advanced driver assistance features such as level 2+ autonomy for cities and a variety of other scenarios.
Cutting-edge sensors, cameras, LiDAR sensors, and radar modules are strategically placed in vital areas to allow for semi-autonomous driving now with the potential for full autonomy in the years ahead.
This car is a sight to behold, measuring 4.895 meters long and boasting 21-inch alloys that provide an iconic look.
During the press conference, other executives and partners like Kim Libreri (CTO, Epic Games) and Cristiano Amon (President and CEO, Qualcomm Incorporated) joined in to share exciting details about the Afeela electric car.
Qualcomm will offer superior Snapdragon chips to drive the car's technology, while Epic Games will contribute to its Unreal Engine 5 for spectacular graphical interfaces.
They also mentioned that it would boast 45 sensors and cameras both inside and outside. The visuals and animations that you'll witness on the car's displays will be powered by the vehicle's operating system, with Unreal Engine 5 at its core.
Pricing & Launch
By partnering with Sony, Honda can expedite their transition to electric cars. Moreover, the venture will launch an EV at a premium price point that could potentially help Honda make headway in the luxury vehicle market. The Acura series has failed to make a mark in the electric vehicle (EV) industry, far short of their expectations.
We need to wait and watch for Afeela's price-point discussions.
The joint venture's CEO set concrete dates for Afeela's cars to launch on the market stating pre-orders will commence in mid-2025. He said the actual sales will be finalized before the year is out, and come Spring of 2026, North America will be the first region to get its hands on this amazing new EV!
What To Expect In the Future?
Sony is the leader in acing entertainment-based user experiences. The Afeela brand would offer its customers the latest in electric vehicles, designed and developed by Sony Honda Mobility.
In 2022 October, Sony and Honda announced their official partnership to provide first-rate EVs in both North America and Japan commencing in 2026. And in a matter of months, the new prototype unveiling is a fiery move to shake things up in the EV sector.
Unveiling the new sedan equipped with 45 sensors such as cameras and radar, joint venture CEO Yasuhide Mizuno said that the Afeela brand is an ambitious venture that could potentially revolutionize the electric vehicle market with its new approach.
Mizuno didn't offer very much explanation as to why the name Afeela was chosen, except to say that the word 'feel' is at the heart of the mobility experience they are looking to build, where the EV will create an experience and will also sense what you feel.
Collaborations with Epic games and having PlayStation integration right only confirm this thought.
Sony's comprehensive knowledge in image, networking, sensors and entertainment is joining forces with Honda's expertise in vehicle production, mobility technologies, and sales to create the groundbreaking Afeela electric car.
There is hope that people across the world would find the idea of incorporating the interactive "feel" into the driving experience, fascinating.
The revolutionary new model will be manufactured at one of the twelve factories that Honda owns throughout the United States. People of North America would get their hands on the EV as soon as Spring 2026.
As we all wait in anticipation of Afeela development, the current production and upcoming EVs have already provided us with many exciting features.
Even though more innovative advancements in the EV industry are expected to arrive within this year, there is hope that Afeela might outcast them after three full years.
Bottomline
Sony Honda Mobility, a collaboration between two of Japan's most prominent technology and automotive giants, has just announced the name of their new electric vehicle brand: Afeela.
At the exciting presentation at CES, Qualcomm CEO Cristiano Amon said that the "software-defined vehicle" is the pioneering creation of an innovative joint venture and signals an evolution in auto technology.
To make the Afeela prototype even more impressive, its front and end contain an embedded screen with a logo that can also exhibit data to onlookers like the current weather conditions and battery charge.
To demonstrate this feature further during their onstage presentation, they showcased an advertisement for Spiderman: No Way Home!
They added all bells and whistles to stand out and distract from their late entry into the electric market. However, the presentation looks impressive with PlayStation on board, Epic games engine, media bar on the front and back, and that overall comfort feeling inside the luxurious cabin.
We can expect a tremendous amount of options and upgrades designed to elevate your senses while driving the Afeela EV in the future.
But Honda and Sony must act quickly if they want their electric vehicles to remain competitive come 2026.