As and how more and more test prototypes of Tesla's much-awaited Cybertruck roam around the streets, the public is getting a better idea of what exactly to expect from it. Tesla is yet to unveil the final updated version of the electric pickup. Sources say it may be a little smaller than the one unveiled in November 2019. There will also be some design changes, such as no door handles (probably) on the final version. However, many people have spotted a number of test prototypes running on the streets. This includes last week in New York when people at Times Square got to witness a prototype.
If CyberTruck can make it here, it can make it anywhere… "it's up to you New York New York…." ??? pic.twitter.com/DB1vdZvrlh

— Tesla Owners of the East Bay (@TeslaOwnersEBay) May 8, 2021
Tesla also had a prototype on display at the Petersen Museum in Los Angeles, which allowed many people to take some close-range photos of Tesla's surreal-looking truck.
Cybertruck has Cameras in Many Interesting Locations
Tesla has implemented side cameras in the trims around the wheel wells of the front tires. This is different from other Tesla vehicles, which normally have side cameras in easily identifiable locations under the side rear-view mirrors. Here, the side cameras seem more concealed in the vehicle design.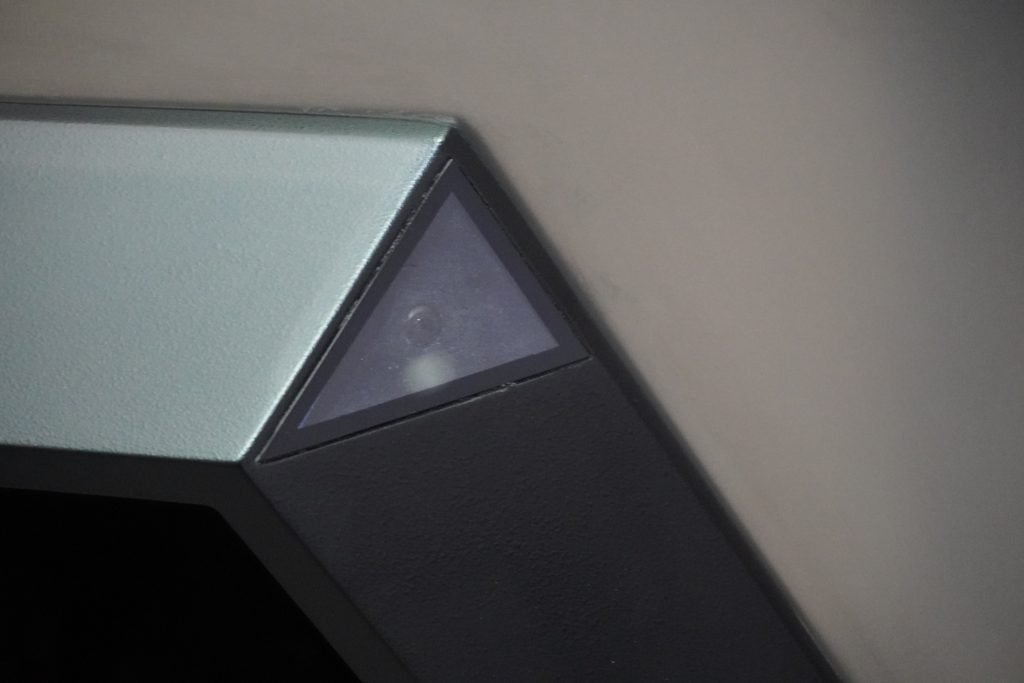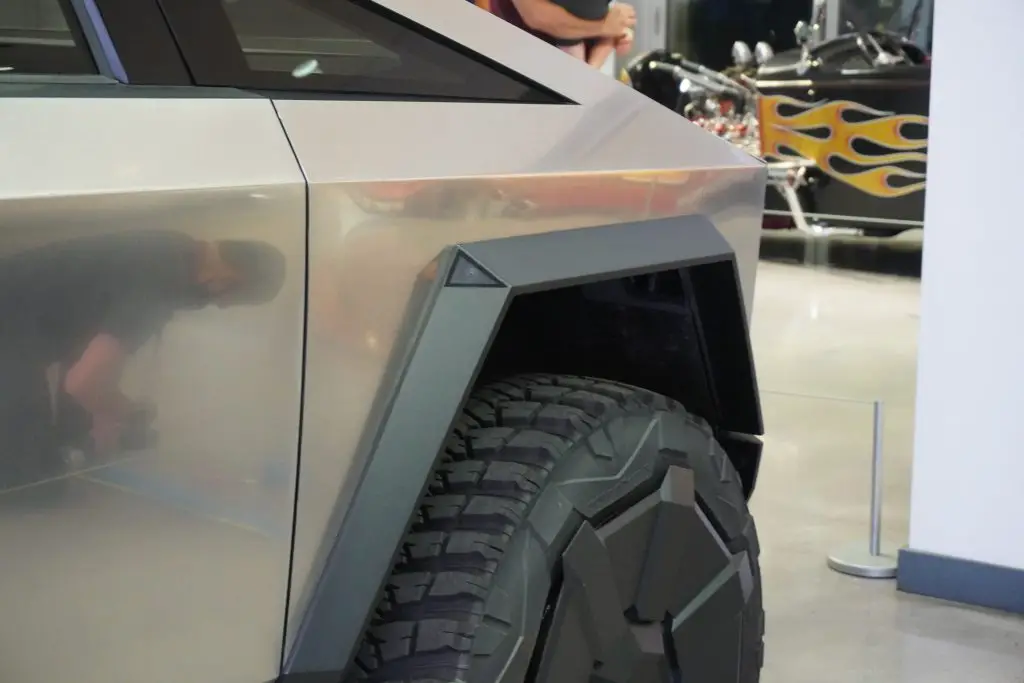 These images are from the Petersen Museum exhibit. The New York sighting of the Cybertruck has revealed another camera under the front bumper.
#Tesla #Cybertruck has a front facing camera below the bumper. And dual rear facing camera next to the rear license plate pic.twitter.com/WleC6RoRcn

— De Paul Sunny (@depaulsunny) May 9, 2021
Why does the Cybertruck have a Camera under the Front Bumper?
Quite simply, this camera will be very useful for off-roading. This kind of camera is not rare in vehicles with off-roading capabilities. Of course, Tesla hasn't focused a lot of its spotlight on Cybertruck's off-roading. But there are no doubts that the electric pickup will be a good off-roading option, considering the number of after-market camping attachments coming up.
Tesla has also mentioned a number of features for Cybertruck which point towards off-roading capabilities. An approach angle up to 35 degrees, a departure angle of 28 degrees and 16 inches (40.64 cm) will contribute towards the same. A camera at that angle, as seen in the video, will definitely aid drivers in rock crawling situations. It may fulfil other purposes such as assisting in parking, and even a potential 360-degree bird's eye view.
Cybertruck News
Tesla is hoping to bring the Cybertruck to the market by the end of the year. Of course, this could very well get delayed, as hinted by Elon Musk himself. The CEO believes that Cybertruck may get to the market early in 2022.
Of course, as mentioned before, Tesla will unveil an updated version of the most-awaited pickup truck. There can be a number of things different from what we saw in November 2019, when Tesla first took the covers off it.