Tesla has been in the news for the last few days for some good reasons. The Californian automaker finally began deliveries for Model S Plaid, which is easily the top-tier sedan that leads Tesla's charge in the electric vehicle market. Among other features such as the tri-motor powertrain, the interior has seen a major revamp. Of course, the major focus was also on the performance, as the Plaid broke the 2-second barrier for 0-60 mph (96.5 kph) timings. It is the first time that a production vehicle has achieved that. But it isn't just the vehicles that are getting faster.
Musk Comments on Superchargers
Elon gave a brief presentation about the Model S Plaid, highlighting the features of this beast of a vehicle. Incidentally, this delivery event took place almost nine years after Tesla delivered the first-ever Model S back in 2012. At that time, there was not a single Supercharger in the world. Today, there are more than 25,000 Superchargers set up across the world.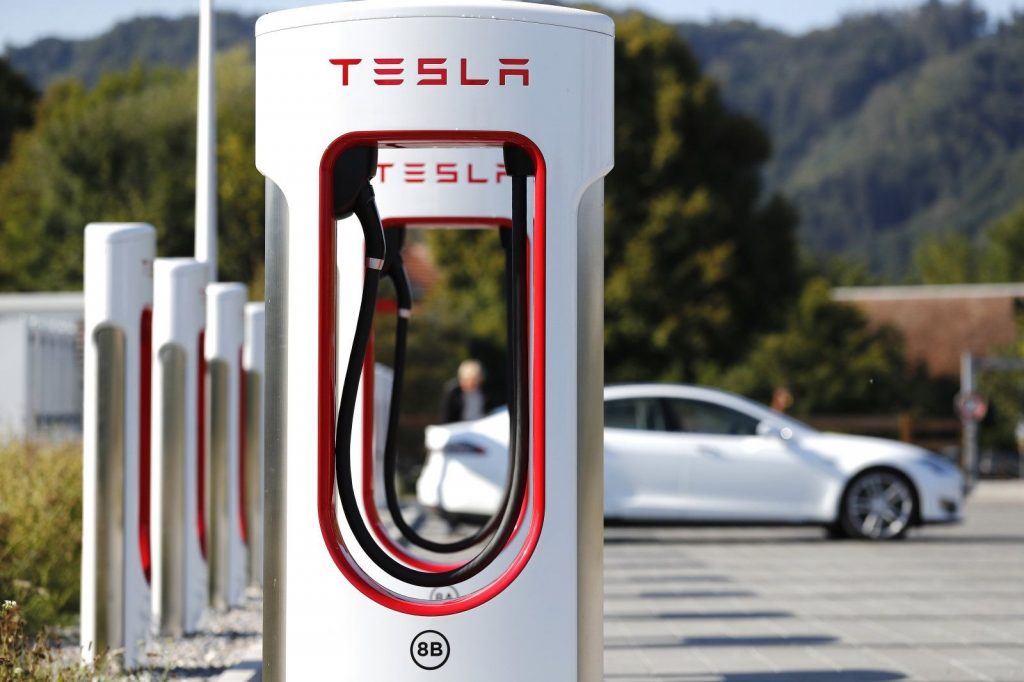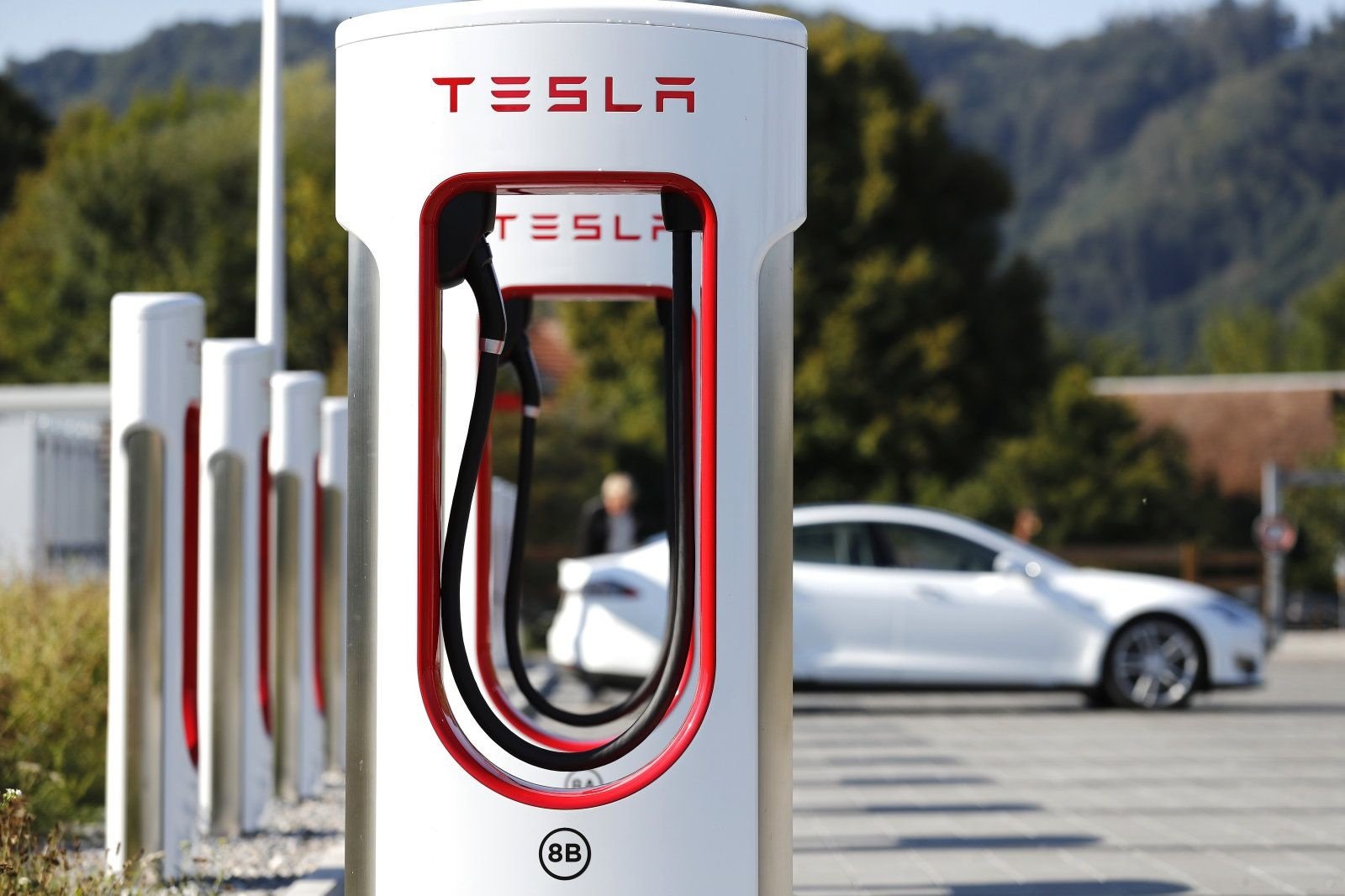 Tesla's older V2 level Superchargers were capable of giving speeds of 120 kW, but the company has upgraded them to 150 kW now. The latest V3 level Superchargers, on the other hand, can give a charging output of 250 kW. For about a year or so, the Long Range of all of Tesla's vehicles, Model S, 3, X, Y, were able to use this peak charging power of 250 kW. However, now that Tesla has introduced Plaid versions for both Model S as well as Model X, these speeds can probably go higher.
With Model S and Model X going Plaid, Tesla is probably working on making their Superchargers go Plaid too! During the special delivery event, Musk mentioned how Tesla now has a network of 25,000+ fast chargers, 30 of which were set up last week. At the time, Musk also said that charging rates would keep going up. He threw a few numbers around, saying they are working on getting charging power figures up to 280 kW, 300 kW and finally 350 kW. CCS Combo, which is considered to be a standard charging system, also boasts 350 kW charging power speeds. So, Tesla is trying to bring itself up to that level.
Crunching the Numbers
Musk mentioned that owners can top up the Model S Plaid with 187 miles (301 km) of battery charge in just 15 minutes. Model S Plaid has a range of 390 miles (628 km), so that means you get 48% of the battery charged in 15 minutes. That's approximately the time for a coffee break on a road trip.
The average rate of replenishing the battery will be around 12.5 miles (20 km) per minute. That is beyond decent; that is very, very good.
The 2020 Model S Performance had an average power consumption rate of 300 Wh/mile (186 Wh/km). If we use that, then the average power over a 15-minute charging period would be around 225 kW. Further testing of chargers will reveal better results, but going by Musk's comments, it is easy to see Plaid getting faster average speeds.
Current Charging Speeds
At the moment, Tesla cars can charge at relatively high speeds thanks to the new battery architecture. Tesla has completely redesigned the power battery modules with a major improvement in cooling. This can easily translate into higher charging power rates than what is seen at the moment. Furthermore, the improved cooling will allow for repeatable performance in consecutive acceleration runs. Tesla had mentioned in February that the number of consecutive high-speed quarter-mile runs has increased fivefold compared to the older battery.
At the moment, the new Model 3 Standard Range Plus cars have a peak charge rate of 170 kW, while for the Mid Range, it is 200 kW. The top of the line Long Range versions of both Model 3 and Model Y gets 250 kW peak charging power. The premium vehicles, Model S and X, also get 250 kW. And if Musk's comments are to be followed, this figure is bound to go up.
Our Opinion
Electric vehicle discussions are almost always about the battery. Firstly, people see how long does the battery take the vehicle, aka range. And secondly, the amount of charging time is very important. Now, 187 miles (301 km) of battery charge in just 15 minutes is very good for any road trip. Any average driver won't find it inconvenient to wait for 15 minutes after having driven for more than 180 miles (290 km). So Tesla is definitely providing its Plaid customers with a sufficiently fast charging setup at the moment.
Tesla's V1 and V2 Superchargers came with the Model S and X with a 120 kW charge rate, which later went up to 150 kW. The V3 level came out with Model 3, with the current 250 kW peak rate. Now, if Musk is actually talking about 350 kW peak power rates, it could either mean a significant update for the V3 Superchargers, or the introduction of V4 Superchargers maybe. Whatever it may be, one thing is for sure – with faster charging and better range, Model S Plaid is going to make waves.