As Xpeng makes its bold expansion into the European market, the sleek saloon, the Xpeng P7, and the new G9 SUV take center stage. The company initiated its European presence in Norway in 2021, and this year it plans to further expand its operations to the Netherlands, Sweden, and Denmark.
Xpeng aims to introduce its innovative EVs to these new markets, offering European consumers a taste of its cutting-edge technology and superior performance.
While the company is currently firming up plans for launch in more countries, including the UK, the conversion to a right-hand drive presents an extra complexity, delaying the confirmation of a specific launch date.
It would be amazing to see how it frames out and stand taller in comparison to Tesla Model 3, another category winner EV.
Let's find out more in this post!
Xpeng P7 Vs Tesla Model 3
The Xpeng P7, a popular electric vehicle (EV) produced by the Chinese EV start-up Xpeng, has made its way to the European market after its successful launch in China in 2020. As a formidable rival to the Tesla Model 3, the P7 has garnered attention for its advanced features, impressive performance, and upgraded capabilities.
Xpeng takes pride in highlighting its four pillars of strength: performance, design, quality, and value for money. In terms of value, Xpeng's models offer a luxurious experience across all versions, incorporating extensive driver assistance systems and an energy-efficient heat pump.
One of the notable improvements of the European release of the Xpeng P7 is its enhanced powertrain. The car boasts a more powerful electric motor, providing an exhilarating driving experience to European consumers.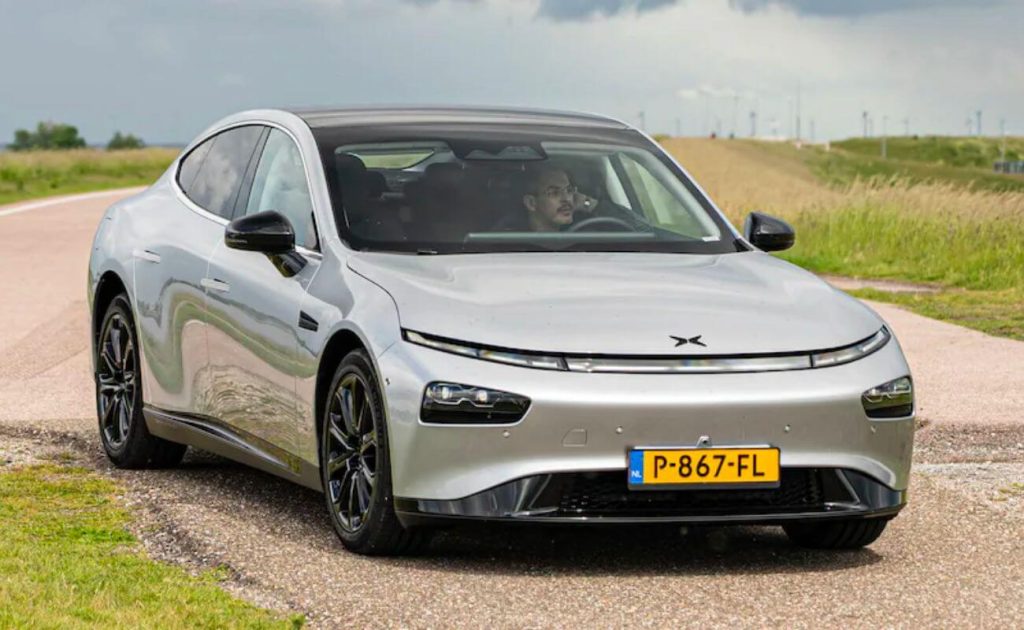 Design
The Xpeng P7 boasts a sleek and modern design, featuring a sporty silhouette with clean lines. On the other hand, the Tesla Model 3 dimensions and design showcase a minimalist and futuristic design, with a distinctive grille-less front fascia.
When it comes to its design, the XPeng P7 undeniably draws inspiration from Tesla, particularly the larger Model S, rather than the Model 3. The P7 adopts the form of a spacious fastback sedan, measuring 4888 mm in length, 1896 mm in width, and 1450 mm in height.
While the dimensions resemble more those of the Model S than Model 3, it's worth noting that the P7 is not an exact replica of any. However, the upper "Wing" version of the P7 adds a fun touch with its scissor-like front door openings reminiscent of Lamborghini, or McLaren vehicles. Although this feature adds a touch of spectacle, it may not be particularly practical in everyday use.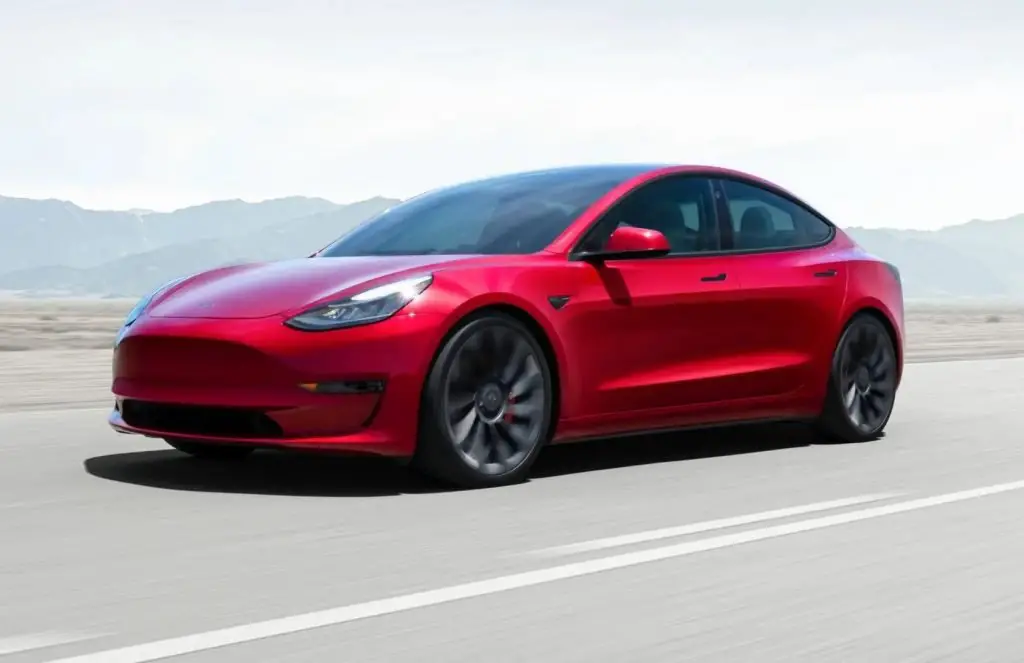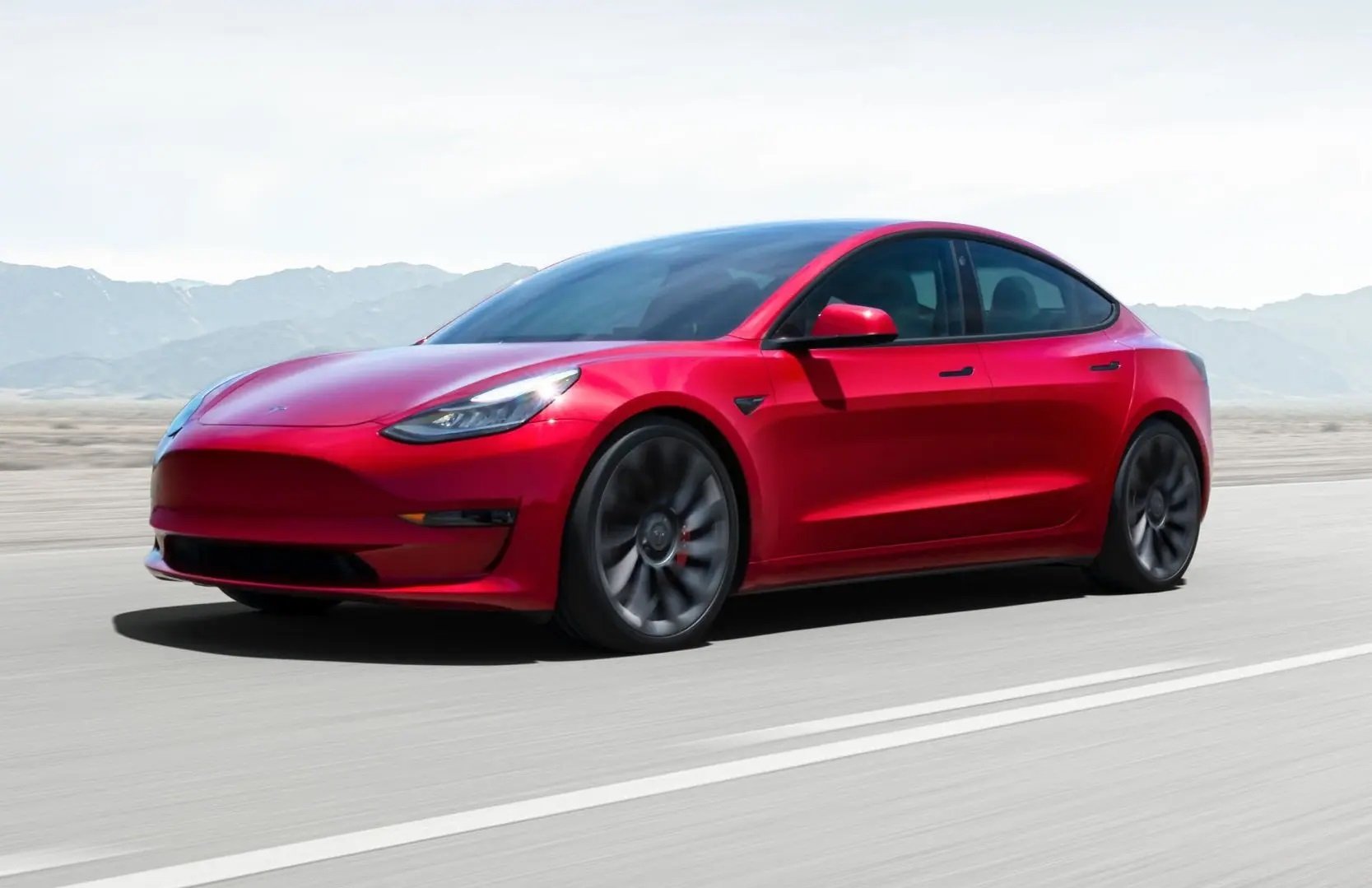 Performance
The performance aspect is equally impressive, with the entry-level P7 boasting 276 horsepower and 440 Nm of torque, enabling it to accelerate from 0 to 100 km/h in just 6.7 seconds. The all-wheel-drive variant, with its 473 horsepower and 757 Nm of torque, achieves the same feat in a remarkable 4.5 seconds.
Both versions have a top speed of 200 km/h. Moreover, Xpeng vehicles are equipped with fast-charging capabilities of up to 175 kW, complemented by an 82.7 kWh (net) battery pack, providing an impressive range of 706 kilometers.
Range
The Xpeng P7 boasts an impressive range of up to 439 miles (706 km) on the WLTP cycle, which provides ample confidence for long-distance driving. The Tesla Model 3 offers a range that varies depending on the specific model and battery option chosen, with the highest range reaching up to 333 miles.
In terms of range, the rear-wheel drive version of the P7 impressively offers a range of 357 miles (576km), ensuring ample coverage for extended journeys.
The all-wheel drive version, while slightly lower, still provides a respectable range of 313 miles (505km). These range figures demonstrate the P7's capability to accommodate various driving needs and offer a sufficient electric range for most daily commutes and more extensive travel.
The Tesla Model 3 is available in three trims, each offering a different estimated driving range. The base rear-wheel-drive trim has a range of 272 miles. Upgrading to the Long Range or Performance models increases the range to 358 miles and 315 miles, respectively.
Charging
The performance specifications of the XPeng P7 are among its important highlights. Notably, it supports up to 175kW charging, enabling rapid charging capabilities. This means that you can recharge the battery from 10% to 80% in just 30 minutes, offering convenience and reducing range anxiety during those long trips.
Both vehicles come equipped with fast-charging capabilities. The Xpeng P7 can charge up to 80% in 30 minutes, providing convenience and reducing charging times. Similarly, the Tesla Model 3 can also charge up to 80% in 30 minutes using Tesla's Supercharger network.
Features
Contrary to the common perception that Chinese car brands often struggle with subpar infotainment systems and confusing menus, Xpeng stands out by delivering an impressive user experience.
The infotainment system in Xpeng vehicles resembles that of Tesla, featuring a simple design, clear icons, and fast responsiveness.
However, there are some frustrations to be noted. Adjusting the drive mode and brake regen settings on the Xpeng P7 requires navigating through two sub-menus, which can be a bit inconvenient.
While the sub-menus are relatively clear, it would be beneficial to have a custom mapping option for the few physical controls available on the steering wheel like Tesla.
When it comes to the trunk of the Xpeng P7, it's worth mentioning that the boot space opening is surprisingly low, even for a sedan. It resembles the slot of a mailbox in its positioning. Additionally, it is worth noting that there is no designated storage compartment for the charging cord underneath the loading floor. Whereas, Tesla does remarkably well in terms of multiple storage space options.
Autopilot and Autonomous Features
Tesla's Autopilot system is well-known for its advanced driver-assistance capabilities, offering features such as adaptive cruise control, lane-keeping assist, and automatic emergency braking. Xpeng's P7 also incorporates advanced driver-assistance systems named XPILOT, to enhance safety and convenience on the road.
The XPENG P7 boasts the XPILOT Advanced Driver Assistance System, developed by XPENG, which provides a range of intelligent functions for safety, driving assistance, and parking support.
This system is powered by a comprehensive array of 29 sensors, including high-definition radars, ultrasonic sensors, and surround-view and high-perception cameras. With these advanced sensors, the P7 is capable of safely navigating through various driving scenarios.
XPILOT enables autonomous driving, parking assistance, and enhanced safety features, offering a seamless and convenient driving experience.
Moreover, there is an accompanying XPILOT app that provides additional features and functionality even when you are outside the car.
Price
The Xpeng P7 is available in three different trims in Europe: the RWD Long Range priced at 49,990 euros ($54,000), the AWD Performance at 59,990 euros $(65,000), and the AWD Wing Edition at 69,990 euros ($75,000). Additionally, a delivery cost of 1198 euros ($1279.41) is added to all models.
Despite the base price being listed at 51,188 euros, it still presents an attractive offer considering the inclusion of the battery pack in the price. In contrast, the Nio ET5 follows a different pricing structure, where the car itself is priced at 50,700 euros, and the battery is added separately for an additional cost of 12,000 euros or 169 euros per month.
It's worth noting that the Xpeng P7 competes directly with the Tesla Model 3 Long Range, which is priced at 50,993 euros. While both vehicles offer comparable ranges, the Model 3 has the advantage of all-wheel drive and outperforms the entry-level P7 in terms of acceleration.
However, one disadvantage for Xpeng is the absence of a budget-friendly P7 variant priced below 45,000 euros that would qualify for an electric vehicle subsidy, unlike Tesla, which offers such a model in the form of the Model 3.
Xpeng P7 Vs Tesla Model 3: Which One Is Better?
Xpeng's confidence in the success of the P7 in the European market is well-founded, considering the impressive specifications of the vehicle.
A closer look at the spec sheet reveals that the P7 is a strong contender in the segment, capable of competing with renowned electric vehicles like the Tesla Model 3 as well as premium saloons such as the Mercedes-Benz EQE and BMW i4.
In terms of performance, the Xpeng P7 delivers exhilarating acceleration and power. Its advanced electric motor propels the car with impressive speed and agility, providing a dynamic driving experience comparable to its rivals. Moreover, the P7's long-range capabilities ensure that consumers can confidently embark on extended journeys without range anxiety.
Ultimately, the choice between the Xpeng P7 and the Tesla Model 3 comes down to personal preferences, budget, and specific requirements. Both vehicles offer impressive features, cutting-edge technology, and a fresh autonomous perspective with XPilot.
XPeng aims to take on the Tesla Model S with its P7 sedan, offering competitive pricing similar to that of the Tesla Model 3 price. However, the question arises whether this Chinese electric sedan has what it takes to fulfill its ambitious goals or not.
| | | |
| --- | --- | --- |
| Specification      | Xpeng P7                   | Tesla Model 3               |
| Starting Price (Europe) | $54,000 | $40,240 |
| Range (WLTP)       | Up to 439 miles (706 km) | Up to 333 miles (536 km |
| Battery Capacity  | 82.7 kWh                   | 75 kWh |
| Acceleration (0-60 mph) | 4.3 Seconds          | 3.1 Seconds |
| Top Speed          | 124mph | 162mph |
| Charging Speed     | Up to 80% in 30 minutes    | Up to 80% in 30 minutes    |
| Autopilot          | Advanced driver assistance XPILOT | Full Self-Driving available |
Can Xpeng P7 Beat Tesla Model 3?
The Xpeng P7 is available in three trim options: the RWD Long Range priced at 49,990 euros, the AWD Performance at 59,990 euros, and the AWD Wing Edition at 69,990 euros. Delivery costs of 1198 euros are added to all models.
Despite the listed base price of 51,188 euros, it remains a competitive offer as the battery pack is included in the price. In comparison, the Nio ET5 follows a different pricing approach, with the car priced at 50,700 euros and the battery added separately for an additional cost of 12,000 euros or 169 euros per month.
Directly competing with the Xpeng P7, the Tesla Model 3 Long Range is priced at 50,993 euros and offers a similar range. However, the Model 3 surpasses the entry-level P7 in terms of acceleration and features all-wheel drive. But Xpeng lacks a lower-priced P7 variant below 45,000 euros that would qualify for an EV subsidy, unlike Tesla's Model 3.
Also, Xpeng has recently introduced the updated version of its P7 sedan in China, now renamed as the P7i. This revamped model showcases substantial improvements in various aspects, including interior design, connectivity, driver assistance, performance, range, and charging capabilities.
The P7i has undergone significant advancements in its driver assistance features. It now employs an enhanced hardware platform, incorporating dual LiDAR units and dual Nvidia Drive Orin-X SoCs.
These upgrades and advancements will allow the P7i, especially the Wing AWD versions, to achieve an impressive computing power of up to 508 TOPS (Trillions of Operations Per Second), marking a remarkable 17-fold increase compared to its previous iterations.
Such enhancements in computing power enable the P7i to offer more advanced and efficient driver assistance functionalities and can be a game-changer for the Chinese automaker in the future.
Final verdict we say?
In terms of competing with the Tesla Model 3, Xpeng still has some ground to cover and may not surpass Tesla's dominance in the market at this stage currently.
What To Expect In The Future?
The Xpeng P7 (2023) has garnered significant attention in the electric vehicle market. Established in 2014 by three Chinese entrepreneurs, the Xpeng brand quickly gained momentum.
Following the release of its first model in 2018, Xpeng has now set its sights on the Dutch market, introducing the P7 sedan and G9 SUV. These electric vehicles offer European consumers a diverse range of options.
As a relatively new Chinese car brand, Xpeng does look like a strong EV brand trying to establish its unique identity in the competitive electric vehicle market.
While some brands like MG excel in offering affordable EVs and Nio is renowned for its battery exchange stations, Xpeng's models lack a distinctive selling point that sets them apart.
While the Xpeng P7 does offer the option of gull-wing doors, it can be seen more as a gimmick rather than a truly distinguishing feature.
Bottomline
Xpeng, the promising Chinese electric vehicle manufacturer, has long been positioning itself as a competitor to Tesla in its home country. However, it currently lags significantly behind Tesla in terms of deliveries.
Despite facing a challenging year in China due to a decline in demand, Xpeng is now determined to expand into international markets. This expansion may potentially bring the company into direct competition with Tesla in these new markets.
Interestingly, Xpeng has strategically priced its flagship model, the P7 sedan, below Tesla's offerings in markets such as Denmark, Norway, the Netherlands, and Sweden. This move comes even when Tesla is globally reducing its prices to stimulate sales and create a stronghold. By offering competitive pricing, Xpeng aims to attract consumers and establish a strong foothold in these international markets, directly challenging Tesla's dominance.
With Xpeng's determined pursuit of affordability and its expanding global footprint, it seems like the stage is set for an electrifying competition between these two automakers.
The clash between Xpeng and Tesla promises to be a thrilling spectacle, like a high-speed race to capture the hearts and wallets of consumers.