The electric car revolution is real and happening right Electric vehicles will be as cheap as gasoline models by 2025 and sales will surpass internal combustion engine sales by 2040. Today we'll talk about the top seven all-electric sports cars that achieve maximum performance immediately. This is the great opportunity for car industry Giants to move forward the idea of electric vehicles and a big challenge for new manufacturers to find their place in this fast-growing sphere.
Top Upcoming Electric Sports Cars by 2020
Porsche Mission E
Porsche introduced its first all-electric four-seat sports car in 2015 that will arrive in late 2019 driven by two electric motors for a total output of 440 kilowatts. Porsche brings its ultra-fast 350 kilowatts 800 for charging stations to the US that enables the Mission E to receive 80% charge in just 15 minutes. It has the futuristic driver-oriented interface with a new type of holographic display which provides an intelligent interaction between the real and virtual worlds through a gesture and eye recognition system. It is able to hit 60 mph in less than 3.5 seconds and reach a top speed of 155 mph. The company is planning to produce at least 20,000 units in a year and now is actively testing the prototype in the streets as well as the Nürburgring race tracks before putting the car into production which is assumed to have a starting price of $75,000.
The Cupra E-Racer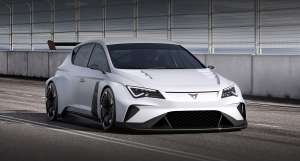 Volkswagens subsidiary SEAT automobile manufacturer has officially launched its new sports car brand called the Cupra. The Cupra E-Racer is based on the gasoline-powered Cup Racer and being much quieter surpasses the standard model by his performance. Besides the traditional rear-view mirrors, it's equipped with a new rear vision technology displayed on the dashboard. Unfortunately, both for the Renault E-Sport and the Cupra E-Racer, there is no word if the companies will produce road-going versions of the cars. Four electric motors deliver a maximum 500-kilowatt power output that enables the car to hit 60 mph in 3.2 seconds and reach a top speed of 167 miles per hour.
NIO EP9
Chinese based company NIO introduced its high-performance street-legal electric supercar to the world in 2016. NIO EP9 is equipped with four individual electric motors on each wheel that provide 1-megawatt power outputs. The vehicle has set various lap records including the Circuit of the Americas racetrack in Austin without any driver and was claimed as the fastest lap time for a production electric car and the fastest self-driving car. It is able to accelerate from 0 to 124 mph in 7.1 seconds and reach the top speed of 195 mph thanks to its individual wheel drivetrain and carbon fibre architecture.
Tesla Roadster
Tesla unveiled its second-generation Roadster in November 2017 that will arrive in 2020. This vehicle has unbelievable performance specifications, its base model can hit 60mph in 1.9 seconds and reach a top speed of more than 250 mph. The price of this incredible four-seat supercar starts at $200,000, It's the longest-range sports car in this industry with 1000km of range.
Renault ZOE e-Sport Concept
Renault has emerged as one of the most popular all-electric vehicles in Europe, the ZOE and Eden's formula electric cars to make this special sports car a reality thanks to its lightweight carbon-fibre architecture and all-wheel-drive capability. Two electric motors in the front and rear deliver a total of 340-kilowatt power output and 472 pound-feet of torque that helps the vehicle achieve the top speed of 130 mph in less than 10 seconds. The ZOE e-Sport concept can reach 60 mph in just 3.2 seconds. With the power transmission management system, you can easily achieve the full power to feel completely the great emotions and pleasures in the hot hatchback.
Genovation GXE
Maryland based company Genovation introduced its latest all-electric supercar at the 2018 CES event called the GXE. Powered by 60 kWh battery pack, The electric motors enable the car to hit 60 mph in under 3 seconds and reach a top speed of 220 mph. It's based on the Chevy Corvette Grand Sport model but instead of the eight-cylinder engine, it's equipped with twin electric motors that provide about 600 kWh outputs and 700 pound-feet of torque. Besides the traditional electric car transmission system, the Genovation GXE is the only EV that comes with a 7-speed manual transmission and the conventional clutch pedal. The production is limited to 75 units that will be delivered in late 2019 with a price tag of $750,000.
RIMAC C2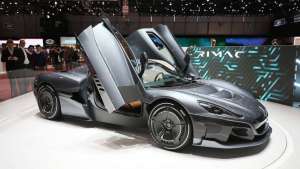 It seemed Tesla's record was unbreakable until the reveal of this supercar that is equipped with four independent permanent magnets electric motors for a total output of 1408 kW is able to hit 60 mph in an incredible 1.85 seconds and reach a top speed of 258 mph. The vehicle is capable of supporting 250-kilowatt charging rates which could charge the RIMAC C2's battery pack to 80 % in less than 30 minutes. With a 120-kWh battery pack, its achieves 400 miles of any DC driving range. The all-electric two-seat supercar goes into production in 2020 and will be limited to 150 units.
Major industry players of sports cars Ferrari, Bugatti and Lamborghini will also join these companies to prove that electric cars can not only be environmentally friendly but can also surpass conventional sports cars with their performance. Considering the cost of electric sports cars, Tesla Model S Plaid is the best electric sports car on the market. It has a range of over 390 miles, and can go from 0 to 60 mph in just 1.99 seconds. With its all-wheel drive, it has great traction in all weather conditions. And its sleek design makes it one of the most stylish cars on the road. The price of the Tesla Model S plaid is $130k so for those who can afford it, the Tesla Model S is the best electric sports car available.