This article covers some of the important snippets of news that concern Tesla from over the past couple of weeks ago.
Tesla Vehicles May Get $10,000 Cheaper
This is something that will attract many people to America's biggest electric vehicle manufacturer. Make no mistake, however. This applies to the sale of electric vehicles from all brands. We had previously reported that the USA government is looking to renew the federal tax incentives that potential electric vehicle owners can avail of.
According to sources, this federal tax credit could become law with three layers of incentives. According to that, all the electric vehicles sold in the United States of America will get a tax credit of $7,500. Furthermore, American-made electric vehicles will see this credit go up to $10,000. Finally, electric vehicles produced in the USA at the hands of unionized workers will get a $12,500 rebate.
Now, workers at Tesla's manufacturing plants do not fall under the union. So, Tesla vehicles will be eligible for the $10,000 discount. This means that you can effectively buy a Model 3 for less than $30,000.
Tesla may not be Able to Sell Texas-Built Cars in Texas
There exists a law in Texas from a time long before Tesla set foot there. This law disallows companies from directly selling vehicles to customers. There must be a middle man, in the form of a dealership or something else. This ensures the middle man doesn't lose footing in the market.
Now, Musk being Musk, decided to build a manufacturing plant in Austin, Texas. He thought that Texas would change the law for him, as he was creating jobs for thousands of people in Texas. But the Texan legislature meets once every two years to make altercations to laws. 31st May was the last date for this, and Musk's proposal to change the law did not even make it to the table.
This means that every Tesla vehicle that the company produces at Giga Texas cannot be sold directly in Texas. They will have to ship the vehicles out to Oklahoma, process the sale, and then ship it back to Austin. They can then drop the vehicle at a certain location and the buyer can pick it up from there.
Tesla Model S Plaid Deliveries Delayed…. Again
We reported a couple of weeks ago that Tesla is holding a special delivery event for the Model S Plaid. Tesla had initially scheduled the event for June 3rd. A week after announcing the delivery event, Musk tweeted that they had pushed the Model S Plaid deliveries to June 10th. He mentioned that the vehicles needed a few more tweaks. The delivery event has also been pushed, it seems.
Model S Plaid delivery pushed to June 10. Needs one more week of tweak.

This car feels like a spaceship. Words cannot describe the limbic resonance.

— Elon Musk (@elonmusk) May 29, 2021
Apparently, the delivery event is expected to be a big deal. Being an online event, one can expect some big presentations from the Californian automaker. And who knows, they may also make some big announcements.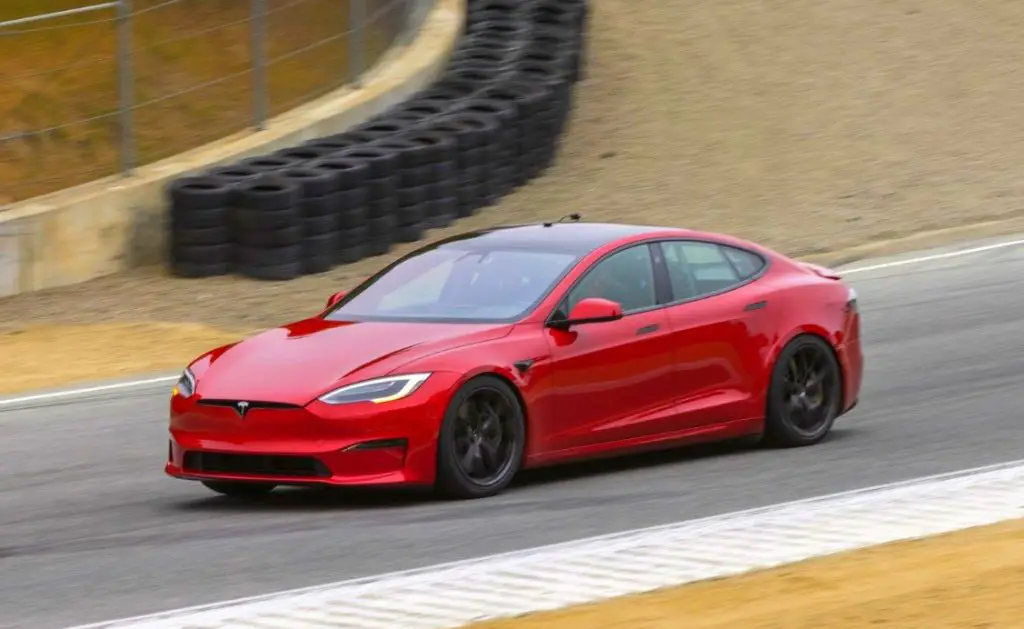 Tesla Vision Makes Its Debut
Tesla announced on May 26th that all Model 3 and Model Y vehicles delivered after May will have an Autopilot and FSD system running on pure camera vision. The company has removed the radar sensors from the system, taking steps towards what Musk calls "the closest a car can get to the human brain".
Up until now, Tesla was using a combination of vision and radar. But Musk has been pushing for a purely vision-based system for a few months now. Now, they have started rolling out their two most popular vehicles without radar, calling it 'Tesla Vision'.
We are continuing the transition to Tesla Vision, our camera-based Autopilot system. Beginning with deliveries in May 2021, Model 3 and Model Y vehicles built for the North American market will no longer be equipped with radar. Instead, these will be the first Tesla vehicles to rely on camera vision and neural net processing to deliver Autopilot, Full-Self Driving, and certain active safety features. Customers who ordered before May 2021 and are matched to a car with Tesla Vision will be notified of the change through their Tesla Accounts prior to delivery.
The result of this transition to pure vision is a hit in safety ratings. The National Highway Traffic Safety Administration (NHTSA) reduced the safety rating on the two Tesla vehicles, which was previously at the top of the charts.
However, this does not mean that the vehicles aren't safe anymore. The only reason for the reduction in rating was because NHTSA has never tested a vehicle without radar in its driver-assist systems. Since NHTSA is yet to test the pure-vision Tesla vehicles, they have temporarily reduced the safety ratings.
Our Opinion
Tesla has really started pulling its weight. The Giga Texas will soon begin production at a rapid rate. With the new federal tax incentives set to become law soon, the prices of electric vehicles will go down. This will definitely benefit Tesla. And we will soon be able to see the Model S Plaid on the streets.