A Tesla owner in China apologized publicly through social media and admitted to staging a fake "brake failure" incident. The owner had posted a TikTok video recently, which mocked the alleged brake failure issue with Tesla's China-made vehicles. Tesla's legal team has initiated a crackdown on inaccurate reports and false information that can damage the company. In the form of another TikTok video, the public apology is one of the many public apologies coming up recently in China.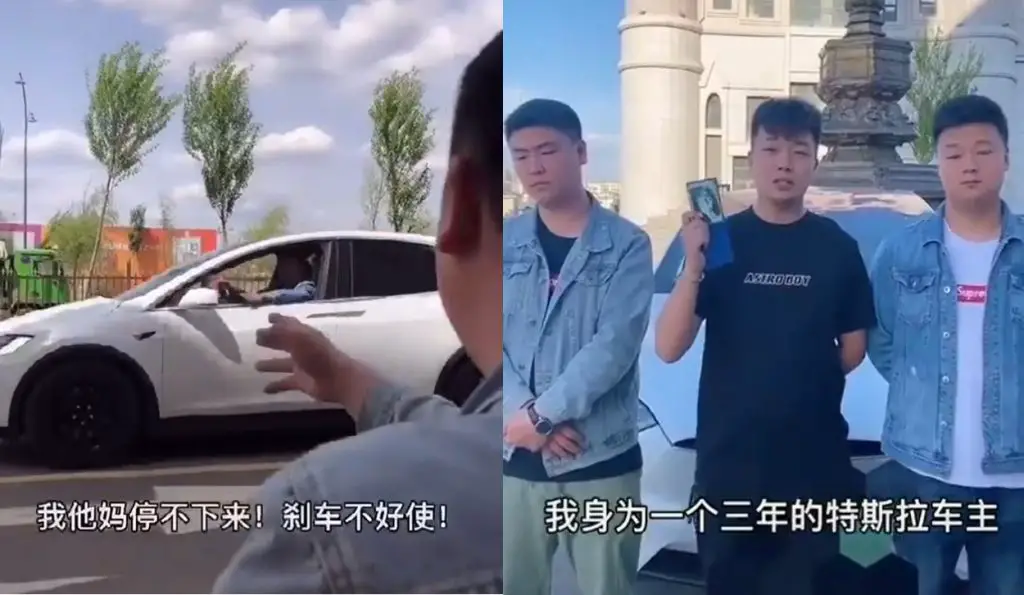 Tesla Owner Apologizes Publicly for Staging Fake "Brake Failure" Incident
The owner admitted that he has owned the Model X in question for three years now. He has also stated that the vehicle has not given him any problems with regards to the brakes until now. The TikTok skit, that Tesla's legal team went after, was just a staged attempt at mocking the recent 'brake failure' incidents in China. He clarified that the video is for entertainment purposes only.
Tesla 🇨🇳 Legal team went after a Tik Tok account, which posted a video showing Model X "brake failure". Now they apologize for causing the negative effect to Tesla. The guy in the middle has owned his X for 3 yrs & never had any problems, saying the skit was 4 entertainment only. https://t.co/3c8ErewuBx pic.twitter.com/tZ8wi6EmPa

— Ray4Tesla⚡️🚘☀️🔋 (@ray4tesla) June 1, 2021
Tesla's Recent Issues in China
China has been a stronghold for Tesla, as the country has focused a lot on electric mobility in recent times. The Shanghai Gigafactory has helped Tesla ramp up production recently. It has been responsible for Tesla achieving never-seen-before sales numbers in the last quarter. Both Model 3 and Model Y have really taken off in the country.
However, in the past few months, there has been an outcry over an alleged brake failure issue in Tesla's China-made vehicles. One incident, in particular, made this issue boil over a lot more than it probably should have. A woman, Ms. Zhang, started protesting the brakes issue at the Shanghai Motor Show in April, by standing on top of a Model 3 in Tesla's booth. She was later detained by the police.
A female Tesla owner climbed on top of a car's roof at the Tesla booth to protest her car's brake malfunction at the Shanghai auto show Monday. The booth beefed up its security after the incident. pic.twitter.com/ct7RmF1agM

— Global Times (@globaltimesnews) April 19, 2021
The woman was protesting that the brakes in her Tesla Model 3 did not work properly, and it caused an accident when her father was driving. However, Tesla later released the data logs from the incident, which was an unprecedented move. The company claims that according to the logs, Ms. Zhang's father did not apply the brakes forcibly enough. Tesla even mentioned that the automatic emergency brakes activated, which reduced the impact of the crash.
Tesla mentioned that Ms. Zhang always refused third-party analysis of her vehicle post the accident. She also brought the car into Tesla's local store to protest two weeks after the accident. On March 6th, she rejected any form of vehicle testing. She also requested to return the vehicle and get compensation for mental damage, medical expenses, and lost work expenses.
The Effect of this Alleged Brake Failure Issue
Ever since this protest in April, Tesla China's legal team has become more assertive with the way they deal with false information. Public apologies from a number of media outlets and social media users have surfaced. Many media outlets have also called upon their peers to take down the false articles.
Another TikTok user admitted to having fabricated a false story about the Californian automaker. She stated that Tesla's legal team had sent her a letter, and demanded that she take the post down. They also demanded a public apology. The legal team has also created a Weibo page, suggesting that they will ramp up the anti-misinformation strategy in the near future.
Tesla China's New "Special Handling Team"
Despite Tesla coming out on the right side of the Ms. Zhang controversy, they did admit that they could have handled the entire situation in a better way. Tesla's China division initially said on Weibo that Zhang had crashed her car because she was speeding. But they did admit it still hasn't fulfilled its wish to win assurance and understanding from consumers. That response further fueled the public's reaction to the protest. The reaction was so intense that Tesla released a second statement later on. They apologized for not handling Zhang's complaints sooner.
To counter any such incidents from spiraling out of control in the future, Tesla established a "Special Handling Team" last month. This team will be responsible for handling special customer concerns.
Tesla respects and firmly obeys the decisions of relevant government departments, respects consumers, abides by laws and regulations, and resolutely actively cooperates with all investigations of relevant government departments. To this end, we have set up a special handling team, dedicated to special handling, and strive to meet the demands of car owners and strive to satisfy car owners while complying with laws and regulations.
Our Opinion
The TikTok user said the video was a fake skit and for entertainment purposes only. The real question, however, is who was he trying to entertain? Neither Tesla nor its fans or owners were amused. The spread of false news like this needs to be shut down as quickly as possible.
The fact that Tesla's legal team is working hard to ramp up this assertive anti-misinformation strategy speaks volumes of how much Tesla cares about its image in China. The country is one of the biggest markets for electric vehicles, and Tesla has already seen the effect of Chinese sales numbers on its overall sales figures.
Tesla has faced a backlash over quality issues in the past, but it has clearly shown that they have a no-tolerance policy over the spread of misinformation.