Tesla Model S can go as much as 752 miles on a single charge with only one battery replacement. A Michigan startup, Our Next Energy or ONE, claims to complete 753 miles on Tesla Model S with their upgraded battery pack.
Michigan startup took the EV for a test drive in December and said to have done 55 miles average speed as well. Moreover, they are not just claiming for the sake of saying but did get a third party to validate their claim as well. The road test by tech startup ONE sets a new record in the industry with the claimed range of the Tesla Model S.
Why EVs Driving Range Matter So Much?
Driving range matters a lot when deciding on the perfect EV in current times. The biggest worry of most new automobile buyers lies in the fact that how much the car range would be. Many often do not go for an electric car because they think the range is not enough or frequent charging of the battery will become a difficult task.
Tesla cars are popular among the masses, and having a big number on range cards can be extremely beneficial. This is why most automobile makers make sure to work hard on their design and tech to get the best specs.
752 miles along with the impressive features and design of the Model S of Tesla is a lucrative combination. For those who don't know, Tesla Model S offers the highest range of 405 miles on a single charge.
Michigan Startup ONE
The startup behind the extended-range battery pack is only a couple of years old but has done remarkable work so far. Our Next Energy or ONE was founded by battery system engineer Mujeeb Ijaz in 2020.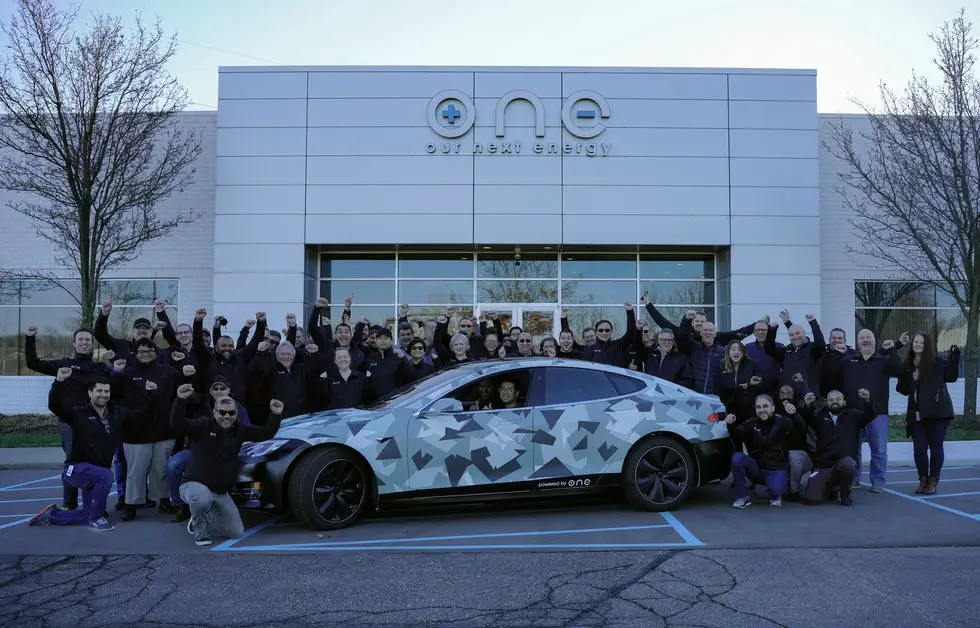 Mujeeb has been in the battery industry for over 30 years now. The main idea behind the startup is to at least double up the range of any electric car with their inventions. The Virginia Tech alumni hold around 31 tech patents in the US alone.
ONE foundation principles are:
Double the range of electric vehicles.
Use safer and more sustainable raw materials.
Establish a localized supply chain.
ONE startup came up with two battery designs so far Gemini and Aries. Both designs have distinct attributes as one is designed for private vehicles, and the other is for a commercial fleet.
Both prototype battery packs offer a significant battery extension on the range of the EVs. Moreover, the startup has made tie-ups with Mercedes and Motiv to test-drive the extended-range battery packs.
"Next up is a new product called Gemini, which will enable long-distance trips on a single charge while improving cost and safety using sustainable materials," said Founder and CEO of ONE, Mujeeb Ijaz in an interview.
ONE Battery Pack Road Test
Retrofitting the Gemini battery pack into Tesla Model S got the EV to travel around 752 miles without charging again. The company is yet to launch a production prototype of the battery pack but plans to roll it out next year possibly.
The Michigan startup posted a video of the Gemini battery pack test drive when fitted inside a Tesla Model S. In their official statement stating that the battery pack can extend the range to over 750 earlier, the company did not mention any details. But the YouTube video of the test drive ONE Powers Tesla EV 752 Miles on Single Charge gave a better understanding of the range test on Model S.
ONE strives to make these extended packs more reliable and sustainable for future needs. Moreover, the startup's vision is to make safer battery packs that reduce carbon emissions. The extended range battery pack by ONE gives new hope for driving an electric car without feeling deprived of juice for cruising on longer routes.
The road test done last December in 2021 in Michigan involved the Gemini battery pack that helped the Model S cover 752 miles trip. The Tesla Model S fitted with the extended range battery pack by ONE completed the journey even in the chilly winters of Michigan.
Tesla Model S Road Test Takeaway
752 miles on a single battery charge sounds a bit unbelievable, especially given the current state of available EVs shorter range. The Michigan startup upgraded the Tesla Model S with their production prototype during the road test. Model S comes with 405 miles range as standard from its manufacturer Tesla. The point to note here is that this range is the best that Tesla offers.
Model S Long Range Plus's standard battery pack is 103.9 kWh. ONE's battery pack is 207.3 kWh based on more energy-dense cobalt-nickel cells. Obviously, the stock battery pack is of lower power but packing a higher density of cells in a similar form factor is commendable on the Michigan startup's part.
ONE's still under development battery pack fitted into the 2021 Tesla Model S has managed to keep the kWh consumption close to the stock battery pack. In the original road test, ONE completed a round trip maintaining a 55mph average speed across Michigan. Moreover, the modified Model S still had around 10% battery left after 752 miles mark.
Test Results
Model: Tesla Model S Long Range Edition
Make: 2021
Retrofitted Battery Model: ONE Gemini
Completed Range: 752 miles
Average Speed: 55 miles per hour
To get their result's verified, ONE hired a third-party agency to get a test on the extended range. The third-party road test came up with even more impressive results and achieved 882 miles on one single charge maintaining 55 miles average speed. The road test used a dynamometer to conduct the road test.
The biggest challenge among the EV automobile maker is whether to get the EV to charge fast or offer a bigger battery pack that extends the range. Both things require EV makers to deploy a significant amount of time and money to make their tech better.
Tesla has nailed the first aspect to a greater degree by making an impressive Supercharger network. However, no other automobile company can get to that level so far. Many are still struggling to offer a reliable charging network to their customers.
ONE, the battery pack startup, plans to cater to the problems of the short range of existing production models of EVs. More and more automakers are planning to launch their version of features-rich extended-range electric cars. However, the price factor too rises with better features and range.
What To Expect In Future?
ONE's take on longer-range batteries could be a solid game changer in the automobile industry as currently there is no such competitor in the market. Moreover, there is a substantial need for a tech breakthrough to break the norms of the limited range of EV batteries.
Generally, there is apprehension while choosing an EV based on the range and other factors. According to stats, most EV buyers back out of the decision to change to an electric vehicle because of the range anxiety. ONE's take on an extended range battery pack can eliminate the issue altogether if all goes well.
The prototype used in Tesla Model S is still under development and might still need some stability work for the actual production version. However, the road test by the startup is directed to claim their proof of concept. Packing enough cells in a concise space of the battery pack structure of a vehicle is possible.
There is still so much clarification and information that is needed from the automobile and battery makers. Tesla is yet to issue any statement, and ONE is awaiting a production model. However, the Aries batteries designed for commercial vehicles are set to launch sooner.
Many other EVs are offering a staggering range like Lucid Air with 520 miles or 620 miles Vision EQXX by Mercedes-Benz. But, in the end, it comes out to get the "whole" package right when buying an EV. What are your views on the feasibility of such new possibilities with the extended range on existing EV models? Please write down below in our comment section!