Tesla has once again captured the world's attention with the official unveiling of its all-new Model 3, marking the first significant refresh of this iconic electric vehicle in six years. Since its initial launch, the Model 3 has been a cornerstone of Tesla's lineup, setting benchmarks in range, performance, and affordability. Now, with a host of upgrades and improvements, the new Model 3 is poised to redefine the electric vehicle landscape.
In this article, we'll delve into everything you need to know about this groundbreaking release, from its enhanced range and revamped design to its state-of-the-art interior features.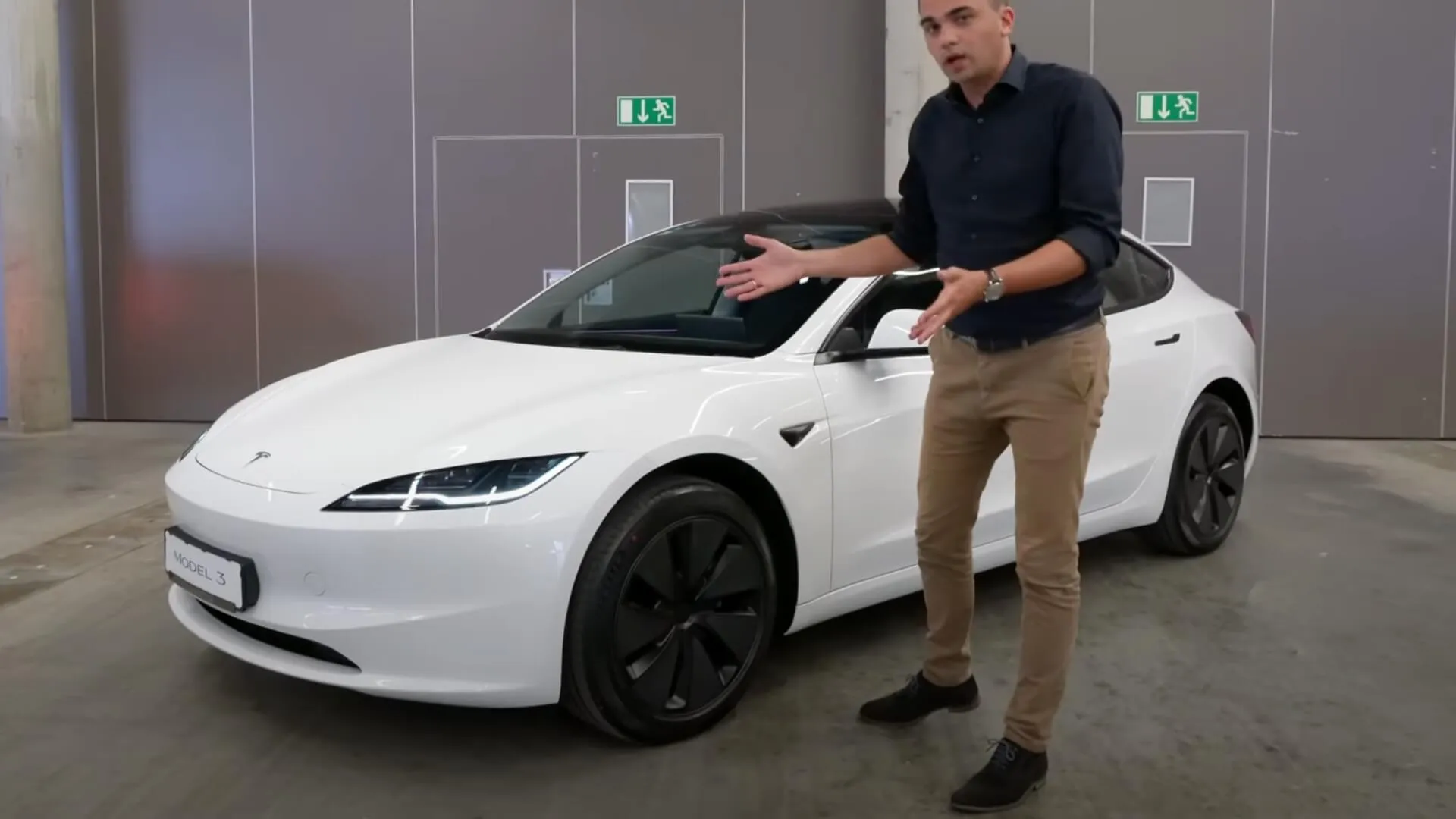 The All-New Tesla Model 3 is Here
The electric vehicle community has been buzzing with anticipation, and the moment has finally arrived. The all-new Tesla Model 3 is nothing short of a masterpiece. The vehicle, which was internally codenamed Project Highland, has undergone a significant transformation, both aesthetically and functionally.
New Design Elements
The new Tesla Model 3 Refreshed (Highland) sports a chiseled design that is sure to turn heads. Both the front and rear of the vehicle have been redesigned, featuring improved aerodynamics that not only enhance its visual appeal but also contribute to its performance. The changes are not just skin-deep; they have been rolled out initially for the rear-wheel-drive and long-range versions of the Model 3, signaling a comprehensive update across the lineup.
Estimated Range
One of the most exciting updates is the estimated range, which now stands at an impressive 421 miles. This is a significant leap from the previous versions and sets a new benchmark for electric vehicles in this category. The increased range is a testament to Tesla's relentless innovation in battery technology and energy efficiency.
In summary, the all-new Tesla Model 3 brings a fresh wave of upgrades that go beyond mere cosmetic changes. With its revamped design and extended range, the vehicle is set to continue Tesla's legacy of pushing the boundaries in the electric vehicle market.
Old Model 3 vs. Tesla Model 3 Refreshed
When Tesla announces upgrades, you can be sure they're not just tinkering around the edges. The all-new Model 3 comes with a host of significant improvements that redefine what we can expect from an electric vehicle.
12% Increase in Range
One of the standout features is the 12% increase in range. This is a substantial improvement that not only enhances the car's usability but also sets it apart in a market where range is often a deciding factor for potential buyers. This bump in range is likely due to advancements in battery technology and energy-efficient design, further solidifying Tesla's position as a leader in the EV space.
New Colors: Ultra Red and Stealth Gray
Tesla is also spicing things up in the color department. The new Model 3 will be available in two eye-catching colors: Ultra Red and Stealth Gray. These new shades add a touch of flair and personality to the vehicle, giving buyers more options to match their style.
Tesla Model 3 Refreshed (Highland) Interior
The interior of the new Model 3 has received a significant overhaul. One of the most exciting additions is the ambient LED lighting, which gives the car's interior a futuristic, spaceship-like feel. But the changes don't stop there. The steering wheel and center console have been redesigned, and Tesla has opted for real metal touchpoints, elevating the overall tactile experience. These upgrades contribute to a more premium feel, making the car's interior not just a place to sit, but an experience to savor.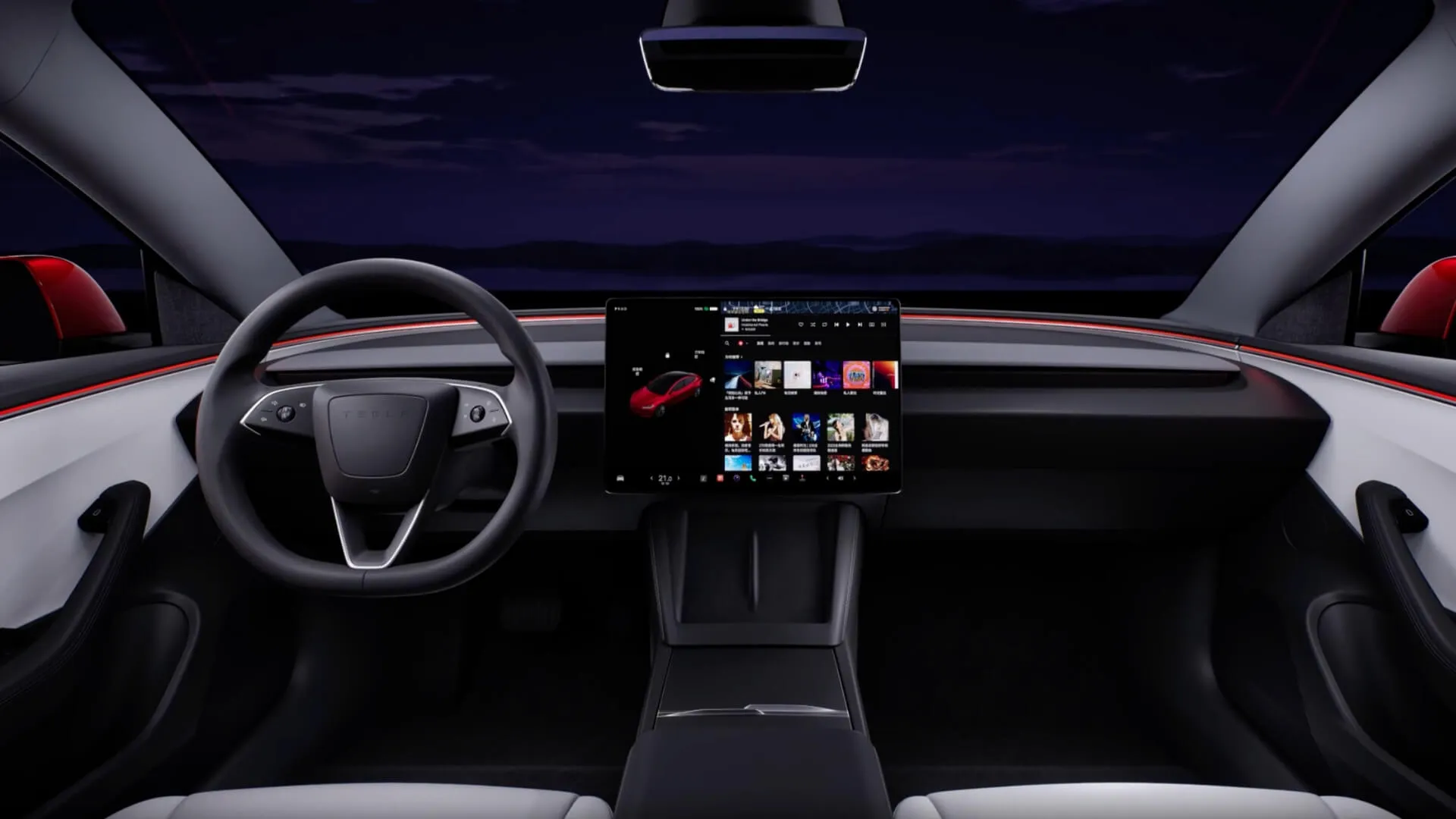 Achievements in Noise Reduction
Tesla has managed to decrease wind and ambient noise by an impressive 30%, creating a more peaceful cabin experience. Impact noise has been reduced by 25%, which means less distraction from external disturbances like bumps or potholes. Road noise, often a persistent issue in many vehicles, has been improved by 20%. These numbers are not just statistics; they translate to a noticeably quieter and more enjoyable driving experience.
New Acoustic Glass and Sound Insulation
One of the key features contributing to this acoustic improvement is the introduction of new acoustic glass for the rear windows. This specialized glass is designed to dampen external noise, making it easier to enjoy conversations or listen to music without interference. Additionally, Tesla has added more sound insulation throughout the car, including an uptick in the hood design that allows wind to pass over more quietly.
In a nutshell, the new Tesla Model 3 is not just an incremental update; it's a quantum leap forward. From its extended range to its vibrant new colors and luxurious interior, the vehicle sets a new standard for what an electric car can be.
Tesla Model 3 Refreshed (Highland) Dimensions and Range
While the all-new Tesla Model 3 retains much of its original form, subtle changes in its dimensions and a significant boost in range make it a compelling upgrade. Let's delve into the nitty-gritty of these changes.
Tesla Model 3 Exterior Dimensions
At first glance, the new Model 3 may appear largely similar to its predecessor, but a closer look reveals nuanced changes. The vehicle is now an inch longer, measuring 185.8 inches (4,720 mm). Interestingly, it is one-tenth of an inch shorter in height, standing at 56.7 inches (1,441 mm). Ground clearance has been negligibly reduced from 5.5 inches (140 mm) to 5.4 inches (138 mm). While these changes might seem minor, they could have implications for aerodynamics and interior space.
Longer Range: A Leap Forward
One of the most significant upgrades comes in the form of increased range. According to the WLTP (Worldwide Harmonized Light Vehicles Test Procedure), the estimated range for the updated RWD Model 3 with 18-inch wheels is 344 miles (554 kilometers). The Long Range (LR) variant boasts an impressive 421 miles (678 km), marking an 11 to 12 percent increase from the current models. It's worth noting that EPA figures for the U.S. market may vary.
Wheel Size and Performance
The optional 19-inch "Nova" wheels offer a different range profile. With these wheels, the RWD Model 3 will achieve 319 miles (513 km) on a single charge, while the LR version is rated for 391 miles (629 km). Performance figures, including acceleration times, appear to have remained consistent with the previous models.
Energy Efficiency
The new RWD version with 19-inch rims consumes 13.2 kilowatt-hours for every 62 miles (100 km) on the European test cycle. The LR version uses 14.0 kWh for the same distance, indicating a focus on energy efficiency.
New Tesla Model 3 Price
In a significant update, Tesla has just revealed the pricing for the all-new Model 3 Highland on its Chinese configurator. This comes as exciting news for potential buyers who have been eagerly waiting for details since the vehicle's official unveiling.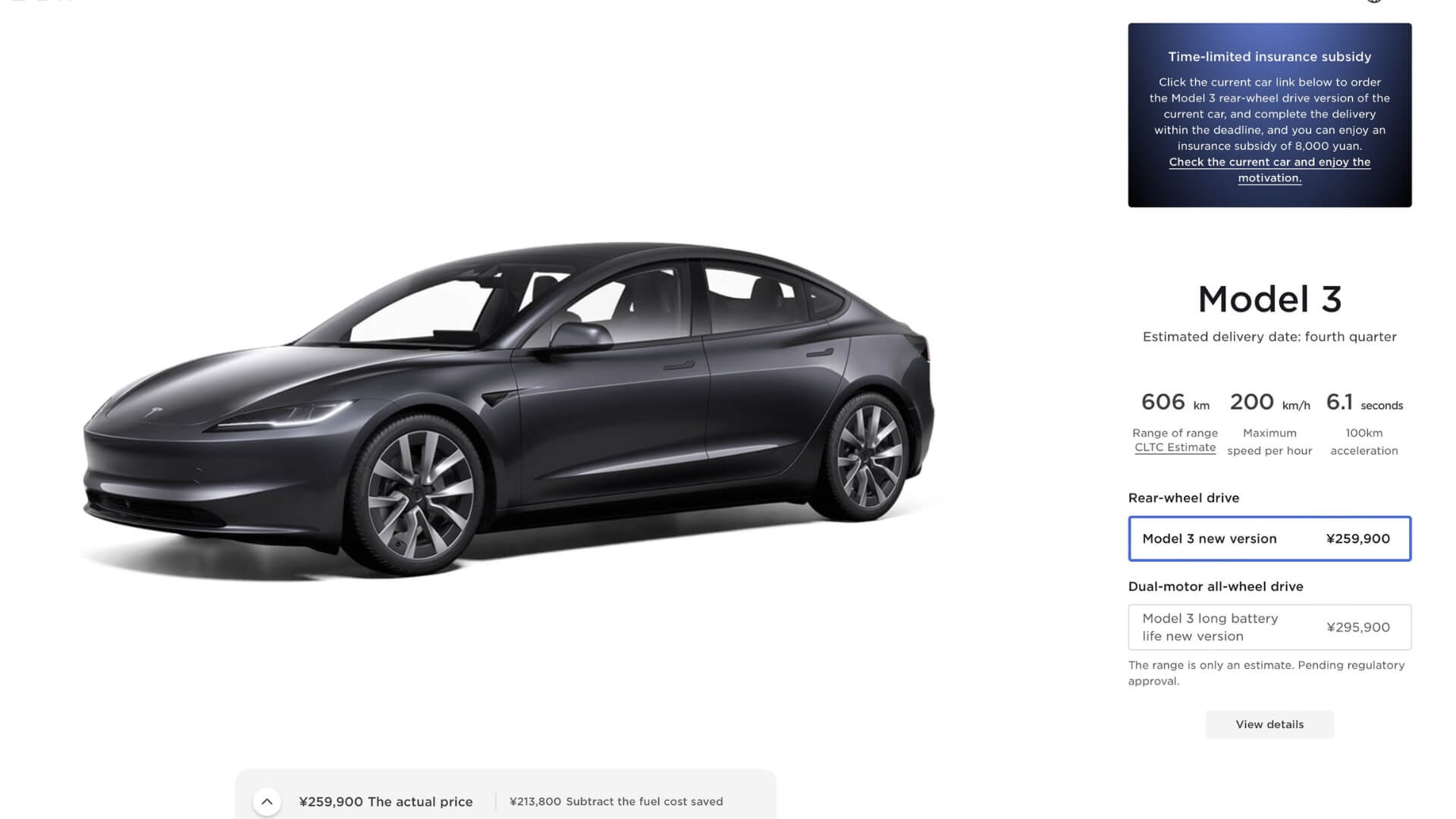 The redesigned Model 3 is now live on Tesla's configurator in China, and the pricing is more competitive than ever. The Rear-Wheel Drive (RWD) version of the Model 3 starts at $35,807 USD. For those looking for more power and range, the Long Range variant is priced at $40,767 USD.
While the pricing details are specific to China, they offer a glimpse into what could be expected in other markets. Tesla often maintains a relatively consistent pricing strategy across different regions, adjusting for taxes, import duties, and other local factors.
Tesla Model 3 Refreshed Availability and Deliveries
As the anticipation for the all-new Tesla Model 3 continues to build, we finally have some concrete information on its availability. Tesla has announced that deliveries of the updated Model 3 will commence in late October, initially targeting the European and Middle Eastern markets.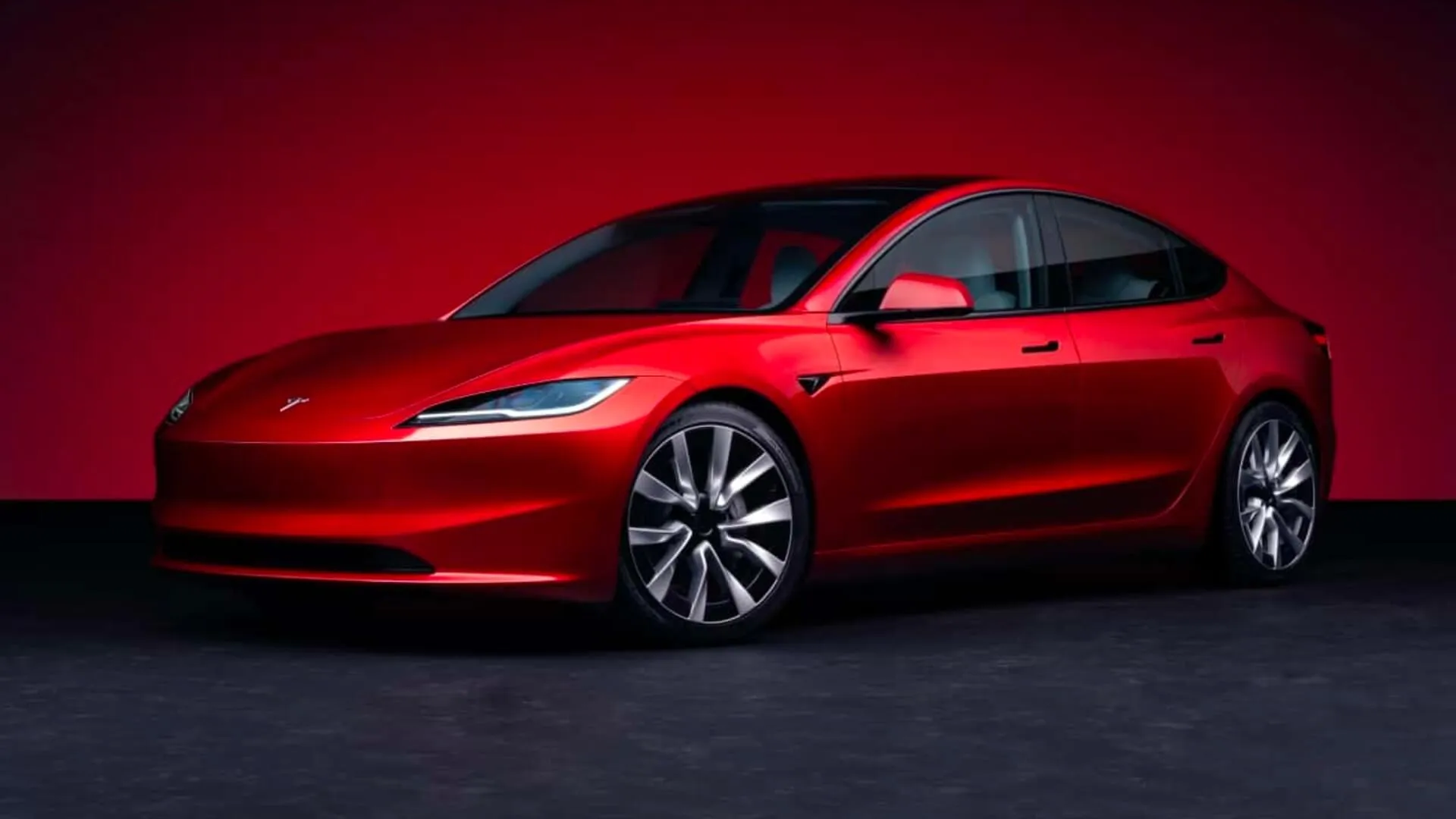 European and Middle Eastern Rollout
The decision to start deliveries in Europe and the Middle East is a strategic one, given the growing demand for electric vehicles in these regions. Tesla has a strong presence in Europe, and the Middle East is an emerging market with significant potential. Customers in these areas can look forward to getting behind the wheel of the new Model 3 in just a couple of months.
While the initial rollout is focused on Europe and the Middle East, other markets are expected to follow suit. Given Tesla's global reach and the universal appeal of the Model 3, it's only a matter of time before the updated vehicle becomes available worldwide.
Preparing for Delivery
For those who have already placed orders or are planning to, now is the time to prepare for delivery. Given the significant upgrades and features in the new Model 3, the wait is likely to be worth it. Tesla's production ramp-up suggests that the company is well-prepared to meet the expected high demand.
A Visual Deep Dive into the New Tesla Model 3
For those who prefer a more visual exploration of the new Tesla Model 3, a Dutch YouTube video offers an in-depth look at the vehicle's aesthetic and functional changes. While the video is in Dutch, its visual content provides valuable insights into what potential buyers and enthusiasts can expect.
Aesthetic Changes
The video showcases the new front bumper and redesigned headlamps, which align with Tesla's focus on aerodynamic efficiency and visual appeal. It also highlights the new rear lights, which appear to be more streamlined and modern compared to the previous version. Interestingly, the Tesla logo at the rear has been replaced by the Tesla name spelled out, adding a touch of elegance to the vehicle's overall design.
Functional Changes
Beyond aesthetics, the video also delves into functional aspects of the new Model 3. It confirms many of the upgrades that have been discussed, such as the improved aerodynamics and the revamped interior. The video provides a close-up look at the new steering wheel design and the real metal touchpoints, giving viewers a sense of the premium feel that Tesla aims to deliver with this update.
What Does This Mean for Current Orders?
As the excitement builds around the new Tesla Model 3, a question looms large for those who have already placed orders but haven't yet taken delivery: What happens now? A Reddit discussion sheds light on this concern, drawing parallels with the launch of the refreshed Model S.
Tesla Community Concern
The Tesla community has been abuzz with speculation and questions about the impact of the new Model 3 launch on existing orders. One of the key questions raised is what options will be available for those who have placed orders but are still awaiting delivery. Will they automatically receive the updated model, or will they have the option to stick with the older version?
Lessons from the Model S Refresh
When Tesla launched the refreshed Model S, similar questions arose. In that case, customers were generally given the option to either stick with their original order or upgrade to the new model, often with price adjustments to account for the new features. While Tesla has not yet made an official statement regarding the new Model 3, the company's past actions with the Model S could serve as an indicator of how they might handle current orders.
In summary, while there's no official word yet, the Reddit discussion and Tesla's past behavior suggest that customers with existing orders may have some flexibility in how they proceed. Whether you're eagerly awaiting your new Tesla or contemplating placing an order, it's a point worth considering as you navigate the exciting landscape of Tesla's latest offering.
Conclusion
As we wrap up our exploration of the all-new Tesla Model 3, it's clear that this isn't just another update; it's a milestone. With significant changes ranging from a 12% increase in range to a 30% reduction in ambient noise, Tesla has once again set the bar exceedingly high for what an electric vehicle can and should be.
The new Model 3 comes with a host of upgrades that redefine the EV experience. From its extended range to its vibrant new colors and luxurious interior, the vehicle sets a new standard for electric cars. Add to that the improved aerodynamics, noise reduction features, and the premium feel of real metal touchpoints, and you have a car that is as much a pleasure to drive as it is to look at.
The launch of the new Model 3 is more than just a product release; it's a statement. A statement that Tesla continues to lead in innovation, quality, and customer experience. As the electric vehicle market continues to grow and evolve, Tesla's latest offering serves as a benchmark for competitors and a dream for consumers.