There is a huge difference between modern automobiles and those from the last century. Engineering practices have been refined and automated, and production has sped up incredibly. With electric vehicle production on the rise, there has been more focus on software capabilities in vehicles than ever before. Companies like Tesla and Lucid Motors have identified the need for upscaling software capabilities as well. This has turned the electrification phase of the automobile industry into a technological rat race. 
Secret Module Hack to Unlock Tesla's Features
Of course, focusing more on software has its disadvantages too. When you pack in most of your vehicular features and capabilities into software, the risk of being hacked increases multifold. You could literally hack into a car's software and increase its performance capabilities. This has given rise to a new business opportunity – companies offering third-party Tesla performance upgrade modules for Tesla owners to unlock performance upgrades in their system.
The Ingenext Story
Tesla has often been considered a tech company than an automobile company. They tend to have more sophisticated hardware in their vehicles, and then lock it using their software versions, which can later be upgraded to get performance boosts. Hence, it is not uncommon to see a 75-kWh battery pack in a Tesla, of which only 60 kWh is available to the owner.
Many a time, the vehicle is capable of much more power than what the software allows it to. So all you need to do is hack into the software and remove the "lock" on the performance capabilities. Now, this isn't something that any random Tesla owner can do. This is where companies like Ingenext come in.
Founded by Guillaume André, Ingenext provides such third-party software hacks to its customers. They sell hardware modules, which customers can connect to their Tesla vehicles. The installation of this module allows Ingenext to hack into the Tesla software, and remove the locks to increase performance. They also provide some features to the vehicles. There are features present in Tesla's high-end variants that are locked in the base variants. By installing the Ingenext module, you can unlock these features and run them in the base variants too.
The Tesla vs Ingenext Feud
Now, Tesla also offers such performance upgrades, but Ingenext offers them at a lower price. For example, Tesla offers an Acceleration Boost feature for $2,000. This improves the 0 to 60 mph (96.5 kph) timing by half a second. Ingenext can do the same for you using their Boost50 Module for $1,100. They also throw in a few extra features such as Drift Mode, battery pre-warming and 'open door on arrival' in the Boost50 package, making it even more attractive for potential customers.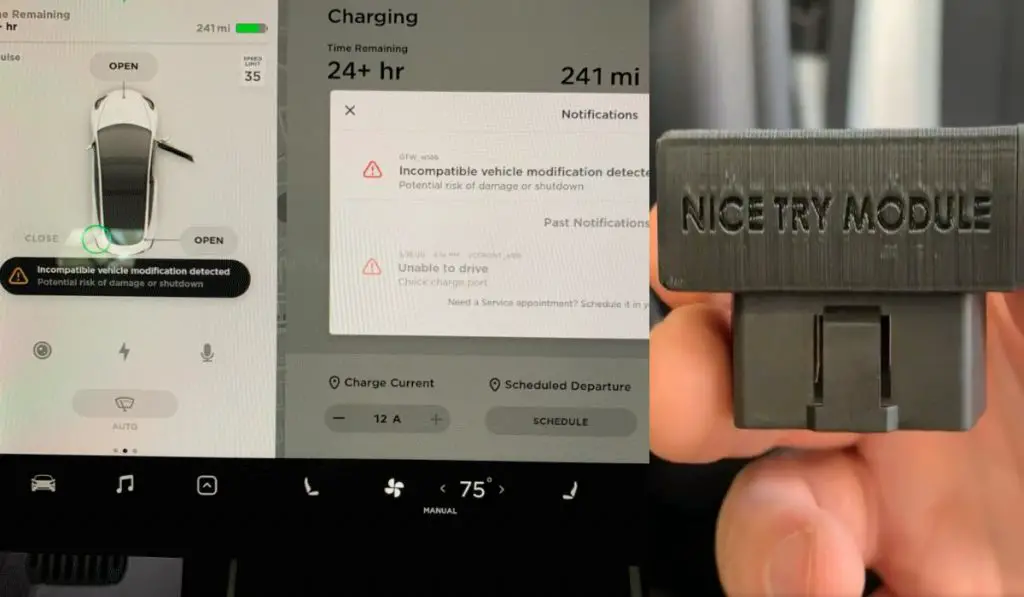 But the catch is that if you install the Ingenext package, you have to forego some official Tesla system updates. But still, Ingenext were making good money off this Boost50 package. Then Tesla decided to fight back. One of the Tesla owners who had purchased the module received a message on his screen, which said "incompatible vehicle modification detected, potential risk of damage or shutdown". While this did not affect the driving of the vehicle, the warning notification seemed to be stuck on the screen. What surprised many people was that Tesla was claiming that this could damage your car when they themselves have an update that unlocks it.
But the warning message meant that the ball was in Ingenext's court. They tried to address this issue through the software but failed to do so. So they came up with a hardware module that, when connected, would erase this message from the screen. But this increased the cost of the Boost50 package and took away Ingenext's advantage to some extent.
Ingenext Products
This package, as mentioned before, boosts the acceleration of your Long Range Tesla vehicle. It increases the power output by 50 horsepower, thus improving acceleration time by half a second. It also offers extra features like heated rear seats, ambient lights, automatic driver door opening, automatic frunk and trunk opening with proximity sensors, Drift mode (a special driving mode that disables traction control but maintains ABS and Power Steering), battery pack heating, and manual wiper control.
This package is available for $1,100 for Model 3 and Model Y to provide a performance upgrade for Tesla Model 3 and Tesla Model Y . There is also a Boost SR Module available for Standard Range vehicles for $950. It offers the same features.
This gives you the extra features of the previous package without the performance upgrades. So, if you own a Standard Range Model 3 (which is the cheapest Tesla available), but want to experience some of the tidbits from the higher versions, you can purchase this package. It is available at $450.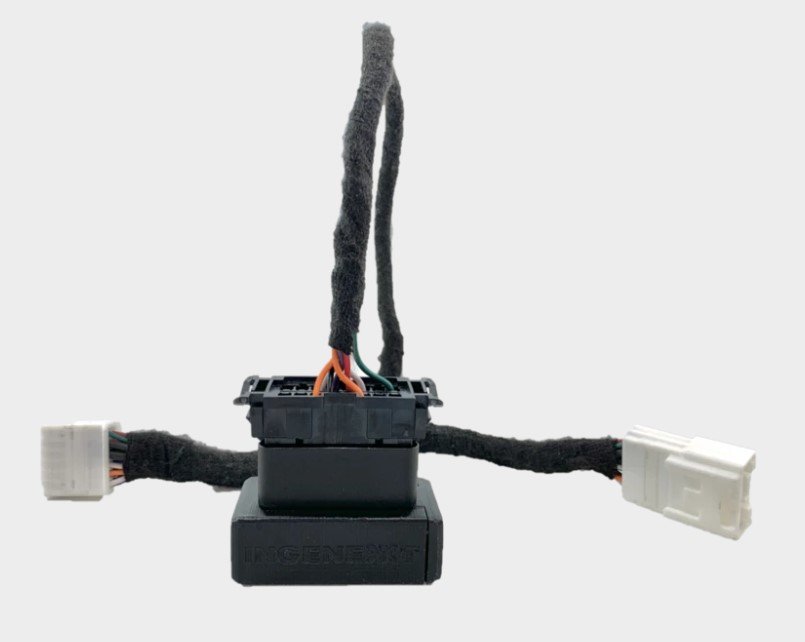 This works only for the Long Range AWD Model 3 vehicles. And you need to have a specific motor variant (980, not 990) in your car for this to work. It practically converts your Long Range (LR) AWD into a Performance variant. The on-paper acceleration timing for the Model 3 LR is 4.2 seconds. This upgrade brings it down to 3.2 seconds. The Performance variant, which costs $10,000 more, has an acceleration timing of 3.1 seconds.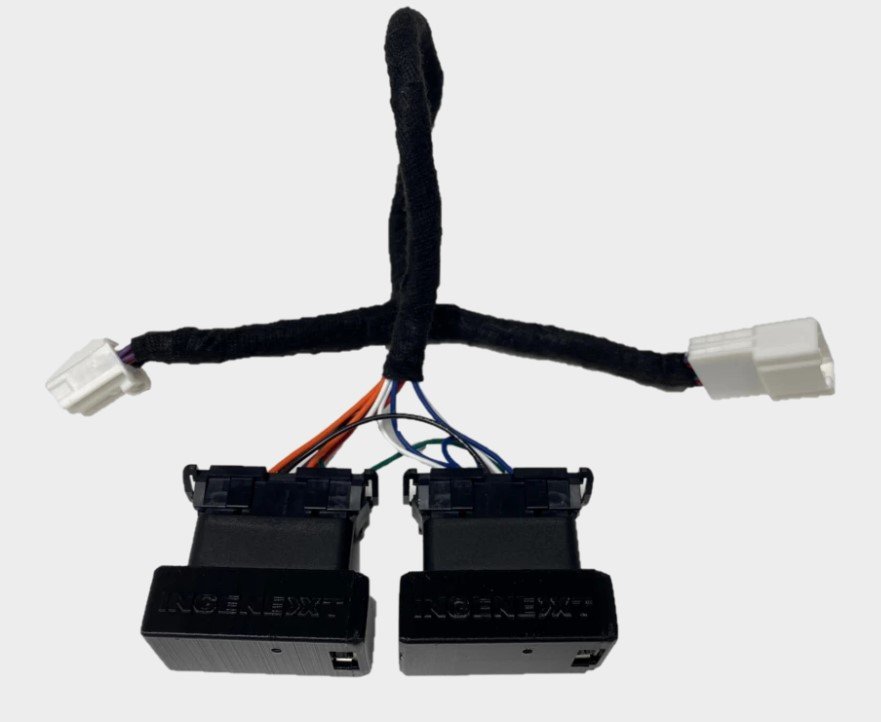 Ingenext claims that the Ghost Upgrade adds, wait for it, 150 horsepower to your existing 441 horsepower. For comparison, the Performance variant has an output of 513 horsepower. And there is a Drift mode and a Lap mode for all your on-track antics. Plus, you get all the features from the Bonus Module as well. All this for $2,395.
An Overview of the Bonus Module Features
Tesla has rear seat heaters in all its vehicles. But in the Standard Range variant, they have locked the accessibility of this feature. You can purchase the accessibility from Tesla's official website for $300. But Ingenext's Bonus Module offers it, along with several other features, at $450.
Seat Heaters
You can activate the rear seat heaters through the Ingenext web app, with three levels of heating available. So, you can choose the extent to which you want to toast your butt. You can also control this heating using the rear window switches. By pressing the window switch upwards once, it activates the heating and sets it to level 3 (hottest). You can reduce the level by clicking once more, bringing it down to level 2, then level 1. To switch it off, you have to press and hold the switch upwards for three seconds.
Lights
Then, you have the ambient lights inside the vehicle. There are bulbs present near the driver's legs, under the armrest, and below the door frame for spotting puddles when you open the door. The Bonus Module allows you to access these lights in the Standard Range variant, something that Tesla does not allow.
Automatic Door and Frunk-Trunk Opening
The automatic door opening and frunk-trunk opening works on sensors. You can set a suitable range, and when your phone is in that range, the door automatically opens. The frunk and trunk can be opened when you stand next to the corner sensors located on the driver's side of the car.
Battery Heating
Battery preheating is very common in electric vehicles. It is also called pre-conditioning of the battery, which essentially means heating your battery to the optimum range of temperature for fast charging. But in Tesla vehicles, battery preheating starts only when you set Navigation to your nearest charging station. Through this Bonus Module, you can manually switch on the heating whenever you want.
This can be useful especially when you drive in colder conditions, as getting the battery in the optimum working temperature helps with energy efficiency.
Manual Wiper Control
The wiper control for Tesla vehicles is available on the screen. But this can be risky, as you have to take your eyes off the road in order to change settings. Hence, most drivers prefer to keep the setting on Auto mode, where the vehicle senses the presence of rain and activates the wipers. The Bonus Module allows you to change the wiper settings using the left-side stalk on your steering wheel, just as in most combustion vehicles.
Our Opinion
The fact that Tesla has managed to upgrade its vehicles through OTA updates over the past few years is incredible. It allows them to keep their vehicles relevant through new features and also allows them to offer performance upgrades. But every coin has two sides, and on the other side of this coin are companies like Ingenext.
While the features that Ingenext offers have a very good value-for-money angle, there is a lot of debate as to whether you should make third-party modifications to your vehicle. It normally ends with you voiding your warranty, but there are automobile enthusiasts who love to modify, tune and boost their vehicles. That is the market that Ingenext taps, and thus, this cat-and-mouse show between Tesla and Ingenext keeps going.
You can view a few videos regarding the Ingenext packages and their installation here: