Tesla has decided that it will fight back against the owners who have taken the decision to get performance boosts unlocked from a third party company, thus trying to take on Canada-based company Ingenext. It was in May 2020 that Ingenext was formed by Guillaume André, who previously owned Simon André, an electric vehicle reseller and repair shop based in Quebec, Canada. In April this year, a YouTube video was released that showed André converting a Tesla Model 3 single motor variant into a double motor variant in his shop, while also unlocking software upgrades to boost performance. With that, the discussion of owners hacking the software in their Tesla to unlock greater potential got fuelled further.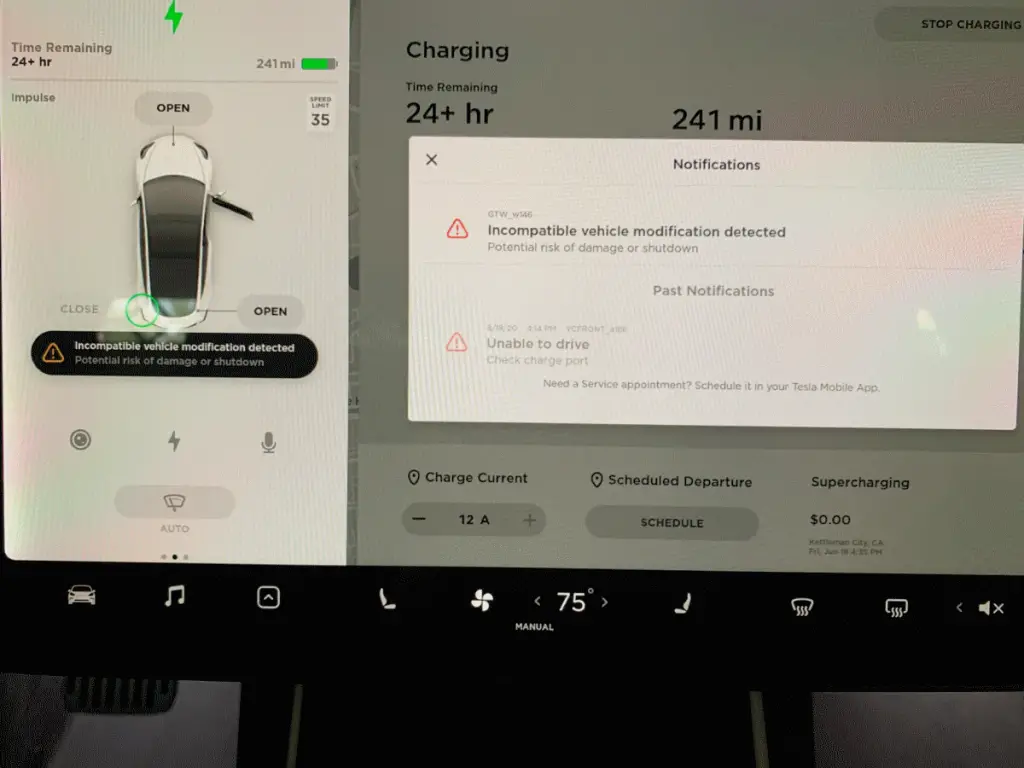 Tesla Fights Back Against Hackers Unlocking Paid Performance Upgrades
One of the customers of Ingenext took to the social media platform Reddit, to show that his Tesla was displaying a warning message that said "Incompatible vehicle modification detected. The potential risk of damage or shutdown". While this did not affect the driving of the vehicle, the warning notification seemed to be stuck on the screen. This indicates assertive steps being taken by Tesla to ensure that owners do not get their software 'hacked' by third party companies like Ingenext to unlock performance boosts. The interesting thing to be noted here is that Tesla offers this acceleration boost upgrade at $2000, but if you get it done from Ingenext, it costs you around $1100.
Tesla's Software Upgrades
For quite some time now, Tesla has been the leading company when it comes to manufacturing electric vehicles. The major factor contributing to their success is their philosophy of working like a tech company in the automobile world, with OTA upgrades and rapid releases that allow them to update the software in the cars that they have already sold. Due to this ideology, they need to have foresight when designing components of their vehicles, and they often overdesign them to ensure the hardware is in place for any of the software updates that will roll through over the next few years. Hence, it is quite common to see a Tesla model being sold with a 75 kWh battery pack which is locked at 60 kWh.
The full potential of the hardware can then be unlocked by purchasing software upgrades from Tesla, which was a smart move. Tesla knew that many customers would be willing to pay a little more money to upgrade their cars without having to physically change any of the components. However, this opened up a path for companies such as Ingenext to help Tesla owners 'hack' into these software upgrades and boost their vehicles for a cheaper cost. Ingenext not only gave discounts for upgrading performance boosts but also threw in some of their own features, like a Drift Mode, battery pre-warming, and 'open door on arrival'.
It was in December 2019 that Tesla announced that Model 3 Dual Motor Long Range owners could avail a performance boost with an OTA update, which would bring down the acceleration time of 0 to 60 mph (96.5 kph) from 4.4 seconds to 3.9 seconds. This update, known as the 'Acceleration Boost', costs $2000. This upgrade increased the peak power from 447 hp to 497 hp, while also showing a 12% increase in peak torque. Across two OTA performance updates late last year, one customer reported a total increase in peak power of 82 hp, with an improvement in 0 to 160 kph timing by one full second.
The Ingenext Story
In the first Tesla upgrade that Guillaume André did, he took a single motor Model 3, installed an additional motor in the front to make its hardware equivalent to a Dual Motor Long Range, and then hacked the software of the driver inverter to unlock the Acceleration Boost package. With this, André started Ingenext, a company that provides software and hardware upgrades for various vehicles. They brought out the Boost50 package, which is the Ingenext equivalent of an Acceleration Boost, and also added in a few features like the Drift Mode, which are accessible through a web app.
Purchasing a Boost50 package would still make you eligible for further Tesla updates, and with a price that is $900 lesser than what Tesla asks for, Ingenext attracted a lot of customers. They also offer upgrading the software and hardware in your Tesla Model 3 Dual Motor to make it equivalent to a Model 3 Performance (the only hardware difference between the two variants are the wheel size and brakes). However, after purchasing this package, you would not be eligible for further Tesla updates, and that was a deal-breaker for many. Despite that, Ingenext was able to sell many Boost50 packages, while also telling their customers which updates are safe and which are not. All seemed good, till the Reddit post two days ago.
This "hacking software upgrades" was always going to be a cat-and-mouse game between Ingenext hacking the driver inverter, and Tesla patching the hack. The owner who posted the image did not report any change in his drive, just that the notification seemed to be stuck on his screen.
The public also seems to have divided opinions on this issue. Many Tesla owners feel that once they have bought the car, they should be free to make whatever modifications they want to, especially when they get a much sweeter deal through Ingenext than through the base company. Once the car is theirs, Tesla should not interfere with what they want to do. Others say that voiding the warranty of the vehicle and make it susceptible to damage or shutdown doesn't seem to be worth it just to save a few hundred dollars. Many others are also surprised that Tesla is claiming that this could damage your car, when they themselves have an update that unlocks it. At the same time, using Boost50 is employing third-party software. It won't be surprising if Ingenext comes up with an update of their own to counter this. It is, after all, an 'at your own risk' kind of thing.