The first half of Elon Musk's interview with Sandy Munro saw them talk about Autopilot, volume production and quality control, among other things. The second half also contains some very interesting points. Sandy moved the discussion to the most important part of Model Y's design – the body castings.
Single-Piece Castings for Vehicles in Future
Just like Musk mentioned that any program should contain as few lines of code as possible, Sandy also believes that a system should have as few separate components as possible. And that is exactly why the single-piece front and rear castings in Model Y's design impresses him. Elon went on to explain the thought process behind using such single castings.
While designing any component, and optimizing its design for high performance and low weight, Tesla's engineers would think of numerous materials which could be used. They would have 50 different answers for every component, which makes sense individually. But collectively, as a system, it doesn't help to have different materials for every part in the assembly. With an increase in the number of components, one has to think of assembling them properly too. And it creates gaps. And for Elon:
"gaps are one of the toughest issue to deal with during assembly"
There are a number of different methods used for filling gaps between components. One can use rivets, spot welding, resin, or a combination of these. Overall, it is a big nightmare to have for engineers.
Instead, having a single piece of casting eliminates these difficulties, while having its own benefits. Not only does it solve the issue of gaps, but also reduces the size of the body shop. By using single castings for the front and rear sections, Tesla reduced the size of its body shop by around 30%, which is significant. Casting helps in reducing errors and variance across various models too.
Sandy's Views on Single-Piece Castings
Sandy said that he has three pieces of castings sitting in his garage – they combine to form a single chassis. But whenever he shows these components to other engineers, they turn a back on him. No one wants to work with large castings. According to him, this is because of the body shop atmosphere. With a number of robots already programmed to assemble the smallest of parts, engineers aren't thinking out of the box for assemblies.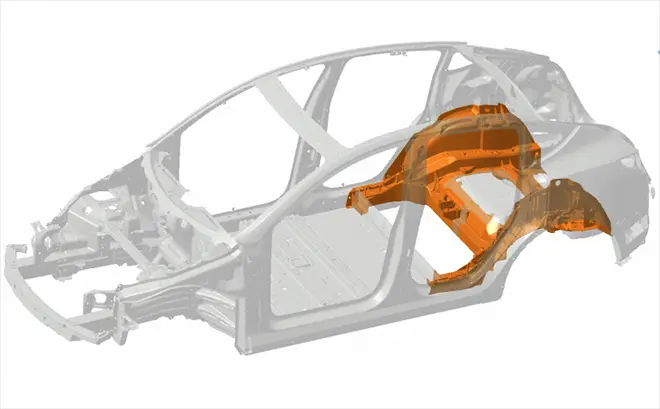 Sandy had also expected a Model Y-like casting for the Model 3 and admits that he was a little disappointed to find out otherwise. Musk clarified his concerns regarding this. He said:
it is difficult to change the wheels when the car is going at 80 miles per hour!!
Basically, Musk was talking about the huge demand that Model 3 has currently. To make a fundamental change in the core design of a fast-selling car isn't easy. However, once the Gigafactories in Berlin and Texas are up and running, Tesla will be looking to do this as well. By then, Model Y will have overtaken Model 3 as Tesla's most selling vehicle.
Structural Battery Pack
Tesla's claim of having record-breaking range in its future products is on the basis of a structural change. This change will see the cells of the battery get integrated within the chassis of the vehicle. This will help decrease unnecessary weight, and also offer better efficiency. He says:
"Current battery packs act as a sack of potatoes. It is important to integrate the cells within the structure, as it will then improve their functionality. Apart from providing energy, they will also decrease weight."
The basic idea of this structural design will consist of front and rear castings, which will be attached to the central part of the chassis, which will contain the battery pack. Now that Tesla has reached a certain level of stability, it is a good opportunity to try things like combining the battery with the chassis.
Material Science and Precision in Assembly
Musk said that if there is a course every engineer should take in college, it is material sciences. The beauty of material science is what has allowed for huge developments in product design. Two sheets of carbon fibre do not have much rigidity by themselves, but when combined with an aluminium honeycomb in the centre as a core, it increases rigidity a lot. This also improves the torsional rigidity, natural frequency and polar moment of inertia of the vehicle. All these parameters go into improving the handling and performance of the vehicle.
Having precision while designing an assembly is of extreme importance too. He compared the accuracy of a Lego set to that of vehicles. Any Lego set has extreme levels of precision, as well as repeatability. This ensures that every press-fit that goes into building a Lego set is perfect.
Sandy also stated that material science is a field which is on the decline currently, and he laments this fact. Even during his working days at Ford, he had experienced the same. He says it surprises him that no one is trying to invent new materials in today's age of technology.
The Curious Case of Carbon Fibre
Carbon fibre is known for its high strength-to-weight ratio and this makes it a very good fit for building the body of a vehicle. Structural parts can also be manufactured using carbon fibre, thanks to its flexibility. Sandy mentioned the beautiful carbon fibre body of the BMW i3. A highly accurate template, which allows the carbon fibre to be built on the foundation of castings is one of the best things you can do in a vehicle, according to him.
But Musk believes there are some disadvantages to using carbon fibre too. The coefficient of thermal expansion of carbon fibre is very low. In places with extremely high or low temperatures, you have to ensure that this doesn't cause hindrances such as jammed doors. Apart from this, while using aluminium castings, it is important to get material properties right without having to carry out any processes post the casting.
Musk mentioned that he is fascinated by material science, and was actually considering applying for a course in Stanford before he dropped out.
Electric Crossover Point
At what point will the number of electric and hybrid vehicles start dominating the overall sales? Sandy believes that 2030 will be the year when we see the number of BEVs (battery electric vehicles) and hybrid vehicles cross 50% of all sales. That is a timeline with which Musk agrees, as well. Musk even laughed off the prediction of some analysts, who said that the share of sales of electric mobility will be 15% by 2045.
Musk also talked about improving the electronics and wiring in vehicles. Using a higher voltage is something that needs to be implemented at the earliest. Another improvement should be the integration of transfer of power and data through the same set of wiring.
All in all, Musk has a lot of short-term goals he wants to achieve in vehicles, and Sandy had a lot of praise and appreciation for these.