The job profile of the team at Unplugged Performance is to inject steroids into Tesla vehicles, mostly the Model S and the Model 3, they take an ordinary Tesla and transform them to machines capable of ballistic performance. This time around the crazy engineers at Unplugged Performance have taken the Tesla Model 3 and have turned it into a beast. It is now capable of crushing the track times set by Porsche and McLaren, think about it – the baby Tesla is now throwing punches at a few heavy-hitting Supercars.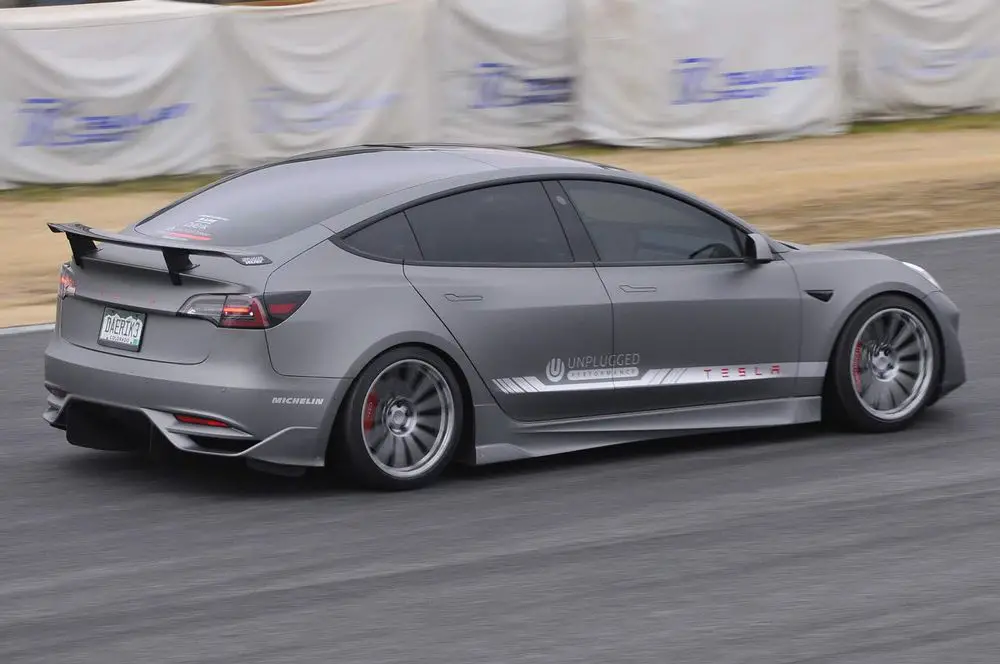 The folks over at Unplugged Performance mean serious business, they have been specializing in modifying Teslas for some time now, the zenith of their modifying portfolio is an Ascension-R Conversion Programme for the Model 3. Tesla has been around actively for over a decade now and it is no surprise that electric tuning firms have started popping u. Their most recent endeavor is a Model 3 that has beaten the track record of the Porsche 911 GT3 RS and the legendary McLaren F1-which was the fastest production car before Bugatti came along with the Veyron and it still remains to this day the fastest naturally-aspirated road car, now more than 2 decades later since the F1, the unplugged Model 3 went around the Tsukuba Circuit by over one second each.
The Model 3 is ordinary guise is no slouch; it is an EV that boasts quite respectable performance figures. Model 3 with its 0-60mph sprint time of 3.2 seconds and a top speed of 160 mph has set new benchmarks in its class. It has a max range of 299 miles per charge but this can be extended with a range extender pack that costs $9000. Since we now have an understanding of the impressive credentials of the standard Model 3, let's take a look at what the monstrous Unplugged Performance Model 3 is capable of.
Mods to the suspension
The Whole modifications pack cost $35000, but we think this is money well spent as your sports sedan becomes a complete track obliterator. The first component to be modified is the suspension. A custom race valved coil-over suspension kit brings adjustable control, camber, and toe arms. This is coupled with a 3-way adjustable front and rear sway bar. The ride can be tuned from soft to firm and with great power comes even greater stopping power, so this Model 3 is equipped with a 6 piston 15.5" carbon-ceramic brakes gives you all the braking performance you will ever want in your track-day EV.
Wheels and Tyres
The wheels are different as well. The customer has a choice of 18", 19", or 20" wheels with Michelin Cup 2 tires. The wheels are worked out of 6061-T6 billet APP forgings, this is the same wheels used in ultra-rare hypercars like Koenigseggs and Lamborghinis. Total weight is 19.6 lbs (8.9 kg) per wheel for the 20" model. These wheels are extremely durable as well, it will come in handy when you are honing around a race track all day long.
Aerodynamics
The other major component you'll see is the aero on the back. The team works together with Voltex Racing Suzuka to produce each Ascension-R wing and that too hand. This offers a unique build for each owner but also allows for modifications to design to be made before the process begins, needless to say, it is quality craftsmanship.
This package is not just limited to exterior; the interior gets a major revamp as well. Due to higher cornering and maneuvering capabilities, the original seats inside the Model 3 have been chucked out, they just weren't capable and safe enough to be kept. The regular sets have been replaced with proper racing buckets equipped with Unplugged FIA certified racing harnesses. To make the seats more appealing to Tesla, the team created a plaid design for the coverings to pay tribute to the upcoming Tesla three-motor drivetrain.
Conclusion
As of now, we are not sure if the car's battery has been modified or not, it is highly unlikely this is so, anyway if you have Tesla Model 3 sitting around and managed to find an extra 35 grand in the pocket of your ripped jeans, you can get yourself a Model 3 that has Hulk-mode engaged.