The electric vehicle market has surged in the last couple of years. A number of new companies are coming on the market with their products, while traditional automakers are also undergoing electrification. Due to this, the demand for automotive semiconductors is on an all-time high, while the supply has reduced due to the pandemic situation. Amidst all this, there are now reports of two heavyweight companies from the concerned areas to collaborate on a project.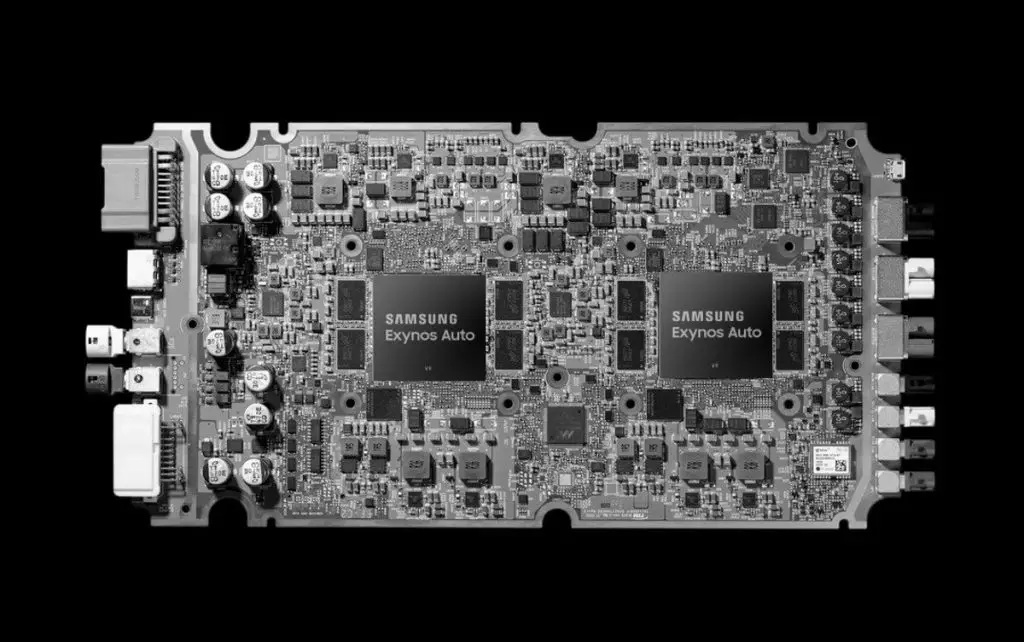 Samsung Exynos Auto in Tesla?
South Korea's Samsung is set to partner up with Californian automaker Tesla to produce 5-nanometer semiconductors. This automotive semiconductor will become the core of electric vehicle technology, they say.
Samsung and Tesla
Samsung and Tesla have a long-standing history. Tesla has relied on Samsung for the production of the chips that it uses in its vehicles. These chips are extremely important for integrating autonomous features with vehicle technology.
Samsung had previously supplied 14-nanometer semiconductors to Tesla. These semiconductors undergo argon fluoride exposure process (ArF), but these new 5-nm semiconductors use a different method. It is something called extreme ultraviolet exposure (EUV), which only a handful of companies have managed to date.
Currently, Samsung is carrying out research on this 5-nm semiconductor technology. When this gets combined with the Tesla automotive technology, it will change the entire scenario for automotive semiconductors, according to Samsung.
The specialty of the 5-nm Semiconductor
The 5-nanometer automotive semiconductors are a very recent piece of technology. They have found its way into consumer electronics like the iPhone 12. Currently, Samsung and Tesla will be collaborating on this technology for the infotainment product line.
This infotainment product line, aka the in-vehicle infotainment, is a very integral part of the electronic system in autonomous vehicles. Various processors, neural network processing units, security integrated circuits, memories and display driving chips are embedded in it. All these are technical terms, so let's look at it in a simpler way.
Any self-driving car relies on a lot of data that it collects via sensors. Sensors are the eyes, nose and ears of the vehicle, providing it with information like traffic signals, stop signs, pedestrians as well as other vehicles on the road. The next process is to process all this information and provide it to the screen. The IVI is regarded as the core technology, which enables the car to do all this. Since last year, the performance of the chips installed in IVI has become very important.
Why This Deal is Important
Tesla has a very simple ideology that has helped it dominate the autonomous vehicle industry till now. The philosophy of upgrading the products from time to time has allowed them to keep their products relevant in the market. They have understood that this is a technological race, and have designed their vehicles accordingly.
Tesla already has some history with Samsung, who produces the self-driving chips used in Tesla's 3.0 computer. A few months earlier, there were reports of Tesla looking towards Taiwan TSMC for the 7-nm semiconductor in their upcoming. Now, they have gone one step further with Samsung.
Samsung, on the other hand, is one of the largest producers of semiconductors. They are looking to increase their yield to compete with TSMC. At the end of 2020, Samsung underwent a restructuring of its personnel. As a result, a number of employees moved from the advanced driver assistance system (ADAS) to the IVI field. A deal with Tesla gives them a chance to show their potential of producing self-driving chips in large numbers. This will attract other automotive companies too, and Samsung will then manage to challenge TSMC.
TSMC revealed the world's first 7-nm vehicle design platform last year. However, Samsung has apparently decided to skip this step. A partnership with Tesla will give them the chance to bring the 5-nm technology to the automotive world.
Our Opinion
Samsung is a fierce competitor in the market, currently. Given the opportunity, they can start developing the 5-nm semiconductors directly, and skip the 7-nm class entirely. And a deal with Tesla is as big as it gets in the autonomous driving world right now. Of course, Tesla won't sign a contract without Samsung proving that they are capable of high production rates.
But this is definitely an interesting turn of events. Tesla was looking towards TSMC's 7-nm technology earlier, but they have now decided to go to Samsung and develop a new design platform. According to sources, the production of Tesla's newest chips will go into production in Q4 2021, meaning we won't see them till next year. All in all, this deal is a very exciting bit of news for the market.