Last week, we reported the incident that occurred at the Shanghai Motor Show. A woman, Ms. Zhang had gotten on top of a Tesla Model 3 and started a protest against the quality of Tesla vehicles. This protest was against a particular issue with China-made Tesla vehicles – the brakes. Eventually, police dragged Ms. Zhang out of Tesla's booth and detained her.
Tesla Retrieves Data From Blackbox (EDR) To Explain The Truth Behind Protestor's Tesla Accident
Tesla also released a statement, which the public perceived as 'cocky'. In the end, Tesla apologized for handling the entire situation as they did. Tesla now has released data logs of Zhang's Model 3 involved in an accident. Zhang says that the brake issue in Tesla's China-made cars caused the accident. These data logs, however, tell a different story.
Tesla Releases Data Logs of Accidents
From a company point of view, releasing data logs from a particular incident is an unprecedented move for Tesla. They are normally very protective of this kind of data.
Tesla claims that the driver during the accident, Ms. Zhang's father, did not apply the brakes forcibly enough. This meant that the accident could not be prevented, but the vehicle performed as intended. Tesla even mentioned that the automatic emergency brakes activated, which reduced the impact of the crash.
Tesla's "black box", known as the EDR (Event Data Recorder), probably allowed Tesla to understand the turn of events in this accident. The EDR gives a detailed account of many different things that happen in your vehicle at every second. You can read more about it here.
Tesla's Interactions with Zhang
Tesla has also released a detailed account of its interactions with Ms. Zhang through its Weibo account. For many people, the story started from the Shanghai Motor Show. But the interactions were already going on between the parties.
Tesla mentioned that Ms Zhang always refused third-party analysis of her vehicle post the accident. She also brought the car into Tesla's local store to protest two weeks after the accident. On March 6th, she rejected any form of vehicle testing. She also requested to return the vehicle and get compensation for mental damage, medical expenses, and lost work expenses.
In the report, the company said that after that protest, it had a mediation meeting with Ms. Zhang and the authorities, where Tesla claims she actually agreed to a third-party review but recanted shortly after. Now that's when things start to get crazy.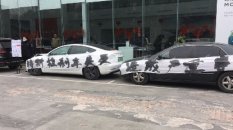 She again brought back her car at the local Tesla store to protest. Then, she upgraded from protesting at Tesla stores to bringing her car to the Zhengzhou Dahe Auto Show and even hiring models to stand next to the car.
According to Tesla, she did a few more of these stunts before the more publicized incident at the Shanghai Motor Show. Chinese media reported that she was detained for five days by the police after the event. Tesla says it hasn't been in communications with her since the arrest until now, and the company shared the text it received from her:
I just came back and need to adjust. I hope you can show an attitude that really solves the problem. When you have this attitude, we will communicate.
Our Opinion
It does not happen regularly that Tesla releases this much information about a particular incident. But this is quite a crazy incident, even by Tesla's standards. Ms. Zhang kept rejecting third-party analysis and demanding compensation. In situations like these, it makes sense for a company to get in the clear and allow as much transparency as possible. Tesla's image was taking a hit due to this, but this puts them on slightly higher ground. It does keep the automaker on its toes when it comes to maintaining the quality of its vehicles.