Tesla vehicles are known as the revolutionary of modern motoring, we can go as far as to say Tesla re-invented electric cars, it was the first EV to have a respectable range and thus could be used for trips that covered long distances, prior to that EVs were basically city runabouts. This feat was achieved due to Tesla's innovative batteries which are not just efficient but also rapid due to the instant torque it produces, the notion that Electric cars could be fun was made a reality by Tesla.
Its visionary chief Elon Musk has left no stone unturned when it came to making his cars a game-changer and viable alternative to combustion cars if not better. This has made Tesla incredibly popular and in extremely high demand, despite the company shifting only to online sales it doesn't seem to run out of steam when it comes to sales.
Tesla Model 3 resale value retains whopping 90% after 3 years, study shows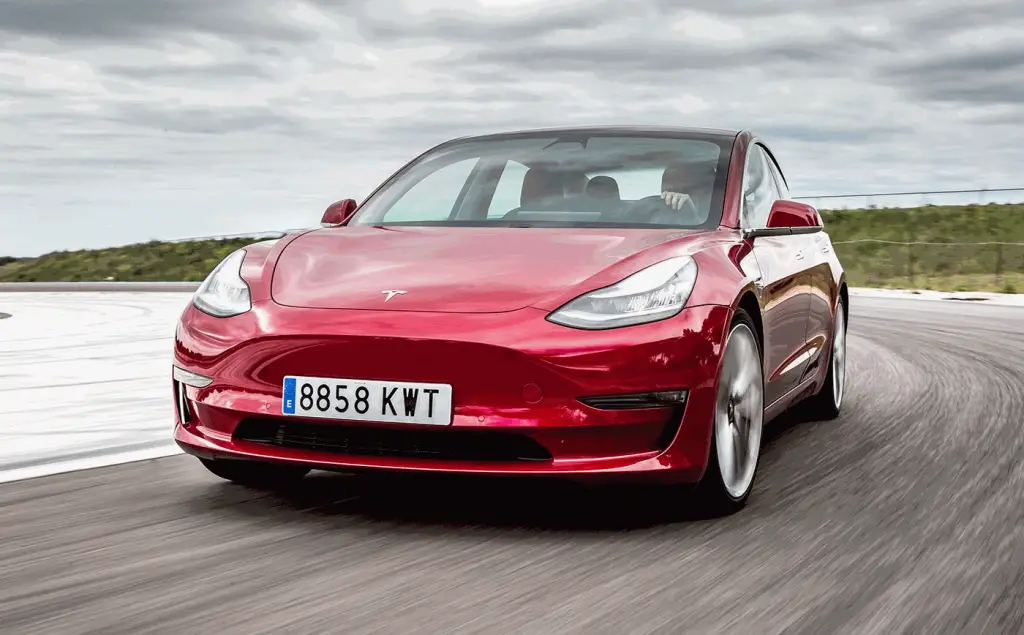 How Tesla's retain their value
This popularity is certainly reflecting on its resale value as some studies suggest that Tesla Model 3 tends to hold its value more than five times better as compared to other EVs. An independent car search engine called iSeeCars.com analyzed the values of over 6.9 million car sales to pick out models with the highest depreciation after three years. It was stated that Tesla Model 3 is still in really high demand since it started production in 2017. But it has also been noted that the car does not seem like bargain when its price out of the showroom is considered. It is an affordable way to own a Tesla.
The technology that is crammed into this car like its autopilot feature which is one of the most advanced in the car industry, does make the price sort of justifiable along with brand name Tesla which even with its rather short history has managed to become quite a prestigious thing to possess. According to this report, one reason why Tesla's manage to retain their value and is not subject to the general depreciation in the segment is due to its over-the-air software updates which help the vehicles sold in the previous model year to stay updated. The reports also mentioned that consumers are likely to pay a premium for used Model S and Model X than what they are willing to shell out for other used luxury vehicles.
Depreciation of Electric Vehicles
Electric vehicles are generally subject to faster depreciation compared to Internal combustion cars, and this study stated the average depreciation of Electric cars over a three year lease period is about 52.9%, this is almost 1.4 times greater than the average depreciation of combustion cars, it has been noted that a vehicle generally depreciates 39.1% after the average lease term of three years. Since the Model 3 has been in production only since 2017, the general depreciation of a vehicle over a 3 year is taken as the benchmark.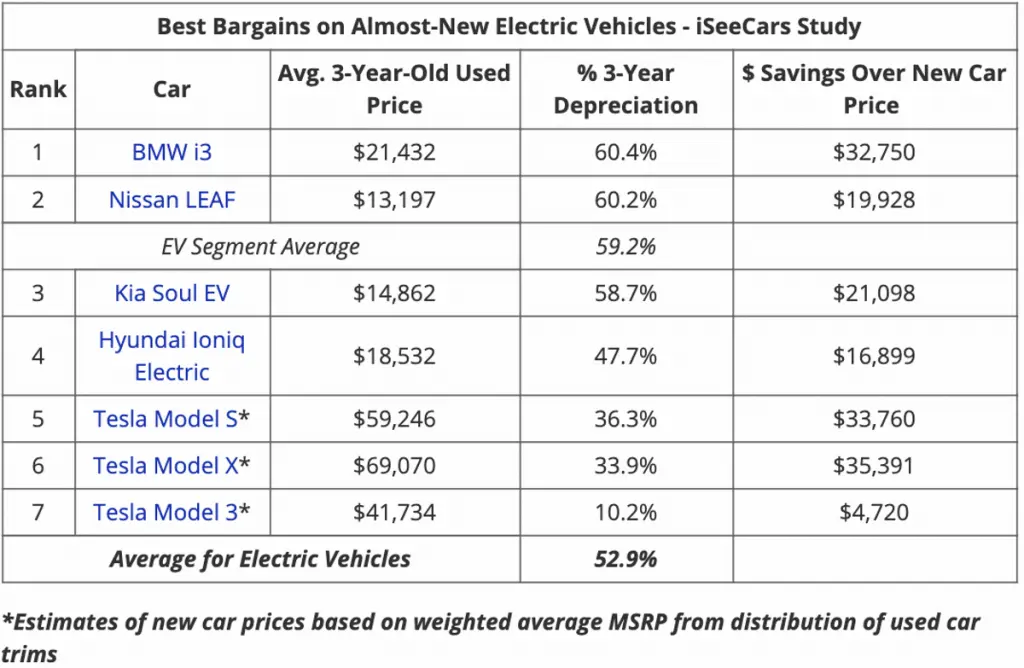 iSeeCars CEO Phong Ly said that three years is a popular age for used car buyers because the vehicle would have taken the hit from the majority of its depreciation in the first three years of ownership. He further added that the reason for this high depreciation for EVs is because most Electric vehicles sold today come with the $7500 tax credit and EV technology is moving at an incredible pace. Another reason is for the above-average depreciation could be the slight shortage of public charging facilities when compared to traditional petrol pumps and also the range of anxiety of the consumers.
The study also took into consideration, EVs from the other long-established auto manufacturers, particularly the BMW i3 and the Nissan LEAF, these are the most popular EV hatchbacks sold in the market today. According to the study, the depreciation on the BMW i3 is 60.4% over a three year period, and for the Nissan LEAF, it is 60.2 %. But Tesla's cars do not seem to be susceptible to this trend, all their models the S, X, and the 3 depreciates at a much lower rate.
It is also seen that Tesla's most affordable vehicle the Model 3 retains its value much better than the other models in the fleet. According to the findings from iSeeCars.com's study, Model 3 only loses 10.2% of its value. This means that the Model 3 retains almost 90% of its original value over a three year period. This is an outstanding achievement for any car model, that is if we don't consider the value retention of classic cars.