Tesla, on Monday, admitted that there is a design flaw in the Model 3 vehicles that were produced before May 2019, which led to the rear bumpers of these cars falling off after being driven through heavy rainfall or deep puddles of water. The issue was with the drainage of mud and water from a panel situated behind the rear wheels, and after more than 2 years of customers' complaints, Tesla has admitted to the flaw.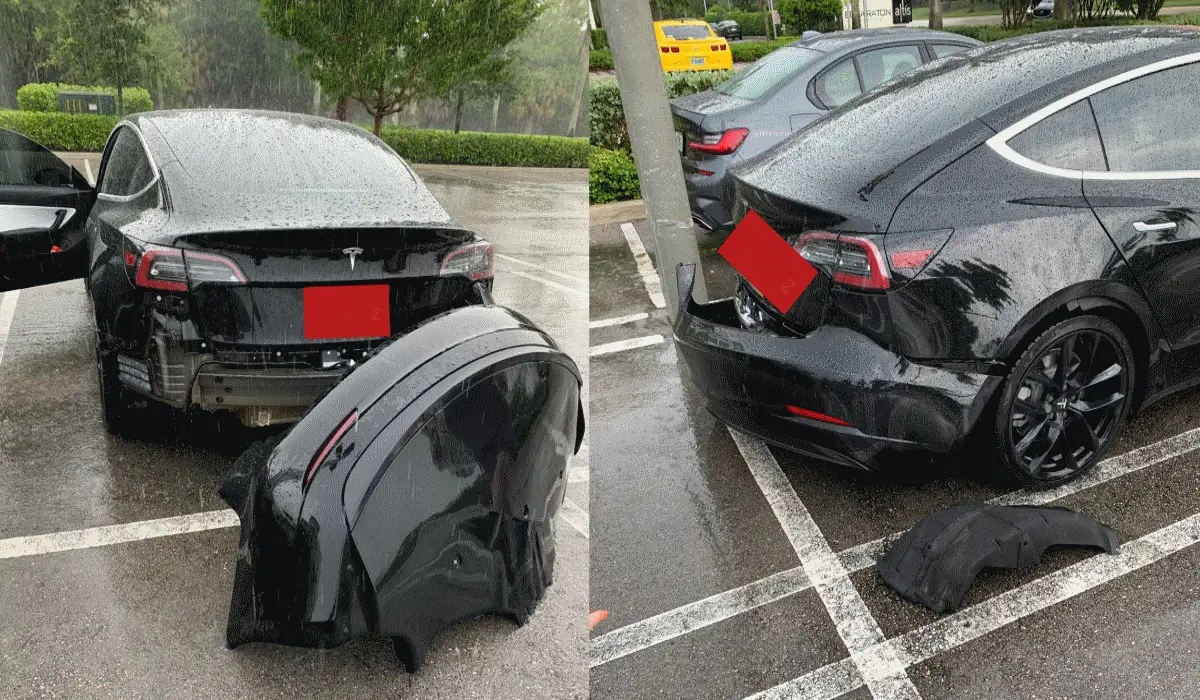 Tesla Finally Admits Design Flaw In Model 3 Caused Rear Bumper Falling Off After Driving Through A Puddle
History of this issue
The issue first came to light in July 2018 when a couple of customers filed complaints that their cars' rear bumper fell off after they drove them in slightly heavy rains. While one of them mentioned having driven in rainy conditions, the other said that he went through a few deep puddles, making the issue seem quite unnatural. Tesla, at the time, said that it was investigating the issue, but there did not seem to be any further follow-up. There was also some issue faced by a customer about getting his car repaired under warranty, after some disagreement over the depth of the puddle with the company.
In March 2019, anti-rust body shop owner based in Quebec, Eric Bolduc, went on to carry out some investigation on his own and stated that many of the Model 3 cars that would come to him for anti-rust treatment would contain significant amounts of mud and dirt trapped in the panel. In most cases, Bolduc said that there would be around 10 to 20 pounds (4.53 to 9.07 kg) of sand trapped inside the panel directly behind the rear wheels. In one of the cases, he found almost 35 pounds of sand (15.85 kg) of sand stuck inside. This is a highly unusual amount of sand to be found trapped inside any component of a car.
Normally, sand and water do get accumulated on the inside part of the body after having flown in from the tires, but there is a proper drainage system in place to get rid of this excess weight. There is a system in place for draining this mud out in other electric vehicles like the Kona EV and Nissan Leaf, but it isn't seen as prominently in the Tesla Model 3. Now, 5 to 10 kg of weight doesn't sound a lot when you compare it with the total weight of the car, but the panel that was carrying this excess sand is directly connected to the rear bumper, which is what was causing the bumpers to fall, according to Bolduc. Tesla refused to accept this at the time and carried on with its investigation.
Then in May 2019, a video showing a rear bumper falling off immediately after the car went through a puddle went viral. Tesla then took responsibility and has finally stated that this issue is due to a design defect, as per a service bulletin. The bulletin reads as:
In rare instances, certain components on Model 3 vehicles built at the Fremont Factory before May 21, 2019, might be damaged when driving through standing water on a road or highway with poor drainage or pooling water. In these rare instances, the rear fascia might detach from the vehicle and harnesses and/or body fasteners/mounts might also be damaged. This document clarifies that damage caused during these instances is covered under warranty.
The issue affects all Model 3 vehicles built before May 2019, and Tesla has started taking measures to resolve the issues. The rear fascia diffuser as well as the front and mid aero shields for all these older vehicles will be changed under warranty by the company, and the new vehicles that are being produced are also equipped with the new design, which contains better drainage for the panel in question.
A couple of things that should be noted is that it took Tesla a lot of time to rectify a mistake that they made and even more time to actually accept that there was a flaw. The issue was first reported in July 2018 and fixed in May 2019, and finally accepted now in October 2020. They have normally had quick responses to quality control issues, but this seemed significantly slower.
Another thing to be noted is the large number of quality control issues that have cropped up in Tesla vehicles in the past few months. We have seen a lot of quality problems in the Model Y – back seats unattached, roofs not sealed properly leading to the entire roof flying off, and rear windows getting shattered on their own. One would think that the problem is with the Model Y, but even the Model 3 is coming up with some complaints, be it quality control or design flaws. Tesla needs to understand that it may wow the customer base with great performance and constantly updating software, but incidents like these do leave a sour taste.