Tesla Cybertruck will have the ability to power up campers and small mobile homes, according to Elon Musk. There have been some instances of people using their electric vehicles to charge their homes, through the use of V2G (vehicle to grid) technology. Of course, details of this ability of the Cybertruck aren't known yet, as Musk only revealed this through Twitter.
Yes

— Elon Musk (@elonmusk) March 11, 2021
Details about Vehicle-to-Camper charging
The Cybertruck has impressed many with its high-performance specs, as well as with the futuristic exterior design. Tesla has announced a battery range of over 500 miles (805 km) for the top-end variant of the Cybertruck. It will also have a towing capacity of 14,000+ lbs (6350+ kg), which makes it a very good option for going camping. And now, with a vehicle-to-camper powering facility, it makes the Cybertruck even more attractive for camping.
Of course, if this is true, it would mean that the Cybertruck has bidirectional charging abilities. This is in addition to the power outlets it already provides in the back for camping purposes. Many people saw the power outlets as a useful feature, and Tesla has even come up with a camper configuration for the Cybertruck.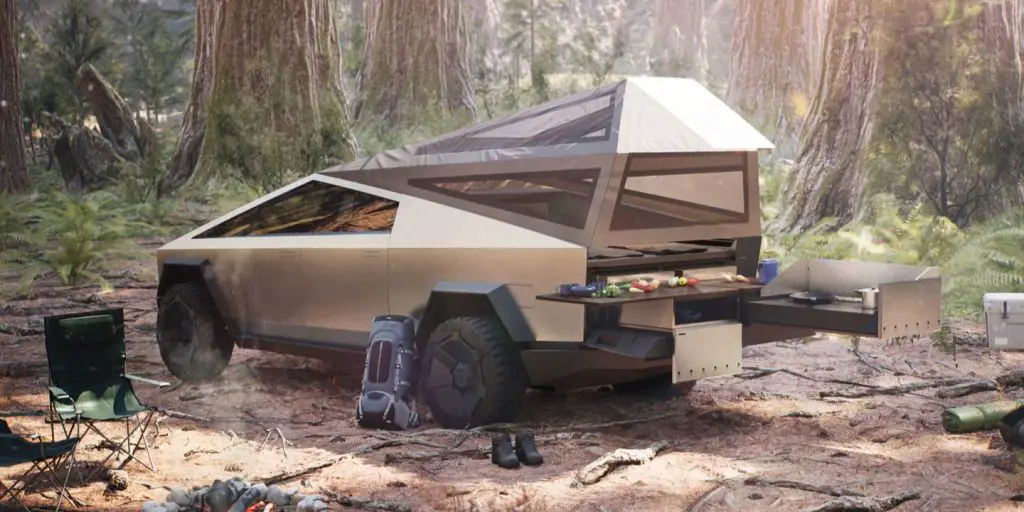 Powering an entire camper will require more power. It isn't clear how Tesla aims to do this. If they do manage it, however, then combined with a deployable solar panel system on the camper, it can allow people to go off-grid camping with the Cybertruck.
Musk also mentioned that Tesla is planning on a trailer attachment for the Cybertruck. The automaker released this render of the electric pickup truck with its own trailer, but it didn't look like a camper.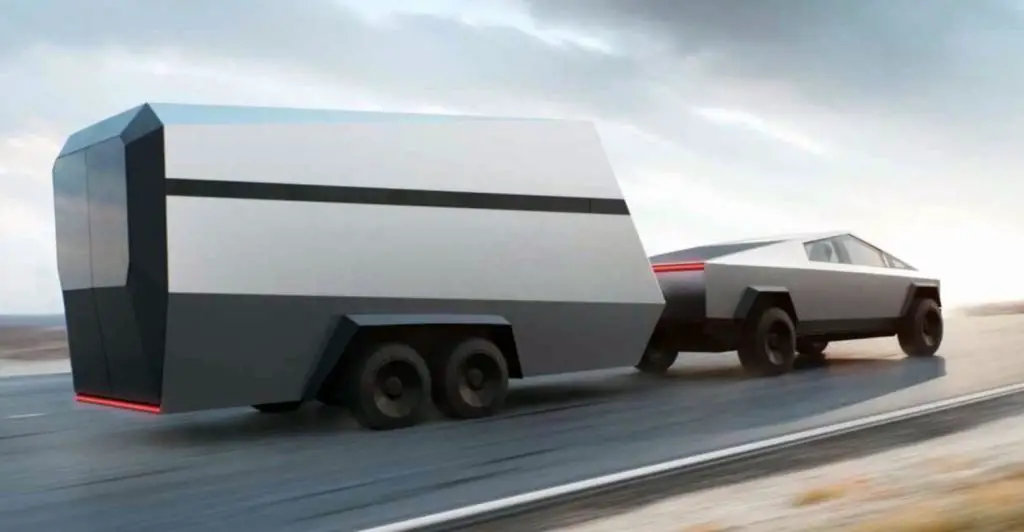 It isn't clear yet as to whether Tesla will design their own trailer or not. But even if they don't, one can expect third-party companies to bring aftermarket products for the Cybertruck. Model 3 has already spurred several aftermarket companies focusing on the vehicle. Cybertruck has the potential to do the same.
Of course, it has been interesting to see what custom made campers and trailers people are coming up with for the Cybertruck.
Our Opinion
The vehicle-to-camper charging technology will entice even more people to buy the Cybertruck. After all, if you're a camping enthusiast, you will obviously be attracted to a vehicle that can charge your camper. Couple that with a very interesting exterior design and impressive performance, and you can expect Tesla to receive many new orders for the Cybertruck.