Starlink is a satellite internet constellation being constructed by SpaceX providing satellite Internet access.  SpaceX recently launched 60 Starlink satellites. The Falcon 9 rocket carried these satellites. The Falcon 9 is a marvel in itself. However, the recent buzz is around Starlink's beta testing. Starlink's primary goal is to provide high-speed internet all over the globe. Which is exactly what they have proved through the testing. At the face value, the results of the test are revolutionary. It is an understatement to say SpaceX succeeded in the said testing.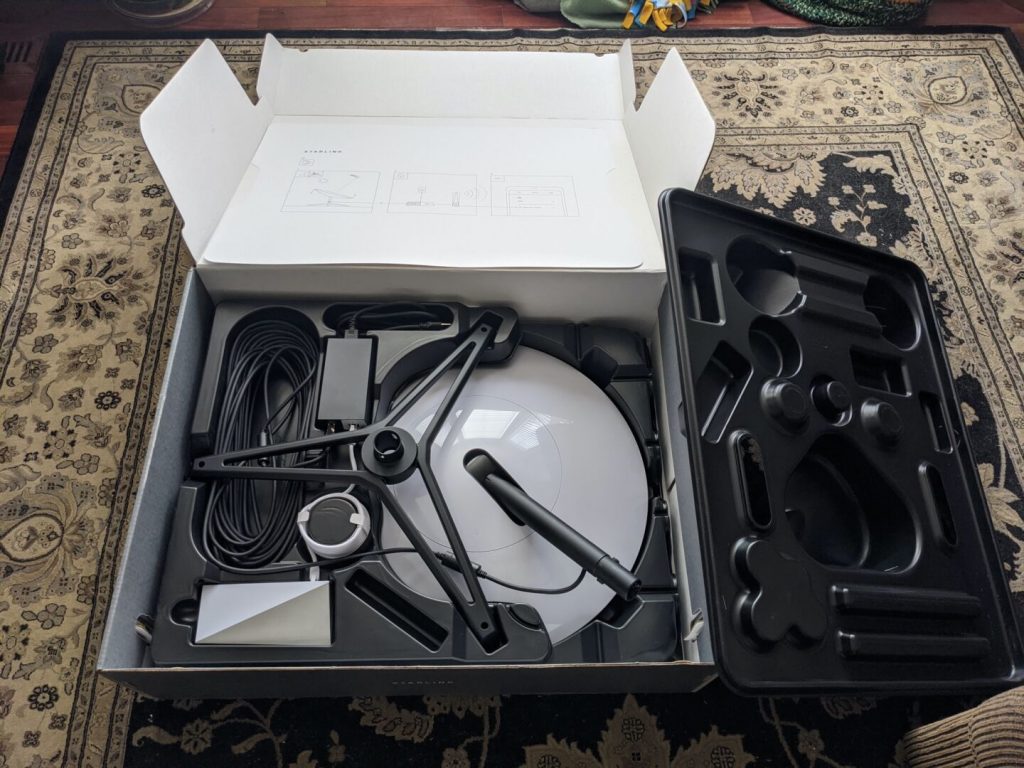 How was the test carried out?
Starlink underwent public beta testing. Initially, the test was carried out by the employees. These tests showed high speeds and low latency. The tests were conducted in Los Angeles, California. Some additional tests found on the site. They were from just south of the Canadian border in Seattle, Washington. The rumored numbers were excellent. The numbers were subsequently confirmed by SpaceX. Refer to the image below,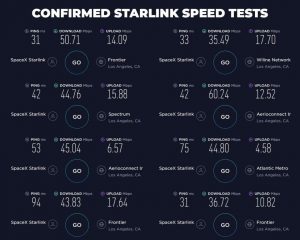 The averages for latency, download speed, and upload speed were 50ms, 45.2Mbps, and 12.475Mbps respectively. At a glance, these numbers are impressive. However, SpaceX just like Tesla doesn't stop at impressive. Elon Musk had set a goal of 1gbps for Starlink. These numbers are nowhere near it. However, they are better than what rural Canada was getting. Studies carried out by the Canadian Internet Registration Authority showed that the average download speed in April 2020 was a mere 3.78Mbps.
When we compare it to what initial numbers SpaceX has offered, it's astounding. The second phase of this testing was public. These public tests provide a certain transparency everyone appreciates. SpaceX rolled out a link for customers to sign up to 'get updates on Starlink news and service availability in your area.' As expected, multiple people obliged and signed up for this service. SpaceX had released an image depicting the future coverage of Starlink Satellite. However, this coverage was put to test only in the US and Canada. Some lucky customers received a mail containing the details. One such customer-uploaded his invite on Reddit.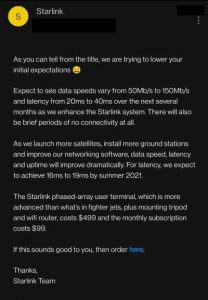 Look at one such customer unboxing his Starlink Kit. The kit can is simple, compact, and highly effective (we'll let you know how effective). It definitely looks like "a UFO on a stick" as perkily named by Elon Musk.
Here's what comes in the Starlink Kit from SpaceX:

Credit: Reddit user Snowjunkie21 https://t.co/PVTgUnTB4h pic.twitter.com/Oc0cfcJLwr

— Michael Sheetz (@thesheetztweetz) November 2, 2020
The outcome of the Public Testing
Starlink app was used to test the speed.
Starlink mobile app is now available for iPhone and Android.

Apple app store: https://t.co/MEuyfESDo6
Google Play store: https://t.co/pdn3nyrFPa pic.twitter.com/mlf3Pf4m3H

— SpaceX Starlink ? (@SpaceXStarlink) October 28, 2020
Elon had put a goal of download speed at 1gbps. As we had seen, the tests carried out by the employees showed the numbers weren't up to the mark. The numbers promised in the above mail are a notch above Starlink's initial performance. Regardless, just like Tesla, SpaceX has a habit of delivering against odds. Deliver they did!
Just look at these numbers put up by Starlink.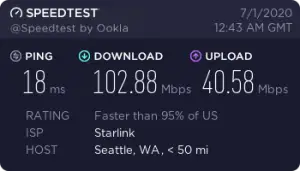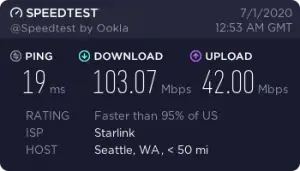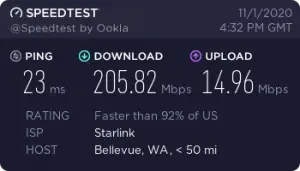 SpaceX and Starlink not only delivered the promised numbers but outperformed in certain regions. The above images are the best from each category. Yet again, Elon Musk and his team have improved their performance in a short span. Their rockets and Tesla's electric vehicles exhibit a similar trend. Twitter went into delirium; images of how Starlink had performed flooded the website. The lucky ones invited for testing made sure they provided their and SpaceX followers these results. People from around the globe congratulated SpaceX for their achievement. Elon took it Twitter to announce that thousands of invites would be sent soon. Starlink hopefuls requested Elon Musk to roll out the beta tests in their regions soon.
Great job… but please keep your supporters in Africa in mind.
Your Starlink service is much awaited and we can not wait for the moment Beta testing gets rolled out in West-Africa.

To be specific, The Gambia where I live and work. Signed up for beta testing and ready to go!

— Joop Logger (@GambiJoop) November 5, 2020
Some even claimed Starlink could have the impact that the first iPhone had!
Starlink's Impact
Starlink's aim is to provide high-speed internet in regions that lacked it. The reasons for this low quality were down to Geographical locations, development, etc. However, Starlink has the potential to overcome all these barriers. The impact of a strong internet connection in rural regions is massive. There are various examples where people and communities were unable to propel themselves due to the lack of technologies available. Historically, Africa has always faced internet issues yet it has been able to produce geniuses. There are multitudes of examples. Personally, being from India, Starlink's impact in the rural regions would be unimaginable. Starlink would certainly accelerate and increase such cases.
Due to the pandemic, there have been several cases of children missing out on online education. The major reason is the lack of internet. The devices supporting the internet have become cheap but the internet service hasn't. Neither the cost nor the quality has been up to mark in such regions.
The impact doesn't stop here. Some unconventional cases will benefit from Starlink. The pandemic stranded various families on boats, yachts, and cruises. On the flip side, some families went on an adventure to circumnavigate the Earth. One such family asked Elon if they could attach the Starlink to their boat. Look at Elon's reply
Yeah, that will be relatively easy, as so few users out in the ocean

— Elon Musk (@elonmusk) November 3, 2020
Final Thoughts
SpaceX has offered Starlink's internet connection at an initial cost of 99$ per month. I'd like to see this go down as the number of customers increase. SpaceX should also adapt their pricing according to the regions. This will highly benefit the underdeveloped regions and the underprivileged people. It would be a great sight to see Governments join hands with SpaceX and make this possible.
Let us know the other impacts the Starlink could have!