Tesla is a premier electric vehicle automotive maker with significant popularity around the world. However, something or the other issue arises in their best-selling models. The negatives are mostly seen in Model 3 and Model Y. Elon Musk profusely announces the best futuristic features and reliability ratings for Tesla EVs. But poor-quality control and production issues keep lingering around the electric cars. Buyers often complain about the problems they face with their Tesla EVs.
He's actually a lobbyist, not a journalist. There are many who pose as the latter while behaving like the former. No integrity.

Indeed, there were no safety issues. The car simply slowed to ~2 mph & continued forward if clear view with no cars or pedestrians.

— Elon Musk (@elonmusk) February 1, 2022
Elon Musk recently mentioned the recall of Model 3 is not related to safety issues. However, buyers beg to differ with his statements. The high demand for EV cars and supply challenges are one of the prominent reasons Tesla is not performing at its best. Musk has repeatedly admitted to the problems in Tesla EVs, especially in Model 3.
Tesla Problems & Complaints
Model 3 and Model Y both suffer from repeated issues with the quality and performance of the cars. Tesla has received over 354 incidents of phantom breaking in Model 3 and Model Y alone. JD Power's reliability score supports the claims of numerous issues on Model 3 and Model Y and ranked Tesla one of the worst.
Tesla has become a well-known name, selling over 330,000 Model 3 and Model Y deliveries. However, the immense popularity of the Tesla brand is also one of its worst disadvantages. More people have eyes on the company that might make a tiny issue to point out as a major problem. Voxel on the TMC forum aptly mentions:
"Tesla is becoming a victim of their own success. 330K+ Model Ys and 3s sold in the US last year and not enough service centers and superchargers."
Tesla takes forever to get the service and repairs as the still-young automotive company struggles with keeping the record of required replacement parts. Moreover, the lack of trained staff and the highest cost of maintenance/repairs add to the concern.
Tesla Model 3 Problems
Tesla Model 3 is branded as a car that is fit to go anywhere by the electronic vehicle maker. However, hundreds of online complaints speak volumes about the plight of Tesla owners.
Following are some of the prominent problems of Model 3 based on the car's structure and control system:
Autopilot System
Several Tesla Model 3 owners reported freezing of the control system and the inability to manually drive. One consumer with the name of MATTHEWB gives a detailed review of their Tesla Model 3 LR 2021 after using it for 50 days. After mentioning the pros, he mentions his negatives with a swift mention of Autopilot issues:
"After being on Autopilot it is easy to "forget" that you have to steer! This is perhaps the most dangerous thing about the car."
The biggest danger with EVs is with the control as many forget how crucial it is to keep their attention on the road. Newer models seem to resolve the issue with intelligent sound alarms if the driver keeps the hands off the wheel. Another review reads:
"When on Autopilot doesn't slow until *AFTER* hitting the new speed zone, the danger of getting caught speeding."
This too is a common sight in Tesla Model 3 series where the speed on autopilot mode takes time to get in the limited range.
Structural Issues
Model 3 is a host of a series of problems in structural quality. Some users have complained about breaking windows, poor paint job, and faulty doors and trims around the car. Moreover, others have added how they wish Tesla did something to get rid of such common issues.
A TMC forum user with the name of Gulfcoaster, candidly mentions the issue of seat squeak sound as:
"Don't worry…Tesla will address this in 7 or 8 years 😂"
Tesla owners are seen using seals on doors and trims to reduce vibrations and noise. In Tesla's defense, the fact that automotive maker is still new and it takes time to get used to the quality car building. Squeaky seats remain a mystery for Tesla Model 3 owners as Tesla forums stay flooded with repeated mentions of the problem.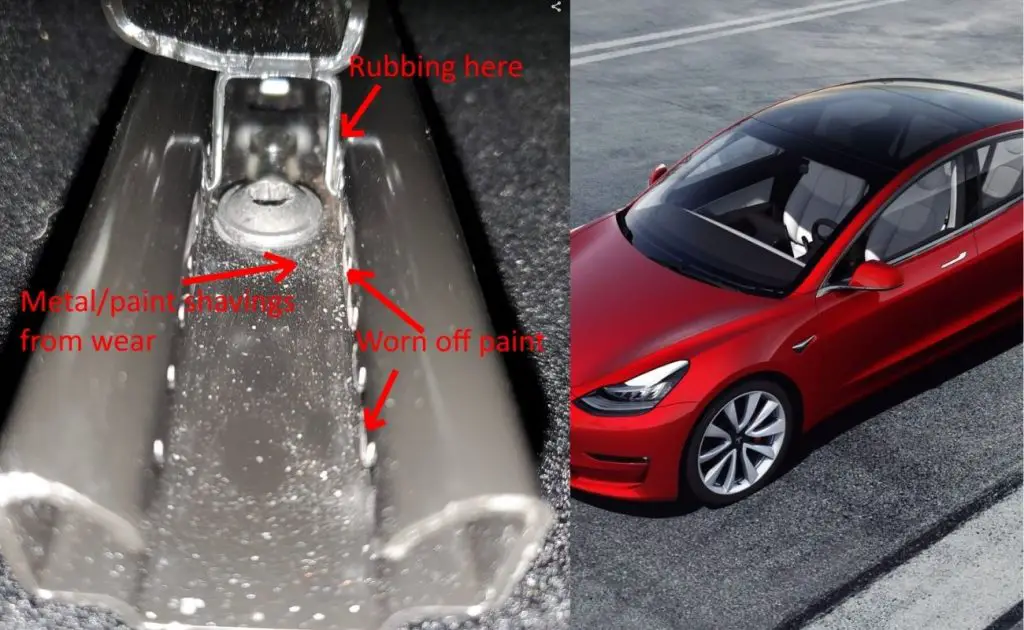 Tesla Model Y Problems
Model Y is not left alone from the series of defects and complaints. One barely is rectified and leaves another issue emerges. Late deliveries and price breakups are only two of many concerns buyers face while opting for Model Y from Tesla. Numerous buyers reported frequent breakdowns and concerns about the quality of the vehicle.
Following are some of the common issues reported by buyers:
Forward Collision-Avoidance System
Tesla sometimes freezes to deliver the safest control on the electrical system controlling the vehicle. A few problems with the Forward Collision software by Tesla have seen some incidents that need some due diligence. Sudden braking can be fatal, and numerous Tesla owners reported the same.
Speed Control
The speed control system is also not built to withstand the dynamic traffic on the highways, as Model Y suffers from incidents of poor speed control maneuvers. One user on the Tesla Motors Club forum TheInfamousOne, mentions his experience with speed control on FSD:
"Another thing I noticed is the speed limit on some roads is set to 55 MPH, but when there are sharp S turns in the road going up or down, there are smaller signs posted to slow down to 40 MPH around those types of corners. If the car is in Autopilot, it will not slow down and take those corners at 55MPH, which makes it kind of scary. I think I did notice the car did decelerate once or twice. Will the car slow down if it detects too much centrifugal force?"
Problems in Tesla cars are nothing new, and even prompt resolution under the warranty period cannot keep the customers happy for long either. Furthermore, the persistent onset of numerous quality and structural issues are not any good signs for achieving more acceptable reliability scores.
Chronic Rear Motor Issue
Several users online like on the TMC forum pointed out the rear motor failure while driving. A user on the Reddit forum, AdventurousEqual64 said that his Tesla Y would make a clunk sound when he takes his foot off the accelerator. Another user on the same platform mentioned powering off the rear motor system alert on the screen. Born-Yoghurt8814 on a thread, add his experience with Model Y when he had to give away his car for service following the alert. He said,
"Received "Rear motor disabled, powering off" on brand new MODEL Y (within 15 days). Tesla says it is "Fluke" go a head and drive, if it happens again we will fix it. I asked why cant you fix now? They did not listen and say your vehicle is safe (even though it happened on highway). Problem occurred again on highway, this time they took car for service and say we are waiting on parts for 2 weeks!! For now i am stuck with shitty rental. This is a brand new model y and i am disappointed with the tesla quality, service. this is still a toy and not a reliable car yet."
Rear Motor Failure Tesla Model Y Performance from TeslaModelY
The concerns of Tesla owners are still pouring in from all over the world based on their unique experiences. However, Tesla seems to be working on the issues promptly to resolve them as soon as possible.
What To Expect In Future?
When it comes to looking for a decent EV, Tesla Model 3 often grabs the attention of the buyers. Model 3 still ranks higher on the buyer's choice among other competitors in the EV industry. Tesla Model Y is nothing different in terms of popularity and therefore stays in news.
Tesla works on a faster production model and therefore requires a quick check on the possible issues that its models might be having. The fast pace might be the main reason for certain issues and problems in Model 3 and Model Y. Buyers and experts often differentiate between the make of the same Tesla models to find the problems to be resolved in newer makes.
Model 3 and Model Y are prominent EVs of Tesla, and recent recalls of over 48,000 Tesla in the US and China add to the array of Tesla's quality control. It would be great to see some significant measures from the automotive company to restore buyers' trust.
Write to us about what you think of the problems and write us if you too had to go through issues in your Tesla Model 3 and Model Y.