Build Your Dream (BYD), the rising star of electric mobility in China was introduced at Auto Shanghai earlier this year. BYD Auto's Seagull is being touted as a game-changer for the EV industry. The 5-door hatchback is the smallest vehicle in BYD's range of electric vehicles. But what is so special about this tiny A-segment city car and how can it challenge the giants in the US market? This is why we have penned this article. So get ready to find every little detail about BYD.
BYD Seagull EV: Overview
The BYD Seagull, a compact 5-door hatchback, has already made waves in the electric vehicle market with its innovative design and feature-packed interior. Measuring just 3,780 mm (149 inches) in length, it sits on the cusp of the A-segment city car category, establishing itself as a compelling contender in the world of urban mobility.
Exterior
One of the first things you likely noticed about the Seagull is its striking exterior design. It marries numerous sharp lines with angular-shaped headlights and a sloping roofline that culminates in rear lamps connected by a sleek light bar.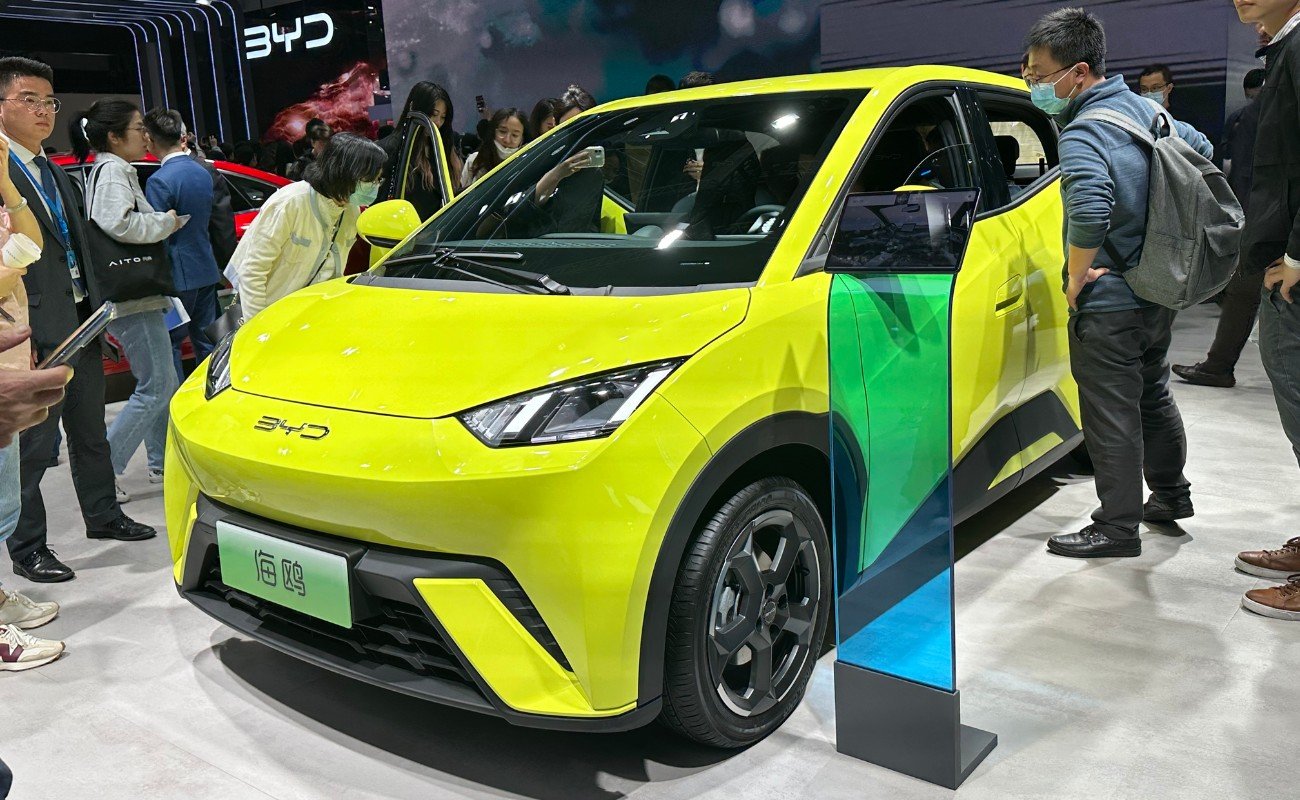 This unique blend of aesthetics not only gives the Seagull a distinctive identity but also contributes to its aerodynamic efficiency. Positioned just below its sibling, the BYD Dolphin, in terms of size, the Seagull manages to strike a balance between compactness and comfort.
Interior
Stepping inside, you'll be greeted by a spacious and modern interior. Drawing inspiration from other BYD 'Ocean' models, the Seagull boasts a two-tone design that exudes a sense of sophistication.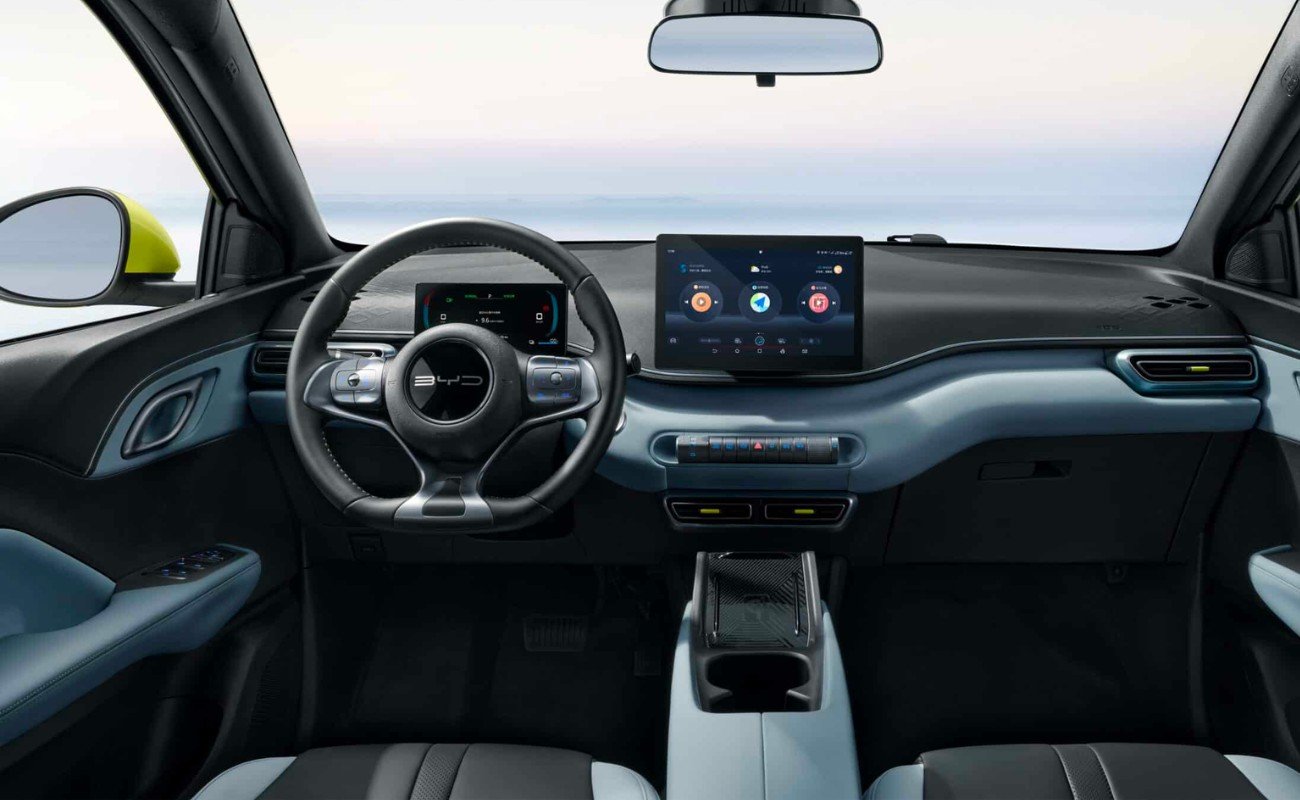 The centerpiece of the cabin is a generously sized 12.8-inch touchscreen infotainment system, positioned prominently in the center for easy access to entertainment and vehicle controls. The digital gauges have also received a substantial upgrade, now offering a more comprehensive and visually appealing experience with an expanded 5-inch area.
Byd Seagull EV: Specifications and Other Updates
The BYD Seagull offers a trio of models, each catering to diverse needs and preferences. Let's find out the remarkable specifications that define this electric marvel.
Vitality Edition – Embracing Efficiency
The Vitality Edition is the base model that sets the stage for an efficient and eco-friendly driving experience. It is equipped with a single horsepower of 55 kW (74-HP) synchronous motor that not only ensures a top speed of 130 km/h (81 mph) but also delivers an impressive 0–50 km/h acceleration in just 4.9 seconds.
For those seeking practicality, the "Vitality" model comes with a 30 kWh (110 MJ) LiFePO4 blade battery. This battery configuration provides a substantial cruise range of 305 km (190 mi) according to the NEDC standard.
Freedom Edition – Elevating the Experience
Stepping up the game, the "Freedom Edition" offers a higher specification, promising an even more exhilarating ride. Powered by the same 55 kW (74-HP) motor, it maintains the Seagull's top speed of 130 km/h (81 mph) and swift 0–50 km/h acceleration in 4.9 seconds.
Like its sibling, the "Freedom" model features the 30 kWh (110 MJ) LiFePO4 blade battery, delivering a commendable NEDC cruise range of 305 km (190 mi).
Flying Edition – Soaring to New Heights
For those who crave the utmost in range and performance, the "Flying Edition" takes center stage. This top-specification variant boasts the same 55 kW (74-HP) motor for a top speed of 130 km/h (81 mph) and a rapid 0–50 km/h acceleration in 4.9 seconds.
However, what truly sets it apart is its larger 38 kWh (140 MJ) battery pack. This substantial upgrade elevates the Seagull's range to approximately 405 km (252 mi) on the NEDC cycle, making it an ideal choice for longer journeys.
Sodium-Ion Battery Innovation in BYD Seagull
What's particularly noteworthy is BYD's pioneering use of sodium-ion battery technology in future iterations of the Seagull. This innovative choice, which is lithium- and cobalt-free, reduces dependency on mining resources and promises a lower theoretical manufacturing cost.
As one of the first three cars in BYD's fleet to adopt this technology, the Seagull signifies a forward-looking approach to sustainable energy solutions.
With its diverse model lineup and forward-thinking battery technology, the BYD Seagull demonstrates the brand's commitment to delivering efficient, eco-conscious, and innovative electric vehicles. Whether you prioritize range, performance, or efficiency, there's a Seagull model tailored to meet your needs.
What If BYD Seagull EV Hits the US Market?
The entry of the BYD Seagull into the US EV market promises to shake up the industry and redefine the landscape of affordable and eco-friendly transportation. The Seagull's strategic pricing and its impeccable track record make it a formidable contender in the American EV market. But the question of whether it will survive or not is noteworthy, and we'll take you through all the points where this can be a game changer in the American market.
Competitive Pricing
One of the key factors working in favor of the BYD Seagull is its highly competitive pricing. Priced at just $11,400, this compact EV has already garnered an astounding 10,000 orders on its first day in the worldwide market.
This staggering response showcases the strong demand for affordable yet reliable electric vehicles among American consumers. In an era where affordability is a top concern for many potential EV buyers, the Seagull's low pricing positions it as an attractive and accessible option.
Impressive Sales Performance
Market sales data highlights the Seagull's success in other markets, particularly in China. The fact that it achieved strong sales in June 2023 indicates its appeal and popularity among consumers. This proven track record demonstrates the Seagull's ability to gain traction and find its place in different markets.
Technical Reliability
Another critical aspect that bolsters the case for the BYD Seagull is its track record of technical reliability. As of now, no significant technical glitches or issues have been reported, according to available information. This reliability instills confidence in potential buyers and positions the Seagull as a dependable choice for daily commutes and longer journeys alike.
European Potential
Forbes has even raised the possibility of the BYD Seagull making a significant impact in the European market. Its affordability, coupled with its potential for low running costs, aligns well with the European market's growing interest in electric vehicles. This suggests that the Seagull's appeal may extend beyond the borders of the United States.
BYD Seagull vs. Tesla Model S, Y, and 3
| | | | | |
| --- | --- | --- | --- | --- |
| Specifications | BYD Seagull | Tesla Model S | Tesla Model Y | Tesla Model 3 |
| Motor | Synchronous Motor  | Permanent magnet synchronous reluctance motor | AC permanent magnet synchronous motor | Permanent magnet synchronous reluctance motor |
| Acceleration | 0–50 km/h within 4.9 sec | 0-60 mph within 5.8 sec | 0-60 mph within 4.8 sec | 0-60 mph within 5.8 sec |
| Range | 252 mi | 272mi | 330 mi | 272mi |
| Top Speed | 81mph | 140mph | 135mph | 140mph |
| Price | $11,400 | $29,740 | $36,640 | $29,740 |
What is the reason behind the success of BYD in China
In a groundbreaking turn of events, Chinese automotive trailblazer BYD has etched its name in history as the reigning champion of passenger car sales in China. Racing ahead of Volkswagen in the first quarter of 2023, BYD achieved a remarkable month-on-month growth rate of 31.37%
BYD was able to make their name among the most favored car brands by offering superior safety, extended range, and unmatched durability compared to conventional lithium-ion batteries. Moreover, BYD's DM-i super hybrid technology has garnered applause from eco-conscious consumers, thanks to its exceptionally low fuel consumption.
BYD's ascension to the zenith of the Chinese market is further fueled by their astute foray into the high-end segment. With models like Tengshi, F brand, and Yangwang, they've crafted a robust sales network spanning the nation. And this is just the beginning, as BYD has ambitious plans to unveil personalized brands in the pipeline, spanning sports cars, off-road vehicles, coupes, and more.
As the global drive towards sustainability gains momentum, BYD's spectacular triumph in the Chinese market bears testament to the surging demand for electric vehicles and innovative technologies that cater to the ever-evolving consumer landscape.
With their unwavering focus on groundbreaking innovation and their steadfast commitment to sustainable mobility, BYD is poised to continue blazing a trail in the electric vehicle arena, not just in China but across the globe at least this is what we hope so far!
Conclusion
Our journey into the world of the BYD Seagull and its potential arrival in the US market sparks excitement and potential. While the Seagull's presence in the US is still a prospect, it embodies the promise of affordable electric mobility.
Its design and specs show us a practical yet compelling EV. The Seagull's strategic pricing hints at a shift towards accessible green transportation in the US. Despite this being a hypothetical scenario, the response of 10,000 orders on day one is a testament to the growing demand for affordable EVs.
With no reported technical glitches, the Seagull's reliability fuels our anticipation. In this vision, it becomes a symbol—a symbol of affordability, dependability, and the possibility of a more sustainable automotive landscape.
As we await this potential reality, we envision the BYD Seagull as a catalyst for change, paving the way for a brighter and greener automotive future in the United States.