Everyone wants to make their car more stylish, classy & a tech hub, you need good quality and reliable audio & video car accessories for that. The quality of audio system is depends on its range, magnet structure, frequency response. Adding amplifier also makes car audio system better, Amplifier is used to get loud and clear music basically its amplify your car audio system. This all comes under technicality so most of the people don't wanted to go in that so we are here with our list of best car audio system Under Rs.5000 in India.
Best Car Audio System Under Rs.5000 in India
Blaupunkt Tokyo 110-USB Car Stereo
Keeping the preferences and tastes of Indian consumers in mind, Blaupunkt India has designed Blaupunkt Tokyo 110 USB car stereo. It is a single-din audio system that not only takes you on a musical journey but also gives you the freedom to connect various external drives to it. You can listen to your favourite songs using a USB drive, HDMI cable or by connecting your smartphone to it through an AUX cable. This car stereo supports radio frequencies available across the world. You can listen to FM and AM frequencies clearly on this media player. It is also compatible with RDS (Radio Data System). You can play MP3 and WMA tracks on Tokyo 110 car audio system. It comes with a 2-channel pre-amplifier and its maximum power is 4 x 50 watts. For enjoying an enhanced listening experience, you can set the equalizer of this media player to your favourite program. There are choices available such as Rock, Pop, Jazz and more to select from.
Sound Boss SB-3246BT Detachable Car Stereo with Bluetooth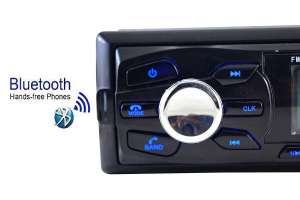 Features–
Treble/bass/balance/fader/volume adjustment.
Preset eq. subwoofer output.
Wireless remote control included.
Bluetooth (auto muting feature, hands free talking capabilities).
Can play song saved on the memory from cell phone via Bluetooth.
Last positions memory.
Aux input for alternate audio source.
Keypad for operate the FM radio frequency and easy to make phone call.
Digital volume and mute control.
large LCD screen for visual operation and display the incoming caller ID and name.
Bluetooth 2.0 car compatible with almost all the cell phone with Bluetooth function.
Answering, ending, rejection a call from the car radio player by press the key in the panel.
Telephone book can save phone numbers and received calls.
Microphone port for easy external microphone connection, car audio player play music from the USB and SD port.
Stereo system features FM radio and capability MP3/WMA format music compatible.
Sony XMN502 2/1 Channel 500-Watt Amplifier
The Sony Xplod line of devices has never failed to impress in not only performance, but also good looks. The Sony Xplod XM-N502 In-car Amplifier is black in colour, to match efficiently with the rest of your in-car audio ensemble. It also matches the interiors of most cars, thus camouflaging itself in a discreet corner, performing like a real rock star all along. The amplifier has all its connections added on a single side. This makes connecting your audio accessories very convenient.
The Sony Xplod XM-N502 In-car Amplifier manages cooling very effectively. The Automatic Thermal Control feature ensures that the system is well aware of the heat generated during performance. The Efficient Cooling Design quickly dispels any undesirable heat during operation. This ensures that your amplifier does not suffer from heat-based damages and functions smoothly and for a longer durations. This saves not only the hassles of repair but also mitigates possibly high maintenance costs.
Sony DSX-A100U Car Stereo
The DSX-A100U provides more ways to enjoy your favourite tracks while you're on the road. The conveniently located front-facing USB and AUX inputs make connecting personal music players simple and speedy, while the high contrast LCD gives improved visibility with its 5 times higher contrast and wider viewing angle than conventional screens.
Features–
55W x 4 Dynamic Reality Amplifier.

MP3, WMA, FLAC, USB.

Anti-shock protection, Front-facing USB and AUX for audio device connection. 

single DIN;Mega Bass for deeper low ends. 

Integrated AM/FM radio tuner.

Red illumination adds colour to your dashboard
Pioneer MVH-089UB Car Stereo
Pioneer's advanced sound retriever technology improves the sound quality of compressed media files like MP3, WMA files – this is done by enhancing high frequencies that tends to get lost in the compression process. This Stereo specially designed for India sound preference. Todoroki EQ realizes powerful bass and reproduces bright and clear high frequencies without compromising on vocals.
This was our list for Best Car Audio System Under Rs.5000 in India. If you have any queries regarding this post, let me know in the comment section.