Innovation is a very interesting concept, and it blooms a lot in the automotive world. Any vehicle can become attractive with better performance specs, but it is the aesthetics that matter for many customers. That is why design engineers have a lot of scope in this industry, as every company has a different design ideology. Many a time, a company may go a bit too far while trying to bring something new to the market. And we fear that something similar may happen with the new steering wheel design in the 2021 Model S/X.
Tesla revealed the refreshed design for the premium sedan and SUV on Wednesday during the Q4 Earnings Call. The features of this new design are focused on the powertrain and battery pack, but there is also a new interior design. And the most interesting part of this interior is the new "steering yoke", as Tesla likes to call it.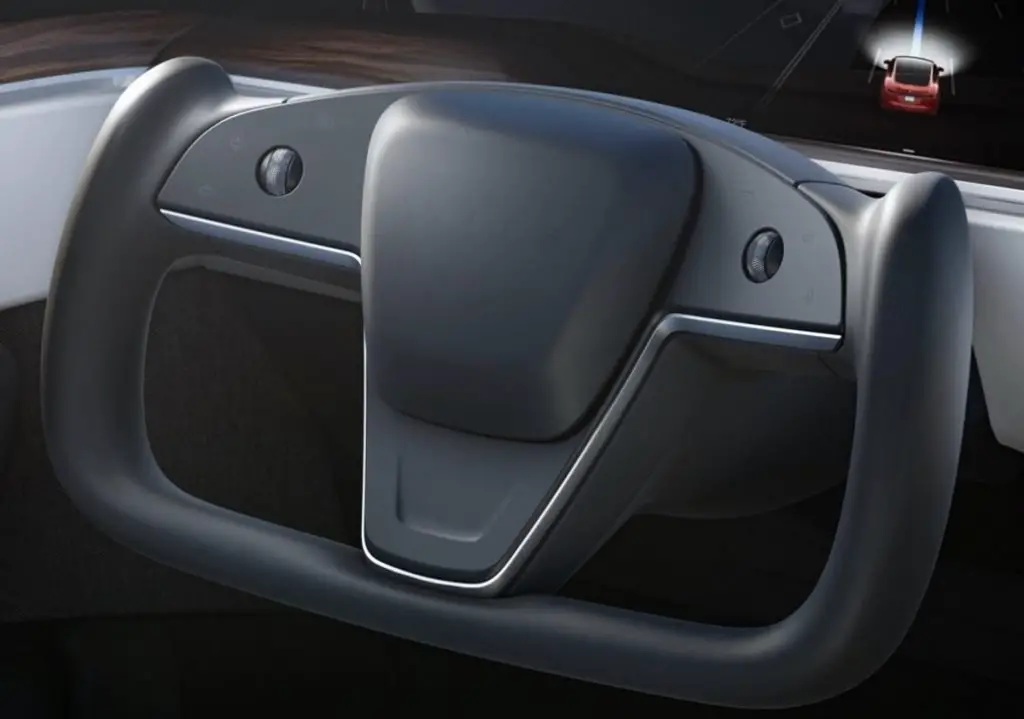 Tesla Model S/X New Steering Wheel Design
First Reaction
Anyone looking at this new steering wheel of the Model S for the first time will say that it's, er, interesting. And quite frankly, it is interesting. A design that belongs in a Cessna aircraft has found its way into the production model of a well-known electric vehicle. And it's not like it is the first time we are seeing this kind of a design in a car. Tesla themselves unveiled a similar design in the Roadster in 2017, and many others have done so too. But those instances were for concept vehicles. These types of designs have never made it to production vehicles.
What is even more interesting is Tesla's decision to pull off something like this. The design refresh announcement was coming, everyone had expected it to happen during the Earnings Call, as it did. With a new design platform for the powertrain and the Plaid variant introduced, it seemed like Tesla would most likely have a slightly updated aesthetic and focus more on improving the performance, which again, they did. And they also gave the vehicle a new interior design with a better-looking touchscreen and an added touchscreen for the rear row. But then they went forward with this 'interesting' design for the steering wheel and kind of spoiled the mood.
Details of the Steering Yoke
There is still some confusion regarding the exact design and usability of the new steering wheel. While talking about this steering yoke, Tesla said:
"The ultimate focus on driving: no stalks, no shifting. With a stalkless steering yoke, you can enjoy both the best car to drive, and the best car to be driven in."
They have also removed the stalks on the steering wheel, and have opted to move the key functions like high beams, wipers, gear selection and blinkers onto this yoke. And while this might seem like Tesla pushing for a change in what steering wheels should be, it is also kind of crazy. I am all for bringing in innovative changes to simple designs to make it unique. But it shouldn't be affecting the base function of the component.
The main reason for having this kind of a design in aeroplanes, or even Formula 1 cars, is that you don't have to rotate them much. But in case of a production vehicle, you are going to encounter sharp manoeuvres or U-turns. And that's when the problems begin.
While using a 'traditional' circular steering, one can easily slide their hands around the surface of the wheel. But a shape that isn't consistent around its profile is going to create a problem initially. And yes, one could argue that any new design takes a little time to get used to. But converting a very simple task into a difficult one just for the sake of change seems idiotic. The very base of innovation is that it should make life easier. This design just doesn't make it seem innovative.
Is It Even Legal?
Then there's the question of the legality of the design for a production vehicle. Most countries make it compulsory for the steering wheel to be circular. A rectangular section for the steering wheel is not street-legal, but Tesla will argue that it isn't exactly a rectangle. Tesla has mentioned the butterfly-style steering wheel, but that very term is used in road laws for talking about banned steering wheel types. What does Tesla does about this legal issue remains to be seen.
Our Opinion
Now, this is not just our opinion, but the opinion of many people. The steering wheel is a killjoy, something that spoils the mood of the rest of the interior. Which, by the way, has gained many followers. Tesla brought simplicity into the interior design and made it look very clean. But they then added that steering wheel design, and it's a party pooper.
Many people have even said that it is a deal-breaker for them, because something as simple as steering the car should not be as hard as Tesla is making it. The 10-2 position of hands is a very basic step of driver training, and that is because of the comfort it allows the driver. This design won't provide that kind of comfort. Let's hope Tesla decides to take some action about this, or at least offer the yoke as an option. Even then, I don't see many people buying that option.