The Tesla Model 3 has been called a mass-market EV. But that's really not true. It's more like an entry-level luxury vehicle that stands up pretty well to its peers. There are a lot of Tesla killers being announced these days and while a lot of them are concept cars, The BMW seems like, it might have a shot and a good thing about it is that you can actually order it. In this post, we compared Tesla Model 3 versus BMW i3 to see how it stacks up.
Undoubtly, the i3 is a unique electric car. The BMW i3 is made of the structure of carbon fiber and aluminum and electric motor, The i3 version of BMW has 170-hp of power and i3s version has the 181-hp electric motor. Both models offer an optional two-cylinder gas engine that extends the total EPA-rated range up to 180 miles (with RANGE EXTENDER). The sporty i3s brings BMW's legendary driving dynamics to the lineup with a special suspension and larger wheels.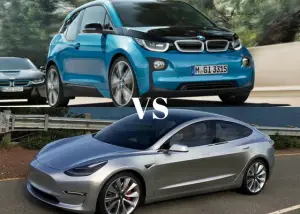 Tesla Model 3 vs BMW i3/i3s Comparison
Comfort
Both the cars here are five-seaters, but when it comes to space in the interior, the Tesla Model 3 just barely edges out the BMW i3. BMW i3 has headroom of 39.6″, front legroom of 40.5″ and rear legroom of 31.9″. It has front shoulder room of 53.6″ and rear shoulder room of 49.2″. The Tesla Model 3 has headroom of 40.3″, front legroom of 42.7″ and rear legroom of 35.2″. It has front shoulder room of 56.3″ and rear shoulder room of 54.0″. if you're a bigger or taller person, BMW i3 might be something to try out before you buy. Make sure that you're going to fit and feel comfortable driving around in it. As for cargo space, none of these cars are going to give you a tremendous amount of storage both cars have about 15 cubic feet of cargo space.
Performance
Tesla Model 3 is a very fast vehicle and it performs exceptionally well and since we are comparing it with Dual Motor All-Wheel Drive version of Tesla Model 3, It can go 0 to 60 mph in 4.5 whereas The BMW i3 takes little extra time to go from 0-60 i.e 6.8 sec.
The torque of BMW i3s comes in at 199 pound/feet, and the horsepower at 181. In the Tesla Model 3, it's hard to get these numbers because Tesla doesn't actually publish them. The torque comes in at anywhere between 350 and 390 pound/feet of torque, and the horsepower is around 346. The Model 3 and I-Pace appears on paper for 0 to 60 miles/hr speed listed at 4.5 sec, whereas $64,000 performance version of the Tesla Model 3 can go 0 to 60 mph in just 3.5 sec, This shows that the BMW i3s is far behind the Tesla Model 3 in terms of performance.
Storage Capacity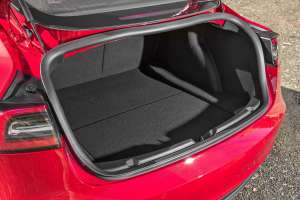 The problem with the Tesla Model 3 is its storage, The The total cargo capacity for the Model 3 is 15 cubic feet whereas BMW i3 boasts 15.1 – 36.9 cubic feet of storage.
Price
Looking at the website, you can price it out the BMW i3/i3s between $44,450 to $52,059 (BMW i3s with Range Extender). If you compare that to the Model 3, it is between $49,000 and $64,000. That's even before some of the additional options that you can purchase on top of it.
Charging
The first challenge with the BMW is the charging. It currently supports 50 kilowatts of DC fast charging, which gives you 80% of a full charge, in 30 minutes. Comparing that to the Tesla Model 3 which have battery range up to 310 miles and its also able charge using Tesla supercharger, you can see how it quickly becomes very inconvenient for long-distance travel at all. The batter range of BMW i3 is 114 miles and 180 miles with the range extender so due to the shorter range of BMW i3s, some people might not go with the i3s.
Conclusion
The Tesla Model 3 comes with a five-star safety rating whereas the BMW i3 comes with a four-star rating. However, it's worth mentioning that the Tesla Model 3 did exceptionally well in the side impact test compared to the Volvo S60. So, at a cheaper price with a decent amount of range and an overall very competitive design, we believe that the tech in here is pretty awesome. A lot of the other vehicles that are coming out right now just look like concept vehicles. It still doesn't appear that a lot of these companies are taking the electric vehicles seriously. The BMW is doing it because they have a very reputable brand that a lot of people love. But if you consider overall performance, safety ratings, comfort, Tesla Model 3 would be a good choice over BMW i3 or i3s.