Any feature in a vehicle has a different effect on the customers, be it a major feature or a small tidbit. Automaker companies often try to bring in major features in a bid to attract customers. But many a time, it is the small features, ones that make slightly difficult things extremely convenient, that make the difference. Tesla always uses such features, and their OTA (over-the-air) updates make it easy to add them to existing vehicles. Of course, they aren't the only ones to do this. But over the years, the addition of these tidbits has helped them keep their older models relevant. Not to mention keeping the older customers satisfied. One such feature is Tesla's connection with Homelink.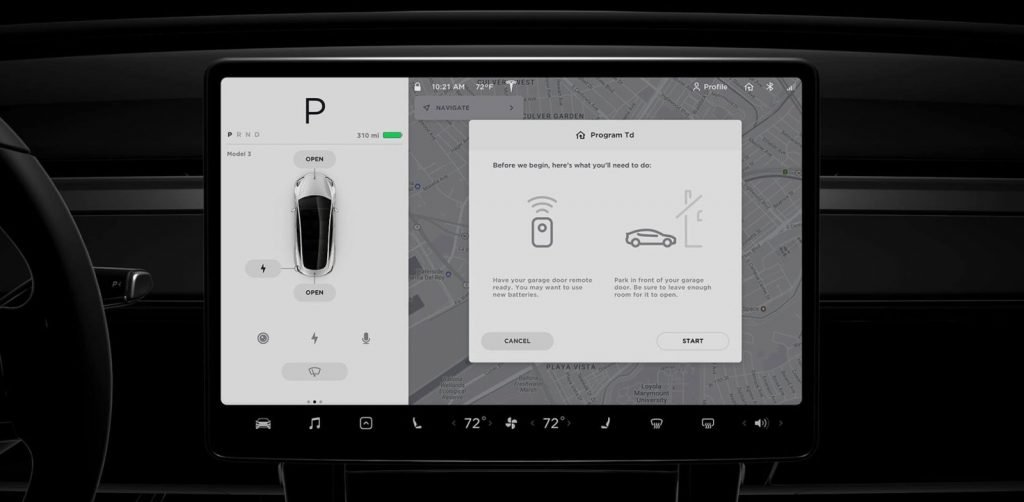 How To Link Tesla to Automatic Garage Door
Homelink
Homelink is an automatic garage door opening system. You can install it directly on your garage door, and it automatically locates and synchronizes up with the code of the original transmitter – making programming easy and quick. It works with hundreds of different garage door openers and gate systems. Homelink ensures that you don't have to frantically search for the remote control of your garage door. You can operate it from inside your vehicle, and Tesla themselves have a feature inbuilt that allows for convenient use of the system.
Not only that, but Homelink also controls garage doors and property gates, exterior and interior lighting, alarm systems and more. And since it is powered by your automobile's electrical system, it never needs batteries.
Of course, Tesla is not the only automobile brand that Homelink is connected with. The technology is identical to all brands and vehicles. The technology consists of just one toggle switch. It does not know the current state of the door – open or closed. It simply changes the current door state.
Homelink is compatible with most garage openers. It makes use of radio frequencies, instead of the other standard internet-connected garage openers. This solves reservations of people who fear the system may get disabled in case of a power outage.
There are different frequencies used according to module and country.  In North America, the most common frequency is 433.92 MHz, while the Tesla module uses 288 MHz to 434 MHz. In Europe, 868.3 is the common frequency.
Tesla and Homelink
Tesla has added some interesting features as part of their deal with Homelink. First of all, there is a step-by-step manual to set up Homelink in your vehicle. You can label the three slots in the Homelink system, such as "Home", or "Gate". The buttons are associated with a GPA location, so as to highlight the correct choice when nearby. Auto-open and auto-close features send out signals when you enter and leave a certain GPS coordinate respectively.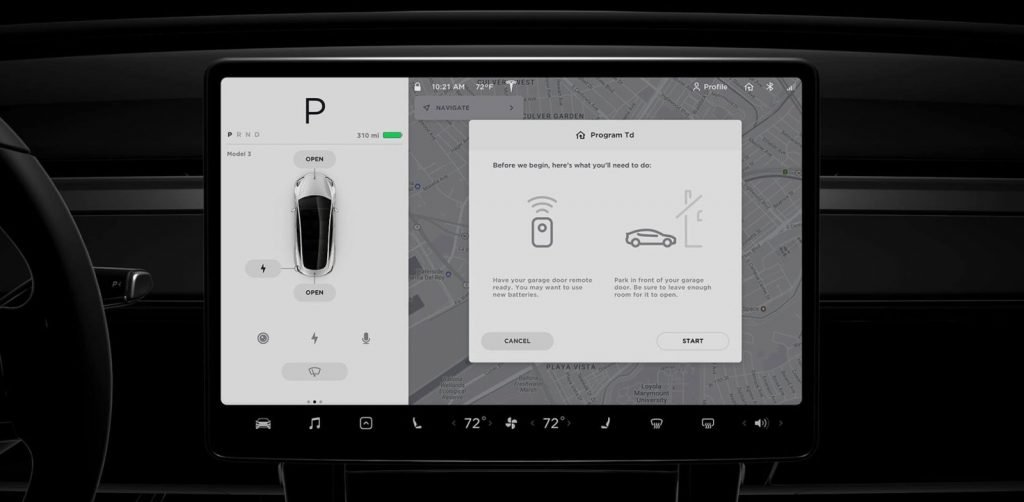 As you will get to know further in the article, Tesla no longer offers Homelink as a standard feature. Instead, you have to buy it as an accessory on Tesla's website for $300. While many people have encountered difficulties in setting up Homelink with their Tesla vehicle, it is actually a simple procedure.
How To Install Homelink and Set It Up In Your Tesla
First off, you need to click on the Homelink icon and open the tab. You then have to add a new 'profile' in Homelink, which you can label as "Home", "Garage", "Gate" or anything else. While setting up this profile, you also need to mention the mode of garage opening system that you have set up – standard or D-mode.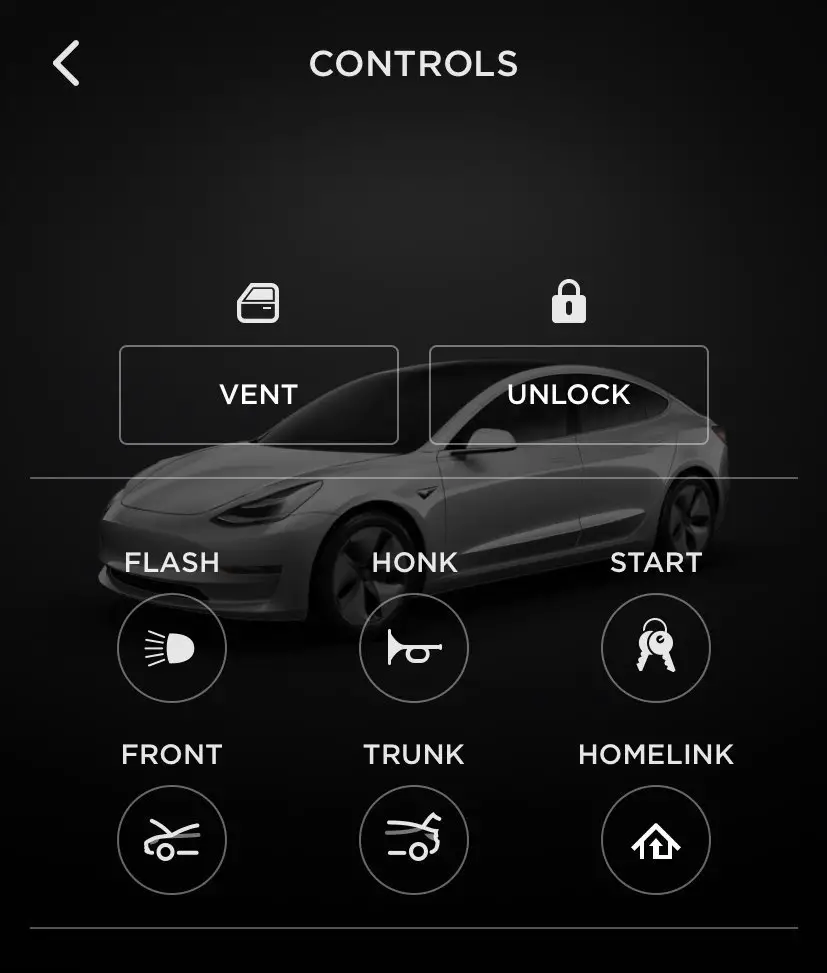 After this, you need to open the garage door using its remote while the vehicle trains itself through the radio frequencies. Once the frequencies are matched, the profile is ready. After that, you can test it out by simply tapping on the name of the profile.
Further on, you can add other small features to every profile as well. There are options such as Auto-open and Auto-close which you can check or uncheck. You can also specify the distance between the vehicle and garage door at which you want to activate the automatic opening and closing. This will essentially depend on the length of your driveway. Finally, there are options within the Summon feature, where you can activate Homelink. This ensures that every time you 'summon' your Tesla car from the garage, it communicates with the garage door to make sure that there are no freak accidents.
Of course, you wouldn't want to activate Auto-open and Auto-close for multiple garage doors if you have more than one. Or else, all of them would start opening the moment you get close. Other features include linking your gate to the Homelink as well, which works very well for gated communities.
History Between Tesla and Homelink
Tesla had offered Homelink with the Model 3, and they implemented it in the Model S and X through OTA updates as well. This was a standard feature, and the small radio frequency receiver would fit inside the front bumper. Since it fitted inside the bumper, it was easy for Tesla to actually install it during standard assembly.
In May 2019, Tesla sent an email to its workers saying the Homelink will not be a standard feature anymore. It was made an aftermarket product for an additional cost of $300. Of course, this was aimed at earning extra cash and increasing the profit margin on the Model 3, which was selling like hotcakes at the time.
Having your Tesla car linked with a Homelink system was a major convenience, and Tesla priced it at $300. The downside was that you had to buy the product online, and after delivery, take it to the Tesla service center to allow technicians to fit it onto your car. For Model 3, this became a tough job, as they had to remove the front bumper for installing the Homelink device. However, they solved this issue in Model Y.
Homelink or Tesla garage opener is a great way to make sure you never have to get out of your car in the rain or snow again. Elon Musk also mentioned last April that Tesla will bring an internet-based garage-door-opening feature for systems that are not compatible with Homelink. As of now, up to 99% of garage opening systems are compatible with Homelink, but Tesla is trying to ensure that everyone gets to use the feature.