The e:N SUV is one of Honda's new series of EVs, which is set to consist of 10 upcoming models that Honda plans to export worldwide within the next five years.
The newest thing close to Cybertruck on the automobile clan is the concept SUV from Honda. However, some reports point to these models being targeted for only Chinese markets.
Another China Cybertruck knockoff?
Nah. We don't think so. Although Honda was vague about the specs, they did say that the new EVs will be built on the e:N F Architecture, which was created solely for this series.
This EV-only themes platform is said to enable "a sporty and exhilarating driving experience" said Honda. Each new model from the series aims to shift Honda's design language and engineering focus to electric vehicles.
Let's dig deeper to find out what we know so far.
What Is This New e:N Design Studio?
Honda came up with this new e:N Design Studio following their plan to expand into EVs in China early this year. Honda is going hard eclectic with the design strategy with the series and there is so much to see and absorb from these concepts.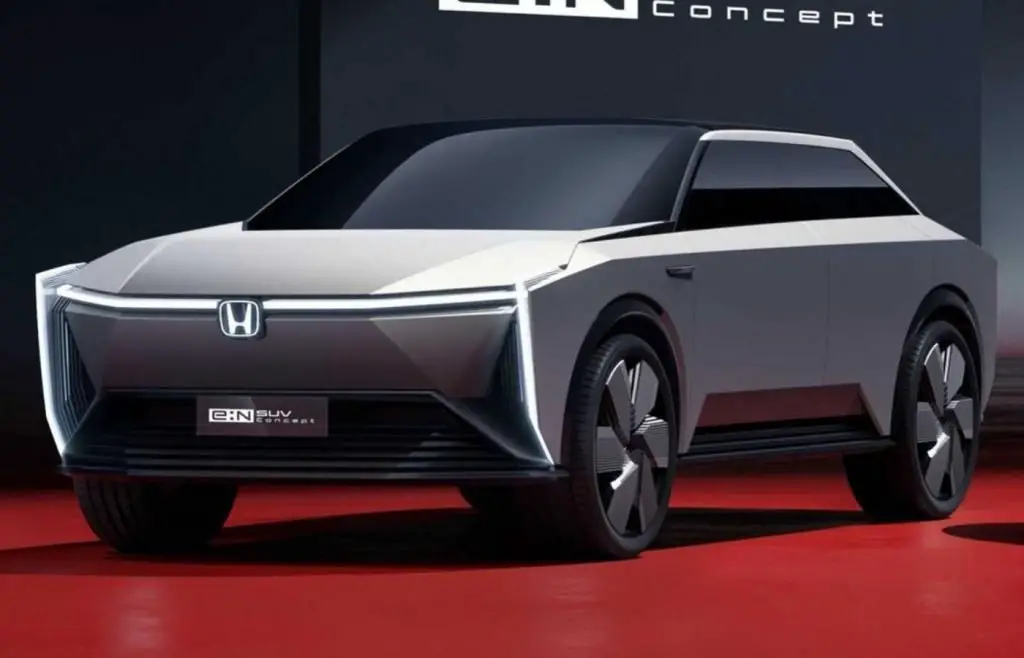 The new inspiration for building a strong presence in the global EV market by Honda looks promising but is it going to serve the automaker right? Only time will tell.
The design look and feel seem to be strongly inspired by the market leader production models that are already popular. Some love them, and some seem to have that love-to-hate relationship with them. Primarily with Tesla.
The e:N SUV concept is part of the Honda EV transformation plan for China that would help Honda compete with a strong EV presence in China.
Honda plans to only deal with EVs in China from 2030 onwards. This includes battery electric, hydrogen fuel-cell, or petrol-electric automobiles. Moreover, they are bringing new smart car tech like Honda Sensing into the picture as well.
China's Dongfeng and GAC are already producing two models for Honda starting early this year. They are both based on the e:N design and F Architecture platform of the Honda vision for EVs.
Honda has come up with two unique architectural platforms for their upcoming models in this design studio, e:N Architecture F and e:N Architecture W.
Too much information? Let's put them all neatly:
Honda's new EV brand in China e:N will produce 10 different EVs in upcoming years.
The four concept cars revealed so far include:
The e:N SUV Concept (aka Cybertruck Clone)
The e:N GT Concept
The e:N Coupe Concept
The e:N2 Concept
Full stack intelligent control driver assists AI ecosystem including Honda Sensing 360 and Honda Sensing Elite.
New e:N OS software.
Two new platforms for upcoming Honda vehicles The e:N Architecture F and The e:N Architecture W.
The e:N SUV
The Honda e:N SUV – the latest SUV concept car to be revealed by the Japanese automobile manufacturer – is a hybrid electric vehicle that's perfect for millennials on the go!
Designed with young urbanites in mind, this eco-friendly SUV has everything you need for your daily commute and more. From its sleek design and cool dual
It takes a lot of courage to copy one of the most unique(and awaited) cars in the world. But kudos to Honda, because the e:N SUV concept definitely looks better than Tesla's Cybertruck.
Yes, it's true – Honda has created a cybertruck clone! Known as the e:N SUV Concept, this new electric vehicle concept from Honda is designed to be a fun and stylish way to tackle busy city streets. Hopefully!!
But while it looks similar to the Tesla Cybertruck on the outside, the Honda Urban EV Concept is actually very different on the inside.
How?
Because no one knows. While no one has pictures of the interior just yet, Honda has assured us that it will be a digital cockpit free of clutter, with "the effective presentation of lighting and scents."
Unlike the Tesla, which boasts a high-tech electric powertrain, the Urban EV Concept features an advanced electric motor and battery pack that's designed to deliver smooth and efficient performance in the city.
Honda managed to make an angular car that still looks edgy, futuristic, and somehow belongs to the road. With those gorgeous LED headlights, bulky wheels, and a sharp front-back that makes it look sleek and powerful, this car is definitely one to watch out for.
Cybertruck & The e:N SUV Concept
The design of the Cybertruck inspired many people, so it comes as no surprise that this new concept has similar styling.
Many automobile lovers came up with an incredible take on their version of Cybertruck. The ever-trending wait for Cybertruck also adds to the massive buzz, Tesla has built around the truck.
The nose is convex, and A-pillars are sweeping seamlessly with a rather flat roof; however, C-pillars do give the vehicles more of an angular look and feel.
Both EVs are going to see major changes as they come closer to being in production. Honda has some time on their hand as they don't have a date yet, but Tesla is hell-bent on pushing the dates farther every time. (Three times already)
The latest update is to see them in production in early 2023, as per Tesla. Not too far away!
The New EV Transformation By Honda
Honda came up with the latest addition to the e:N series with the e:N2 Concept reveal at the Fifth China International Import Expo in Shanghai, China. The concept looks strikingly closer to the GT concept of the series.
All the concept models look straight out of a sci-fi movie that would soon turn into a spaceship or a submarine. You never know!
Honda is planning to become an EV pro in China following their two joint ventures with Dongfeng Motors and GAC over the coming five years.
The Honda e:NS1 and the Honda e:NP1 electric SUVs available in China already use the F platform, which looks identical to the Honda HR-V. GAC Honda and Honda Dongfeng are manufacturing both these production models that are front-wheel electric drives.
The two joint ventures will be the heart and soul of Honda China EV journey.
The e:N2 is part of Honda's goal to introduce the first three e:N vehicles within five years. Those three models will be among 10 total electric Hondas in China by 2027. Currently, Honda is building two new factories in China that are planned to begin production in 2024.
What To Expect?
The idea to build a different nest for every different market to build a strong global presence seems like a good idea for Honda.
The e:N platform, is developed exclusively to boast of a new design entity that will set the automaker apart. The new and enhanced e:N OS, completely unique creativity, and F architecture will put Honda strongly in the next-gen EVs segment.
Problem?
Even if the e:N SUV turns into a reality, it may never leave China. The reason is that Honda has a very confusing and illogical EV strategy. These e:N models are not going to go into production and be available for global markets.
Toshihiro Mibe, CEO Honda, is looking to speed up their EV initiative with the e:N studio series in action.
The automaker wants to sell a "Prologue" SUV in the United States, an E Hatchback in Europe and Japan as well as some terribly-named vehicles referred to as "e:N Series" only available in China.
Oh by the way for the name. Actually, the new EV brand name e:N by Honda has a meaning. The 'e' in the name stands for energize and electric whereas, N is to denote new and next.
While it still sounds promising to witness incredible electric growth for the company, Cybertruck look-a-like is probably not their best decision.
However, The Japanese carmaker is not only keen to release these concepts but its latest driving-assist system Honda Sensing 360 as well.
Bottomline
The e:N SUV Concept takes many design cues from the popular Tesla Cybertruck. It features sleek, futuristic styling with a bold front grille, large wraparound headlights, and a flat-angular form. In many ways hints at Tesla Cybertruck.
Copying the design of the Tesla Cybertruck is quite common these days as the attention and excitement for the model just keep building up. A Cybertruck lover in India too, made a look-alike recently that garnered over million views, matching the exterior of the Cybertruck pretty well.
Honda is a premier brand and holds a massive number of vehicle owners. Tesla is dominating the EV industry but for how long? As Honda and other established automakers come up with affordable EV models, will things change for Tesla? (The market leader's share is shrinking)
It is essential to keep in mind that Honda's electric vehicle plans are much more extensive for China than they are for the United States.
In 2024, both Honda and Acura(Honda's luxury segment brand name) will offer an SUV based on GM's Ultium platform (flexible battery); however, it will take some time before additional electric models become available.
Tesla has been doing very well in China, however, Honda may give them some competition with this new design. Although it is only a concept car, and there is no guarantee that it will ever be made into a reality, the Cybertruck-type SUV is sure to turn some heads.
So if you're looking for a fun way to tackle and sweep through the busy city streets in style, be sure to check out the Honda version when in China.
The concept looks interesting! Tell us what you think!