It is no secret that American electric start-up company is coming up with their first two vehicles in 2021. The first is an electric pick-up named R1T, and the other is an electric SUV, R1S, which is set to take on Tesla Model X. While the initial launch was set for early 2021, the pandemic has pushed their deadlines. They are looking to launch the R1T by June 2021. The R1S, on the other hand, might arrive in August 2021.
EXCLUSIVE: Rivian R1T Spotted Near Pismo Beach, California
And now, we have got some images from the streets of California showing the pick-up truck. We received some snapshots from Dustin Medlock, who spotted two R1Ts near the Pismo Beach, California. Dustin captured the following image yesterday: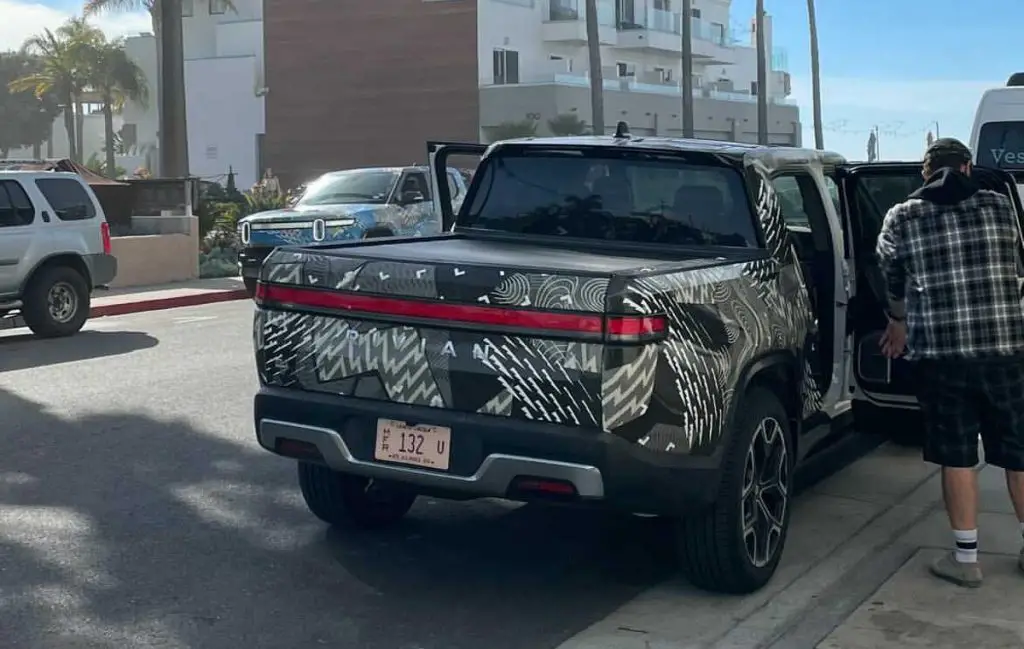 We can see both R1Ts in the image, one of which is parked across the street. There have not been many sightings of either of the Rivians recently.
The Rivian R1T
Right from the first glance, The Rivian R1T captures your attention. It is Rivian's first vehicle on the market, and it starts making an impression right away. Rivian has promised a driving range between 250 and 400 miles (402 and 647 km) across the variants. It is also equipped with a powertrain that accelerates from 0 to 60 mph (96.5 kph) in 3 seconds. It is expected to bridge the gap between mid-sized pick-ups like Ford Ranger and full-sized trucks like the Ram 1500. That is a segment which will soon be populated by big names such as Tesla CyberTruck and GMC Hummer EV.
We'll start off by talking about capabilities. The R1T consists of a quad-motor powertrain, which is responsible for the 3-second acceleration. Being a pick-up, its towing capacity will also be questioned, and it does not disappoint with a close-to-5000 kg capacity. It also has an air suspension system and a ground clearance of 8 inches, which can be increased up to 14.5 inches. The wading depth is more than 3 feet, which makes it a very good off-roader.
Rivian says their battery can sustain high loads in the harshest of climates, be it 60°C or -30°C. The battery pack comes in three different sizes – 105, 135 and 180 kWh. These packs are capable of providing a range of more than 250, 300 and 400 miles (402, 483 and 647 km) respectively. At full towing capacity, one can expect almost half of these driving ranges.
Passenger Experience
The vehicle, its charging and the Rivian app are all integrated into the same interface. Rivian will follow the over-the-air update trend, providing software updates to improve anything from the driving dynamics to video games on the screen. The interior has a rich feel that has wooden panels combined with leather finish. The company has also ensured to use adventure-proof materials, which can cope with sand, mud and anything else you might bring into the car during an adventure trip.
The all-glass panoramic roof provides a lot of natural light, further richening the feel. Rivian will also offer a removable glass/open-air option in mid-2022. The overall experience is bettered by the 360° audio system.
Built for Adventure
Rivian has ensured that the R1T contains pretty much everything you would need on, for example, a camping trip. The total storage space amounts to 68 cubic feet or 1925 litres. This includes space in the front trunk, rear storage bin, under-seat compartments, centre console and the Gear Tunnel. The Gear Tunnel is an interesting addition to the storage. The side doors have compartments inside, and this helps the R1T provide something different than the competition. The Camp Kitchen is simply a boon for all real adventurers.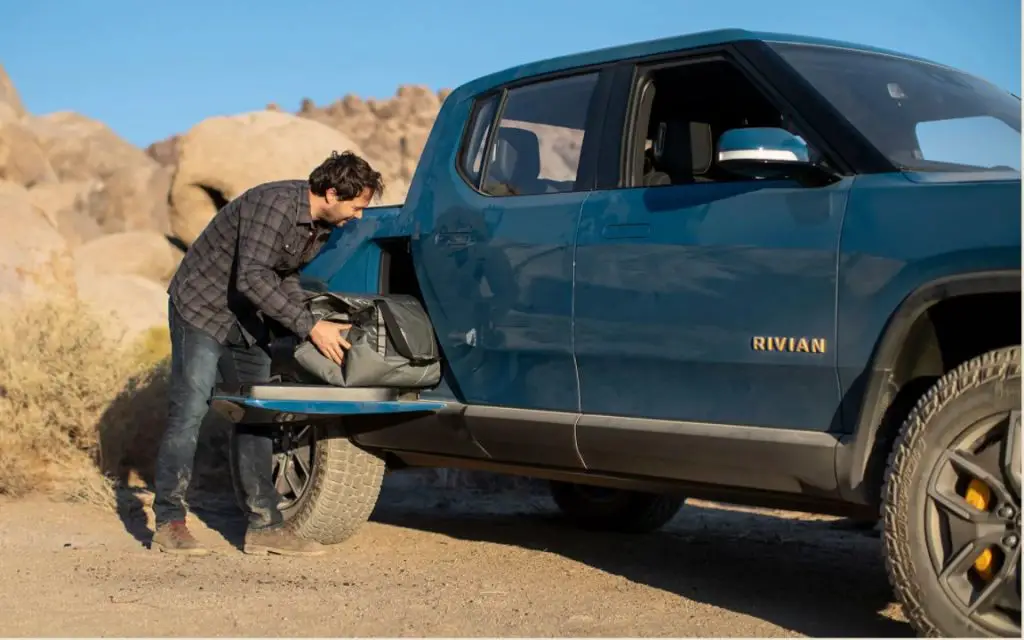 Driver Assistance
And of course, like all other electric vehicles introduced recently, Rivian also has its own driver assistance program. It mainly consists of lane assistance, emergency braking and cruise control. The system consists of 11 cameras, 5 radars and 12 ultrasonic sensors, providing 360° of vision. Thus, Rivian has provided their vehicle with pretty much everything you would ask for in an electric pick-up.
Variants
There will be two main variants for the R1T – Adventure and Explore. The Adventure will have prominent off-road capabilities, while the Explore will be built more for longer on-road trips. Both variants will be available with a 135-kWh battery pack in January 2022, but Rivian plans to launch a limited release of the Adventure package, known as the Launch Edition, in June 2021. The Adventure starts at $75,000, while the Explore will cost you a bare minimum of $67,500. The 180-kWh battery pack option will be available after January 2022 and post that, Rivian will announce plans for the 105-kWh option.
Why Rivian is a Big Deal – Our Opinion
While the R1T offers a truck bed that is significantly smaller than what Tesla planned for the CyberTruck, the newest electric pick-up on the market will surely leave a mark. The specs that it offers are quite impressive for a company's first car. But then again, Rivian is no stranger to the automotive industry.
The company was founded in 2009, and since then, it has been doing a lot of R&D in the electric market. And over the years, it has seen a lot of companies investing money in their venture. T. Rowe Price, BlackRock, Fidelity, Soros Fund Management, and Cox Automotive, among others, have invested a cumulative total of more than $6 billion into the company. Last year, Ford paid them $500 million for access to the "skateboard" design of their truck platform. Amazon placed an order for 100,000 Rivian-made delivery vans.
In 2017, the company acquired a $16 million manufacturing plant previously owned by Mitsubishi in Illinois. They currently have more than 3000 employees as part of the design and development of the R1T and R1S. Former Aston Martin President Laura Schwab has joined the company as VP of sales and marketing.
It has been a long time since Rivian announced its intentions of launching an all-electric pick-up truck (and an electric SUV too). Since that announcement, many notable brands like Tesla and GMC have announced their own pick-up trucks, making the competition stiffer. It remains to be seen if Rivian can out-do these heavyweights. But if they do stick to the current plans and release the R1T Launch Edition in June, it will become the first American all-electric pick-up truck. And that is no mean feat.