GM has been prepping to launch a fleet of electric vehicles in this decade. They have already showcased the new electric pick-up from Chevrolet. Following that up, GM on Thursday unveiled the all-new Electric crossover/SUV by Cadillac called the Lyriq, like with all Caddies, the Lyriq is a luxury crossover. This is Cadillac's first-ever EV Crossover and is also a major step by the company into an electrified future.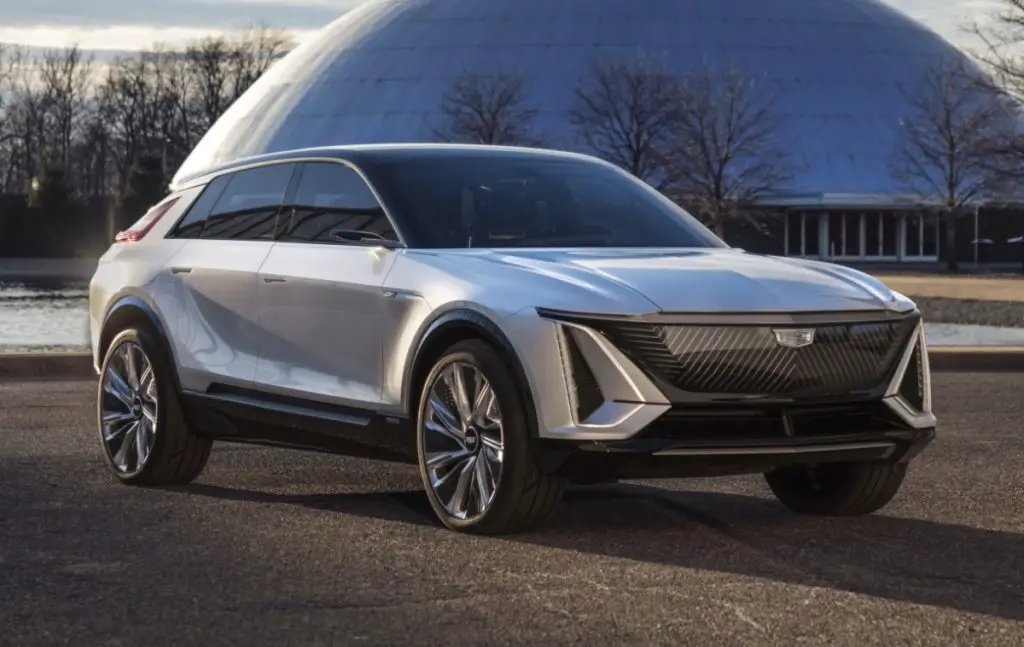 Cadillac reveals all-electric Lyriq SUV loaded with Luxury and Tech
The "Lyriq" launch
The Lyriq promises an impressive 300 miles of range and will go into production two later in late 2022 in the United States. This car is aimed for the global market and it will be produced in China as well, China is a crucial market for Cadillac that they plan to begin production in China ahead of the U.S., according to Cadillac. The Lyric is part of GM's plan of launching 20 electric vehicles by 2023. Michael Simcoe, GM's vice president of global design said during its reveal "The Lyriq sets the benchmark for future Cadillacs".
Luxury features
The Lyriq is as luxuries as a true Cadillac should be and is equipped with features Cadillac customers expect such as the "black crystal" grille and a jewellery box-styled drawer to the humungous 33-inch touchscreen infotainment system which covers almost 3/4th of the dashboard and this is paired with a banging AKG stereo system.
Design
Cadillac has gone with a butch and striking design for the Lyriq, it has sleek fastback/coupesque roofline and wide stance. The massive "black crystal" grille gives this car an imposing and unmissable presence on the road, the grille also integrates a LED lighting that does a choreographed dance whenever the owner approaches the vehicle. The rear LED lighting is also distinct with its split light design.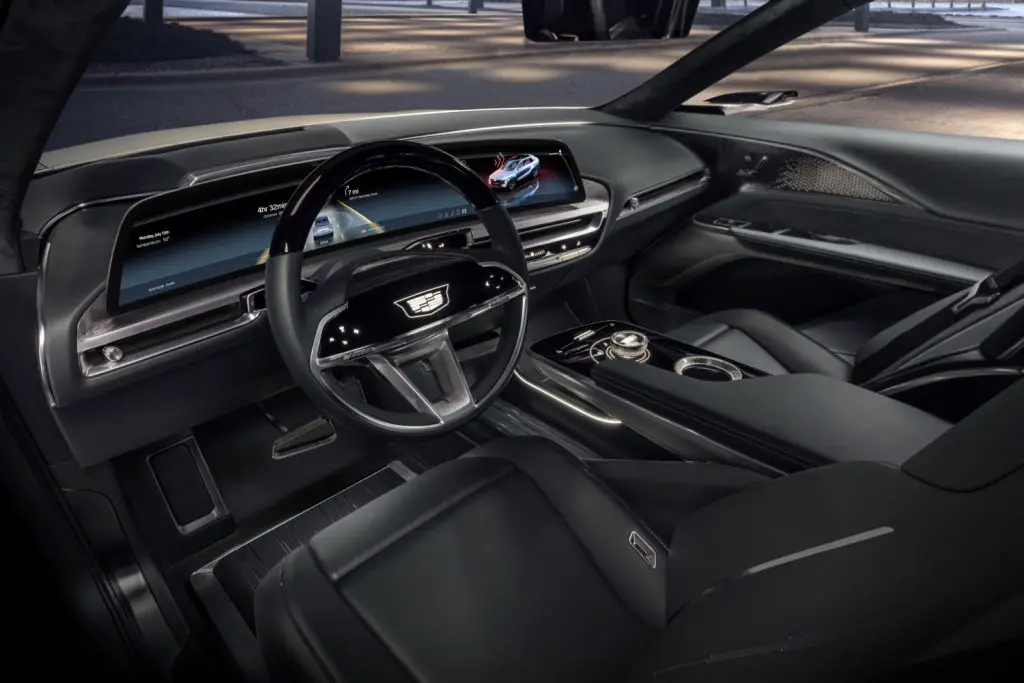 Interior
The inside of the Lyriq appears to inspired by an intergalactic spaceship from the 22nd century with its backlit speaker grilles, curved LED screens with hidden storages, and ambient lighting features that is programmed to be similar to the dynamic lighting outside the vehicle.
Trims available
The Lyriq will be available with two variants upon launch, the range kicks off with a rear-wheel-drive model, spend some more and customers can upgrade to an all-wheel-drive version. The car features a 100-kilowatt hour battery pack which is reportedly capable of more than 300 miles of range according to Cadillac's own testing. It will be available with DC fast charging rates over 150 kilowatts and Level 2 charging rates of up to 19kW.
Technology
This car like most modern cars is a paradise for a tech geek, it includes GMs latest version of semi-autonomous driving technology called SuperCruise which was first seen in the Cadillac CT6 a few years ago. The SuperCruise is a high-tech system that employs a combination of LiDAR map data, high precision GPS, cameras, and radar sensors around the vehicle. This hands-free tech is paired to a driver's attention system which monitors the driver's reaction to ensure that they are paying attention on the road. SuperCruise does not require the driver to keep their hands on the wheel at all times like some other driverless-tech provided by Tesla, Mercedes, etc, the driver however must keep their eyes straight ahead on the road.
HUD
The car features a gorgeous dual-plane augmented reality-enhanced heads-up display. This HUD is projected on the windshield aligned perfectly with the driver's line of sight, it displays in a layered style, the first layer shows the speed of the vehicle and direction and the second layer displays navigation signals and other essential alerts. The display is programmed to be subtle enough so that it doesn't distract the driver.
Ultium architecture
Cadillac has based this EV on GMs new scalable electric architecture called Ultium that is set to be a platform for a lot of GM products from Buick, Cadillac, Chevrolet, and GMC. This will support everything from compact cars and work trucks to large SUVs and also performance vehicle. Ultium will be capable of 19 different battery and drive unit configurations, it includes 400-volt and 800-volt packs with storage ranging from 50 kWh to 200kWh. The drivetrains which are compatible on this platform include front, rear and all-wheel drive, basically everything. The crux of this new modular architecture will be the large-format pouch battery cells manufactured at this new factory.
The battery supported by Ultium has a nickel-cobalt-manganese-aluminium chemistry that employs aluminium in the cathode to help reduce the need of cobalt which is quite scarce and difficult to acquire. According to GM, this will allow the companies to reduce their dependency of cobalt by 70%.
Comparisons with Tesla and the conclusion
The Lyriq is set to compete mainly with Tesla's luxury offering, the Model X SUV. The Model X has already established its presence in the EV market and has accumulated a huge fan following due to its rapid performance and quirky design; it does have a lot of "quirks and features". Both will go head-on-head like a clash of the titans. Lyriq is also compared to the Model Y as Cadillac is launching this EV as a luxury crossover, maybe Cadillac is aiming to take two birds out with one stone. Jokes aside, this is a herculean endeavor for Cadillac, because of customers a certain degree of finesse in car-making from the brand.