The electric crossover SUV segment is definitely getting crowded. We already have Tesla Model Y ruling the sales, and it has quite a bit of competition too. Hyundai Ioniq 5, Ford Mustang Mach-E, Volkswagen ID.4 are in the game as well. Kia is coming up with its EV6, while Audi recently launched the Q4 e-Tron. And now, the world's leading automobile brand in terms of sales is making a similar move.
Toyota, today, pulled the covers off its mid-sized electric SUV, the bZ4X. This vehicle will be Toyota's first electric vehicle under the bZ moniker, which stands for 'beyond Zero'. Toyota will introduce as many as 15 battery electric vehicles (BEVs) by 2025, seven of which will be bZ models.
Toyota-Subaru's e-TNGA Platform
Toyota has developed this electric vehicle concept in partnership with Subaru, and they are using Toyota's e-TNGA platform. The Japanese company released a statement regarding the same:
Jointly developed with Subaru, the Toyota bZ4X SUV Concept is built on the new e-TNGA BEV- dedicated platform. The concept conveys Toyota's legendary quality, durability and long-term reliability (QDR) in combination with Subaru's AWD capabilities to achieve a driving experience that is both comfortable and engaging.
The company hasn't revealed any powertrain or battery specs yet. However, considering that it will most probably fall in the $40,000-$50,000 price bracket, one can expect a range of somewhere around 300 miles (483 km).
One can expect a dual-motor all-wheel-drive powertrain, with an option for a single-motor setup in the front or rear.
Exterior and Interior Design
Toyota has followed the path of Hyundai Ioniq 5 and Kia EV6 for the overall design. A long wheelbase with a short overhang increases cabin space. The front is mostly closed out. The overall shape is similar to Toyota's RAV4, but even more angular and sharply creased. A chunky black wheel-arch trim and a contrasting roof hint at the influence of the RAV4 too. There is a narrow black strip in place of the conventional grille, and the sharp headlights and sculpted air channels are part of Toyota's new "hammerhead" look.
On the inside, the bZ4X looks cosy and conventional. There is a large touchscreen in the middle, and there are physical buttons and a rotary shifter too. Near the base of the centre console is what appears to be a large translucent blue panel. Maybe it's a touchpad for the infotainment; maybe it's a fancy cover for a storage nook.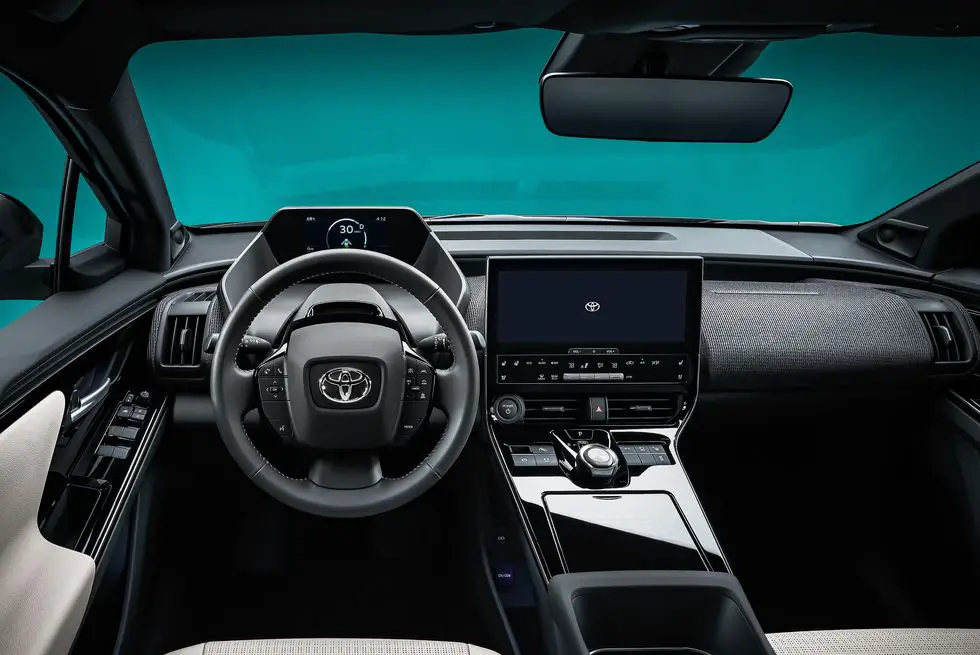 The open-concept interior is designed to enhance driver comfort and confidence on the road. With every detail purposefully engineered, the low position of the instrument panel and the location of the meters above the steering wheel not only help expand the vehicle's sense of space, but also help increase visibility to aid in safe and secure driving.
Toyota's Electrification Plan
As mentioned before, Toyota will introduce 15 new BEV models by 2025. Out of these, seven will fall under the bZ moniker. Toyota will produce the bZ4X in Japan as well as China next year. It is coming to the USA as well, but there are no details yet.
Toyota plans to produce the Toyota bZ4X in Japan and China; it hopes to begin worldwide sales of the model by the middle of 2022. We will share U.S. product details at a later date.
The other bZ models will most probably be bZ1, bZ2, bZ2X, bZ3, bZ4 and bZ5. However, Toyota will not limit its electrification strategy to BEVs only. Their proposed portfolio also includes hydrogen fuel cell electric, hybrid and plug-in hybrid vehicles. This will amount to as many as 70 new models, all of which will boast of greener mobility.
Our Opinion
The bZ4X looks quite sharp in its looks. We don't have a lot of data about the powertrain yet, but all those details will come eventually. Almost all the companies have started off their electric journey with an electric crossover. Traditional companies have hit the ground running and the competition is getting intense. Fortunately for Tesla, Model Y is easily their best seller right now. But whether or not it remains a top seller remains to be seen.