Among Tesla's various innovations for its vehicle lineup, there is the Giga Press it uses for the Model Y production. The electric crossover is a marvel in automotive body engineering, with the mega castings in its chassis at the forefront. Model Y shares most of its parts with Model 3, but Tesla had decided to go with huge front and rear castings for their latest vehicle. This enabled them to bring the number of chassis components in the Model Y to just two, as opposed to 70 parts in Model 3.
The Model Y required the use of a 6,000-ton casting machine, known as Giga Press. The company purchased this impressive machine from the Idra Group. Interestingly enough, this isn't even the largest casting machine the company produces. A few days ago, the company posted a video on YouTube showing their 8,000-ton casting machine. This is the largest casting press in the world, and they also mentioned that they received the first order for this machine.
The 8,000-Ton Casting Machine: An Engineering Marvel
The video does not mention Tesla directly, but Riccardo Ferrario, General Manager of Idra, mentioned that a leading electric vehicle manufacturer has placed the order. To put things into perspective, Tesla CEO Elon Musk mentioned the need for an 8,000-ton Giga Press for Cybertruck production during the previous earnings call. The Cybertruck will need this press for its rear body casting production.
When Tesla announced that Model Y production requires a 6,000-ton casting press, it amazed many. In today's world, using completely casted bodies is quite rare. But Tesla has vowed to create revolutionary products, and not just from a technological viewpoint. The 6,000-ton machine was reportedly the first of its kind. The machine has a clamping force of 55,000 to 61,000 kilonewtons. But even at that time, they had mentioned the possibility of requiring larger machines in the future. Yes, larger than the 6,000-ton Giga Press.
Ferrario said that automotive companies will use the machine for the production of chassis components. This will be particularly useful for pick-up trucks, electric lightweight goods vehicles and SUVs. He lauds several years of hard work gone into realizing this project, and how it shows Idra's technical superiority.
Tesla's Plans for the Giga Press
During Tesla's conference call for Q4 financial results, Musk said:
We'll soon order the equipment necessary to make the Cybertruck work. We're actually going to be using even bigger machines for the rear body of Cybertruck because you've got – obviously, it's a bigger vehicle and you've got a long truck bed that's going to do a lot of loads. So we'll be using an 8,000-ton casting press for the rear body casting, as opposed to 6,000 tons for Model Y. So 6,000 tons was the biggest casting machine in the world.
Tesla will most probably deploy this machine at Gigafactory Texas. The newest of Tesla's huge manufacturing plants will be the base of Cybertruck production. We know that Tesla has already laid three foundations for the installation of this 8,000-ton machine, as evident from the image below.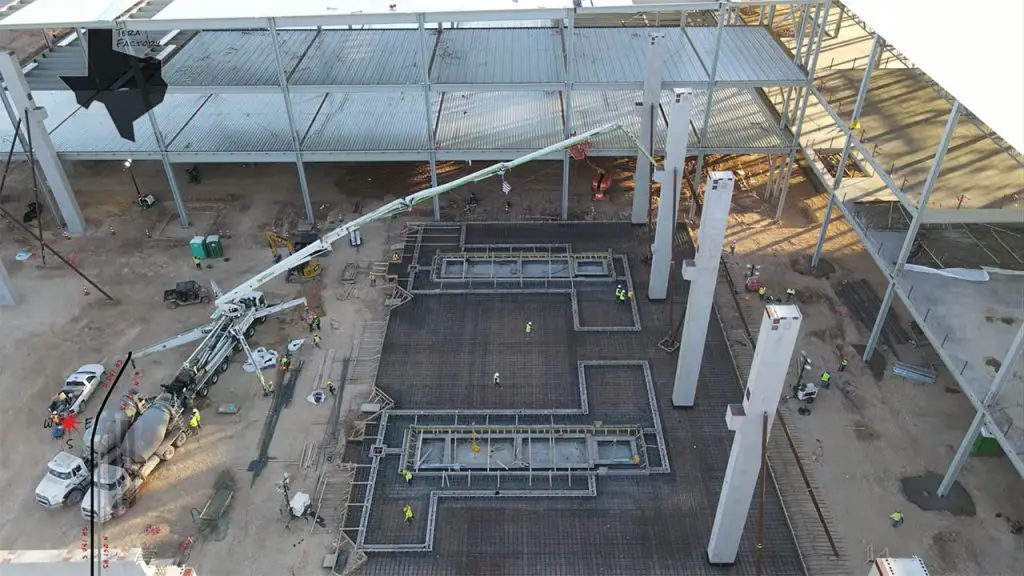 We can see a Z-shaped foundation for the Giga Press. In comparison, the foundation for the 6,000-ton casting machine for Model Y is in a different shape. The 6,000-ton press is already functional at the Fremont and Shanghai plants of the company.
Interestingly enough, the 8,000-ton machine is capable of producing larger chassis components. If you read between the lines a little, it could also mean a Tesla transit van, or maybe a full-sized SUV, bigger than Model X. We all know that Elon Musk wants to cover all major segments in the auto industry, according to Part Deux of his 'master plan'. Of course, this is just speculation, but it won't be surprising if Tesla does announce a full-sized SUV, something that is lacking in the current lineup. This will also bring the second phase of Musk's grand strategy to a close.
Our Opinion
For all those people thinking that Tesla is moving forward because of vehicle tech, this one is for you. Yes, the company has had a few quality issues recently. But they are constantly striving to become one of the best in the industry, and definitely one of the most unique as well. This 8,000-ton Giga Press is just another validation.