Tesla Model Y is one of the highest-selling electric vehicles in the USA right now. A crossover/compact SUV at heart, Tesla has built on the platform of Model 3, its compact sedan. Ever since its launch back in 2019, the Model Y has shown a lot of promise when it comes to sales. Constant updates have evolved some of the software features in the vehicle, and it has very good performance specs as well. The one aspect that it lacks is the off-roading capability, as its ride height is quite low.
It seems, however, that Tesla may be working on an off-road version for the Model Y. An unregistered Model Y with an 'off-road kit' was spotted on the Fremont Boulevard near Tesla's Fremont plant. This included a higher ride height and bigger, thicker, all-terrain tires. Tesla YouTube influencers The Kilowatts spotted this unique prototype in Fremont.
WHAT ARE THOSE!? ?
We found this dirty prototype Model Y driving around Tesla's Fremont Factory today with an apparent lift kit and some very unique wheels! #Tesla #ModelY pic.twitter.com/mpdkKNjscd

— The Kilowatts ?⚡️ (@klwtts) February 23, 2021
Ryan from The Kilowatts captured these pictures through the TeslaCam while driving around the Fremont factory. Not just the off-road kit, but the fact that it was covered in dirt also hints towards some off-road usage. The Kilowatts also shared some videos of this prototype.
Dashcam Front pic.twitter.com/rTqxDCRvTa

— The Kilowatts ?⚡️ (@klwtts) February 23, 2021
Could There Be A Future Off-Roading Variant Of The Model Y
Of course, the Model Y is the only Tesla vehicle right now to have an 'Off-Road Assist' feature. While this mode does not alter any of the hardware settings, such as ride height, it does improve the traction with the help of software changes. But many people criticized the addition of the off-road feature, saying that the low ride height will affect off-roading performance.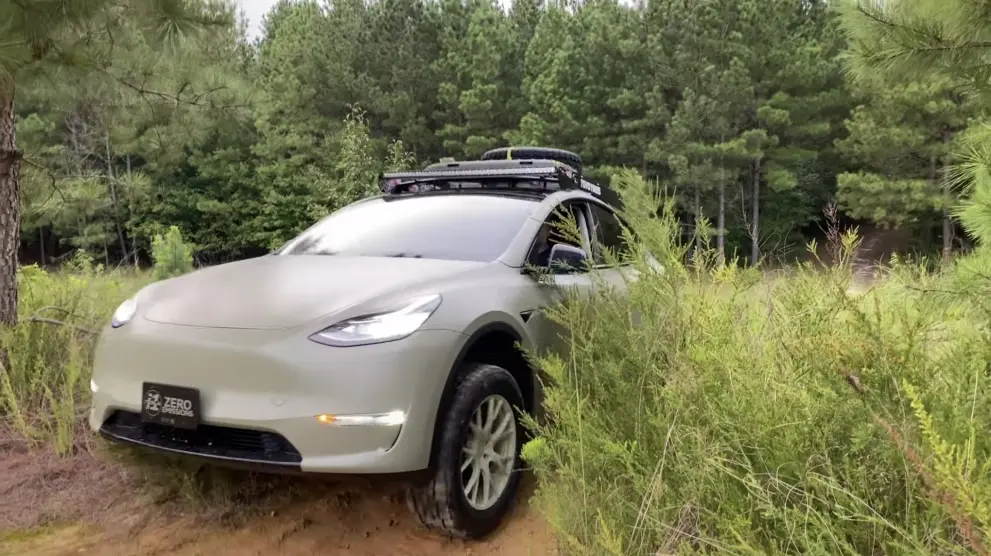 But if Tesla is testing some prototypes with higher ride height, it is very much possible that they may be looking into this option. Yes, it seems highly improbable that Tesla may bring an off-road variant. But the point of any crossover vehicle is to have a refined performance in the city with a moderate level of off-roading capabilities. Most of the SUVs nowadays are the preferred option for camping, beach trips or into the woods.
There have been some third-party attempts in the past to transform the Model Y into an Overlanding vehicle. But with the increasing utility as well as the demand for crossover vehicles, Tesla may have taken it upon themselves to add some features. Model Y's combustion rivals such as Subaru Forester and Toyota RAV4 provide these off-road capabilities, and they are much less expensive compared to the Model Y. Both of these vehicles start in the mid-$20,000s, while Model Y now starts at $48,990.
The Need for a Model Y Upgrade
There is no doubt about Model Y's popularity in the electric vehicle market today. However, many people feel that it is quite similar to Model 3. Of course, Model Y shares almost 70% of its parts with Model 3. So it is very much possible that Tesla is trying to add some uniqueness to the crossover, something that differentiates it from Model 3. An off-roading variant could definitely attract more customers, as the low ride height currently is a major constraint for many people.
Our Opinion
This is an interesting turn of events. Tesla hasn't announced any intentions to add an off-roading variant to Model Y. But it is true that the crossover SUV is the only Tesla vehicle with off-road assist features. Maybe this is no coincidence, maybe it wasn't a random decision. It could very well be on Tesla's minds to bring an off-roading variant to the market. Or maybe this is just a one-off test prototype, as they go about testing various aspects for some future updates. The changed hardware does pave the way for some speculation though. As of now, looking at the competition, an off-road option does make sense.