People who are familiar with Tesla know that one of the biggest reasons that the California-based company leads the market is the OTA updates. Tesla installs better hardware in its cars during production and then locks it to 70 to 80% potential using its software. The rest of the potential can then be unlocked by the customers by buying the additional boost packages on their official website or mobile app. Tesla had provided the Model 3 with an Acceleration Boost in December last year, and now, the Model Y is getting a similar software upgrade.
Tesla Model Y Can Now Do 0-60 MPH Even Faster
A Reddit user came across this new update that was eligible on his phone app, and the news broke out. The message shows that the new package is available at $2,000, and Tesla claims that it will improve the 0 to 60 mph (96.5 kph) timing by half a second. This means that the upgraded Model Y cars will be able to hit the 60 mph mark in 4.3 seconds rather than the initial timing of 4.8 seconds, making the car almost 10% faster. The fact that Tesla was able to provide this kind of a performance upgrade for all of its cars simply through a paid software update has excited the electric vehicle community, and many of the customers posted videos of their vehicle's improved performance after having purchased the boost.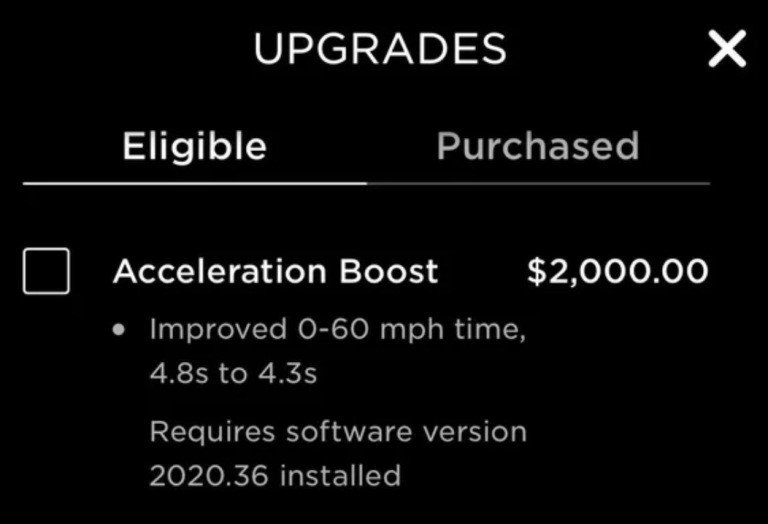 Tesla Model Y
The Model Y is an exciting crossover that was launched by Tesla last year, and it comes in two variants. The Long Range offers performance specifications such as a 0-60 mph (96.5 kmph) timing of 4.8 seconds (4.3 with the new upgrade) and a range of 316 miles (508 km). It has a top speed of 135 mph (217 kph) and seats 7 passengers. The Performance variant, as the name suggests, leans towards a more performance-oriented drive, with exciting specs like 0 to 60 mph in 3.5 seconds, and a top speed of 155 mph (250 kph). It is equipped with 21" wheels instead of the 19" or 20" options in the Long Range, and also has a lowered suspension and performance brakes for a sportier ride. It can go 291 miles (468 km) on a single charge. Of course, the Performance variant costs more, as it is available from $61,000 as opposed to the $51,000 for the Long Range.
Tesla's design ideology is such that the basic hardware of both variants remains the same, and the actual capabilities get decided by the software. This acceleration boost is currently available for the Dual Motor AWD version, i.e., the Long Range variant of the Model Y, and it gives the owners a glimpse into the capabilities of the Model Y Performance variant. Costing $2,000, the upgrade helps the car achieve a better acceleration timing without having to change any hardware. It comes as no surprise that Tesla launched this new update towards the end of the quarter, as it looks to earn some quick bucks to boost sales. And by offering a half-second improvement in acceleration, they have managed to tempt a lot of customers.
Hacking Threats
The last two months saw Tesla get into a 'cat and mouse' game with a small Canadian company named Ingenext. Formerly an electric vehicle reseller and repair shop by the name of Simon Andre, owned by Guillaume Andre, Ingenext provides software upgrades to Tesla cars equivalent to what the host company offers, but at a lower price. Their first product was the Boost50 package, which is equivalent to the Acceleration Boost for Tesla Model 3, at almost half the price. They also throw in some extra features like adding a Drift Mode, battery pre-warmers, and so on.
Tesla fought back against the customers who bought this Ingenext package by displaying a message on their screens, saying that 'an incompatible vehicle modification was detected' and there was a risk of damage or shutdown. Ingenext then came up with their own solution, providing a hardware module, which, when connected, would override the message from the screens. This squabble also formed two sides on the customer end, as both parties found support from the users. Some people said that once they buy a Tesla, they should be given the liberty of modifying it however they see fit. Others said that the risk of voiding a warranty was not worth saving a few hundred bucks.
It remains to be seen if Ingenext decides to target this new Model Y boost package as well. As it stands, Tesla has offered their customers a hardware upgrade that increases the capabilities of the car and makes it sportier without having to roll the car into any garage. Many times, these boosts have displayed results even better than what Tesla claims. In the past, one customer stated that his Tesla Model 3 Long Range with Acceleration Boost recorded a 0 to 60 mph timing of 3.48 seconds, which is faster than what the Model 3 Performance initially offered – 3.5 seconds. A range-focused variant that is built for the economy giving better results than a performance-oriented variant by using a boost that the host company offers – I think that statement is enough to understand the level of improvement that Tesla offers its customers.