There are a lot of Tesla killers being announced these days and while a lot of them are concept cars. The Tesla Model 3 has been called a mass-market EV. But that's really not true. It's more like an entry-level luxury vehicle that stands up pretty well to its peers. The European production version of the Chevrolet Bolt was revealed on February 2017. One of the Tesla's major competitor is the Chevrolet Bolt so let's see how Tesla Model 3 stacks up against it. Here we're comparing the Chevrolet Bolt with the base model of Tesla Model 3 meaning the Tesla Model 3 with no extra upgrades.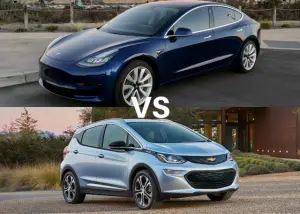 Tesla Model 3 vs Chevrolet Bolt
Performance
Both cars are beasts in terms of performance, comparing to the traditional gasoline cars, Chevy bolt does a 0 to 60 acceleration in 6.5 seconds while Tesla Model 3 does the same in around 5.1 seconds. however, putting things into perspective, 6.5 seconds is a very impressive number and hence, in reality, the difference in performance will be minimum. The torque of Chevrolet Bolt comes in at 266 pound/feet, and the horsepower at 200. In the Tesla Model 3, it's hard to get these numbers because Tesla doesn't actually publish them. The torque comes in at anywhere between 350 and 390 pound/feet of torque, and the horsepower is around 346. Although we have to add this as the Tesla Model 3 has the lower center mass that will feel steadier when you're driving it.
Range
This is where the Tesla Model 3 wins. with the 60-kilowatt-hour battery, Chevrolet Bolt takes you to around 238 miles per charge whereas Tesla Model 3 has a 75-kilowatt-hour battery and can take you as far as 310 miles per charge. In the range category, charging stations play a huge role because it doesn't matter how much range you have if you can't find a place to charge. you won't be able to travel far if you don't have many supercharger stations, therefore, combining these two factors Tesla Model 3 easily wins here.
Autonomous Driving
Moreover, one significant downside for Chevrolet Bolt is its lack of autonomous driving capability. there have been rumors about autonomous driving for its future versions but it is not yet available for the current version of Chevrolet Bolt. as for Tesla Model 3, not only does it come with the necessary hardware for autonomous driving, with $8,000 more, you can get full automation when it comes out. so, comparing the base model the difference is minimum, however, it's good to have full automation.
Price
Both Tesla Model 3 and the Chevrolet Bolt fall under the $35,000 to $40,000 price range and are entitled to $7,500 federal tax credit for electric vehicles. The price starting at Tesla Model 3 is $49,000 and you could also get $7,500 federal tax credit for this vehicle too. Chevrolet Bolt sells for $37,495 after deduction of $7,500 you could get that car at $29,995. however here's the catch the tax credit is structured in such a way that it favors early buyers. for the first 200,000 delivered by the manufacturer, full $7,500 tax credit is available.
Availability
The most compelling argument for Chevrolet Bolt would be its availability and it is available now. like Tesla Model 3, you don't need to wait for 18 months to get your car. you can pick up the Chevrolet Bolt at your local dealership right now. comparing to the uncertain delivery date of Tesla Model 3, Chevy Volt is a clear winner in this category.
Last but not least the looks do matter for cars, Tesla Model 3 wins by the large margin in this category. There is simply no comparison between these two cars whether it's minimalistic interior or it's aerodynamic exterior, Tesla is simply cooler and better looking.
Space
In terms of the space, the two cars are very similar. both have the passenger capacity of five persons. the cargo space with Tesla Model 3 is 15 cubic feet while it's 17 for the Chevrolet Bolt. however since Tesla Model 3 is slightly larger than Chevrolet Bolt, you can expect bigger leg rooms which increase comfort for Tesla Model 3.
Final Words
Overall both of the cars are fantastic, both offer impressive performance great range at a reasonable price so I guess which car to buy really depends on individual preferences. if looks and brands are important for you, autonomous driving is something you really believe in and you don't mind getting your car in early 2019, yet Tesla Model 3 you love it but if you need your car right now Chevrolet Bolt should be the better option.