Electric vehicle registrations in California soared despite the challenging start of the year 2022. Two models from the Tesla fleet are leading the numbers of electric vehicle sales nationally. Electric automotive makers are long struggling with a limited supply chain and other production challenges. Receiving an EV sales fact-check with this quarter report puts a promising perspective on the auto future.
Tesla Model Y topped the sale of all EVs for the first quarter of 2022 as per the new report submitted by the California New Car Dealers Association or CNCDA. California Auto Outlook report findings reveal that the overall new registrations dropped about 13.8% from last year with 425,216 registrations.
Plug-in vehicle sales stood as high as 37% from last year's recorded numbers. Tesla Model Y and Model 3 topped the list with impressive numbers of 23,117 and 24,375 respectively.
Quarter One Report Results
The CNCDA report California Auto Outlook begins with a prediction of reaching 1.9 million sales by the end of this year. Moreover, the report also sheds some light on inflation, gas price, and ongoing war. The report suggests that the new vehicle sales are going to be not much affected by these factors but by the production levels.
Plug-in electric car registrations in California for Q1 2022 are the following:
BEV or Battery Electric Vehicle Sales: 62,082 sales up 55% from last year, holding a market share of 14.6%.
PHEV or Plug-In Hybrid Electric Vehicle Sales: 11,056 down 17% from last year and holding a market share of 2.6%.
Total Plug-In Sales of PHEV & BEVs: 73,138 total plug-in sales, 37% up from last year and holding a market share of 17.2%.
HEVs or Hybrid Electric Vehicles: 47,198 accounting for 2% down than last year with a market share of 11.1% in the first quarter.
Total xEV sales: 120,336 total EV sales in the first quarter, 18% higher than last year with a total market share of 28.3%.
The first-quarter sales for plug-in vehicles stood at 208,000, which includes plug-in hybrids as well. California alone accounts for about 40% of all plug-in sales in states with 81,292 sales. This number puts California with 37% growth in sales from 2021, translating into a total market of 17.2% with combined BEV and PHEV share.
First-time all-electric vehicles in the report significantly performed over the conventional hybrids with 62,082 registrations of BEVs alone. This equals having 1 out of every 7 cars as a BEV or 14.6% of the total market share.
In a surprise turn of events, plug-in hybrids or PHEV sales saw a sink of 17% accounting for 2.6% of the total market share. Also, HEVs too are 2% lower than last year's sales and hold a market share of 11.1%.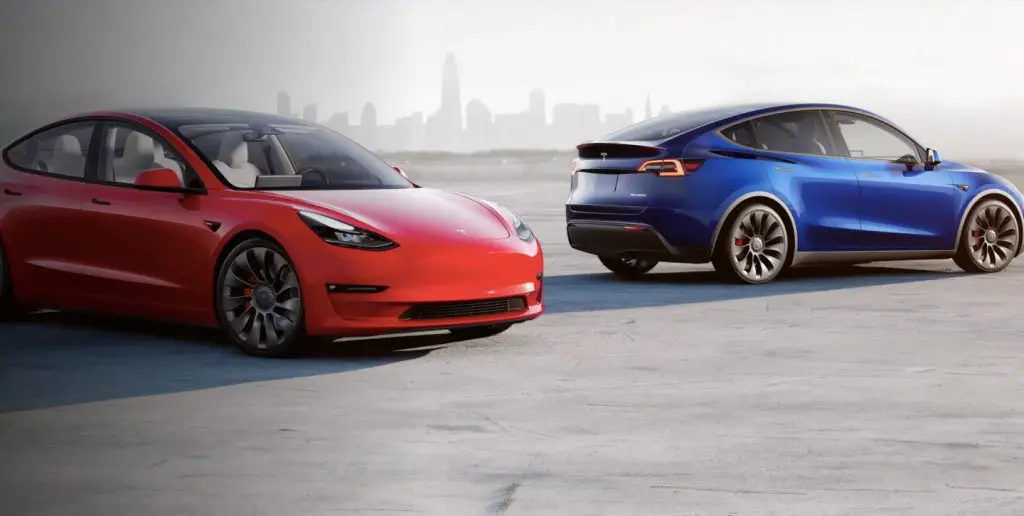 Top Performing Models
The top models of the first quarter report include three all-electric cars standing at the top of their respective subcategories. Following are the stats of the most popular categories:
#1 in Luxury Compact SUV
Tesla Model Y stood first with 21,812 sales up 58% from last year. The current total of the first quarter accounts for 55.5% total market share in the segment.
#1 in Near-Luxury
Tesla Model 3 ranked first in the near-luxury segment with 21,506 registrations, up 121%. Model 3 holds as much as 65.2% of the market share in its segment.
#1 in Luxury and High-End Sports Cars
Tesla Model S tops the segment with 3,495 sales growing up a whopping 293% from last year. The market share of Model S stands at 25.1% in its segment.
#5 in Luxury Mid-Size SUV
Tesla Model X scores fifth place in the luxury mid-size SUV category with 1,225 registrations in the first quarter. Model X accounts for a 5.7% market share.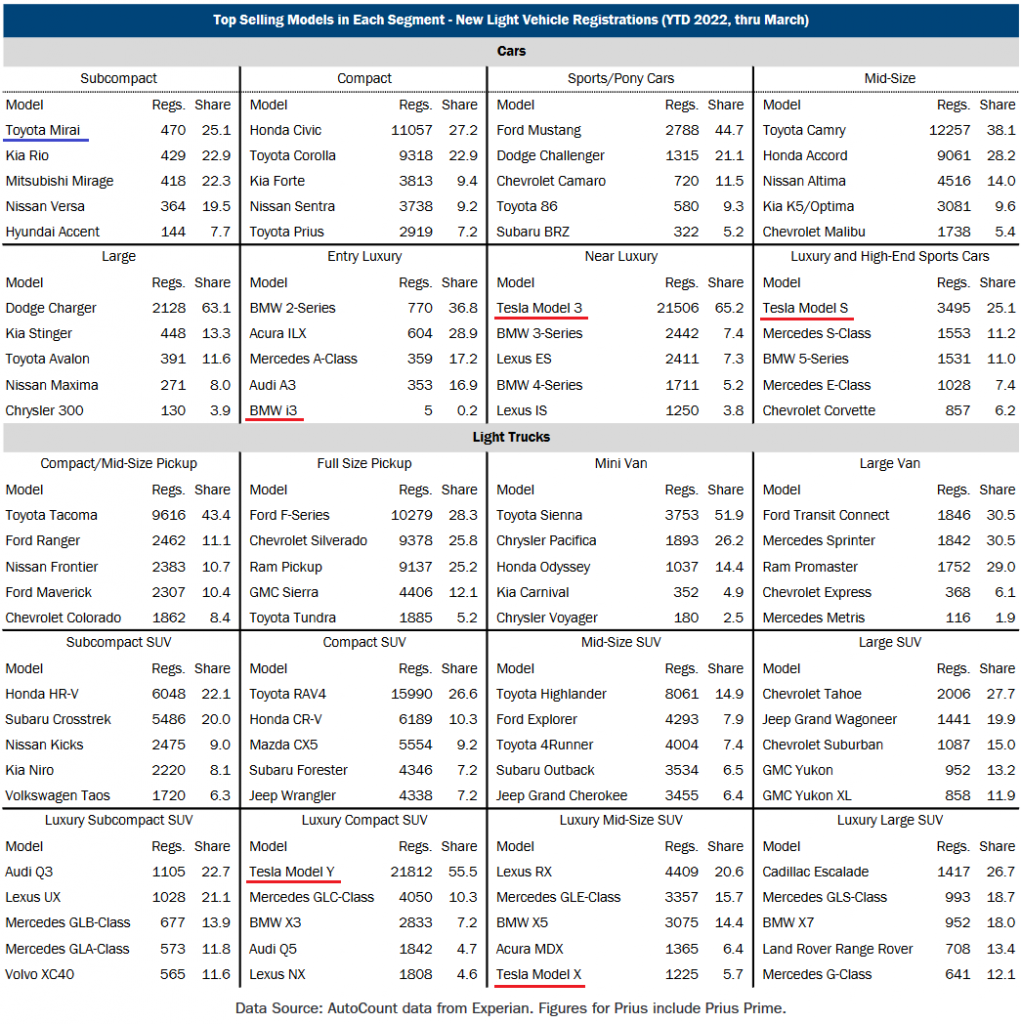 Top Ten Plug-In Models In California:
Tesla Model Y
Tesla Model 3
Tesla Model S
Hyundai Ioniq 5
Ford Mustang Mach-E
Toyota Prius Prime
Tesla Model X
Jeep Wrangler 4xe
Nissan Leaf
Volvo XC90
Another worth mentioning is the Hydrogen fuel cell-driven Toyota Mirai, which made its debut on the scorecard, being first in the subcompact segment with 470 sales in the first quarter.
What To Expect In Coming Times?
Tesla sales are astounding, giving a clear understanding of how the automotive company is gradually capturing the market. It is interesting to note that no other model from any automotive company sold more than 20,000 cars in any segment. Tesla Model 3 and Model Y registrations account for 21,506 and 21,812, respectively.
The report on first-quarter sales summons the prospective buyers to get an insight into how the automotive companies are scoring on numbers. However, the challenges to delivering on time and succeeding in performance still lie in question. It would be interesting to see how all plug-in vehicles perform in the coming times.
Please share your thoughts on the current state of the electric auto industry in the comment section down below.