An interesting bug was detected at the newly opened Tesla V3 Superchargers across Europe, as non-Tesla vehicles were able to charge their vehicles free of cost. While this may seem like just another bug, a rental company actually showed a whole fleet of cars from various brands getting charged at one of these charging booths. Whether this is actually a software issue or is it the beginning of Tesla opening up to other brands charging at their stations is still unknown.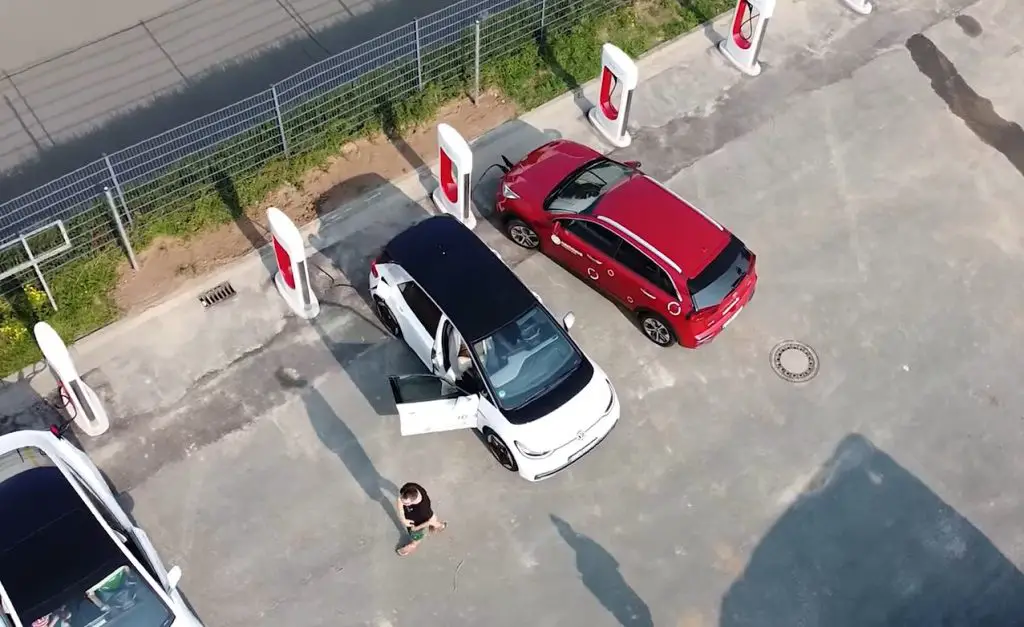 Tesla Bug Allows Non-Tesla Electric Cars To Charge For Free At Superchargers
Standard Charging Protocol For Tesla
In the United States, Tesla normally has a different connection port for their chargers, which can only be connected to Tesla charging stations. In Europe however, the EU has made it mandatory for all-electric vehicles to use the CCS port for charging, and so Tesla has had to make some changes for cars delivered to European customers, and to the Superchargers installed across the continent too. While all cars can be connected to these Tesla CCS chargers now, they cannot be charged unless they are Teslas. The reason for this is that the Tesla Superchargers contain a system known as a 'software handshake', where the Supercharger recognizes that the car connected is actually a Tesla, and only then does it start charging. This system is useful as the Supercharger then tallies the Tesla ID to the customer, which makes it useful to send out the bill. Through this structure, Tesla has a robust charging protocol, or at least had one, before the revelation in Europe.
What exactly is happening at European V3 Superchargers?
Recently, it was discovered that some of the non-Tesla owners tried to plug their car into a Tesla V3 Supercharger, and it actually charged the car. With no standard Tesla ID to recognize, the Supercharger software was unable to prepare a bill, which meant that the users got the charging done for free. The news spread quickly, and many people rushed to their nearest Tesla charging stations to check authenticity. Sure enough, the Supercharger scanned the vehicle software, and despite not finding the Tesla ID, it would still release charge. This was seen, however, at just a few booths at every station.
An electric vehicle rental company Nextmove decided to test it out on their own, and they put their entire fleet up to it. The vehicles that were tested were VW e-Golf, VW ID.3, BMW i3, Opel Ampera-e (Chevy Bolt EV), Hyundai Kona Electric, Hyundai IONIQ Electric, Renault Zoe, and Porsche Taycan. With a number of brands in this testing group, they were able to prove that it is actually true. While many are saying that this is just a bug that will get solved in no time, others say that this might actually be a Tesla initiative, that goes hand-in-hand with a new EU law.
The new law by the European Union
EU has announced a new law being brought in, that says that every new charging station that opens up in Europe should now have 1 or 2 booths that are open to charging all vehicles that have the CCS port. Some people are saying that this is just Tesla following the law, but why exactly are they providing the charging for free?
Tesla had mentioned in the past that they are open to sharing their charging stations in a bid to provide all-electric vehicle owners with fast charging facilities. With non-Tesla charging stations very sparse in Europe, this could accelerate the rate of increase in usage of electric transportation, and as a result, move the world towards a zero-emission future. Tesla had two conditions though –  the first being that all-electric vehicles will need to have standard charging ports that Tesla uses.
With the EU having made the use of CCS ports mandatory, this issue gets resolved. The second condition was that the other automakers should take part in raising the funds for the construction of these charging stations. With the new law in place, Tesla will now have to offer charging for cars of other brands, and so, they might be trying a new idea. By offering non-Tesla owners free charging at their Superchargers, Tesla is offering the world a glimpse into how well distributed a shared charging network could be.
We still don't know whether this is a bug or an initiative by Tesla. One thing we do know is that Tesla has the resources to integrate other automakers into their charging software and allow these brands to let their customers charge their vehicles through Superchargers. It is an excellent way of bringing the people to the negotiating table and write up a deal. Whether it actually gets implemented, or Tesla solves this 'bug' remains to be seen.