In the age of data, we have the statistics for virtually everything. This includes every single detail in any vehicle, and this paves the way for a lot of analysis. A similar analysis has revealed that there are far fewer fires in Tesla-made vehicles than the national average in the United States.
Tesla's Vehicle Fire Data says that, between 2012 and 2020, there has been 1 vehicle fire for every 205 million miles travelled. That is a little more than 330 million kilometres for all metric system users. In comparison, the average distance travelled between fires in the United States is 19 million miles (30.6 million km). This figure is according to the data provided by the National Fire Protection Association (NFPA) and the US Department of Transportation.
Both the Tesla data as well as the country average includes vehicles fires caused by structure fires, arson and other unrelated aspects. So, vehicular faults causing fires are much rarer in both cases, which is a good thing.
Tesla's Fire Data
Of course, we cannot forget the fact Tesla vehicles are relatively much newer. In comparison, the vehicles considered in the country average have been around for a longer time. Hence, the chances of catching fire are higher for the entire country average. Still, Tesla boasts of quite a high number in this regard.
The Californian automaker has also released data from previous years. This data says that the figure was 170 million miles (273.6 million km) for 2012-2018 and 175 million miles (281.75 million km) for 2012-2019. This suggests that the average distance is increasing, which means vehicles are getting safer.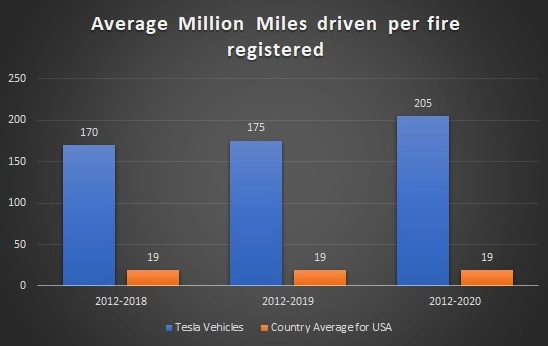 Of course, this data is not very extensive to draw any definite conclusions. There are a lot of variables, and the data also includes fires caused by unrelated things. Tesla being a relatively new brand also affects this. For example, high sales of Model 3/Y in recent years has highly decreased the average age of the cars, which alone could increase the number of miles per fire instance.
Our Opinion
There have been instances of electric vehicles catching on fire previously. Funnily enough, there have been so many quality issues in Tesla vehicles, that one would automatically assume that these instances would involve Tesla cars. That, however, is not the case. There were a few incidents last year involving Chevrolet Bolt, which caused the company to recall many vehicles.
In any case, it is pleasing to see Tesla showing much better statistics in this regard than the national average. It is expected that electric vehicles will be less prone to catching on fire than combustion vehicles, so the average distance between fires will only increase.