This last one month or so has been focused on Tesla bringing supercar-level performance in a production vehicle. The Plaid variant of the Model S has three motors and completes a 0-60 mph (96.5 kph) acceleration in just 1.99 seconds. For any production vehicle, anything under two seconds is uncharted waters. But among all the hype of the Tesla Model S Plaid, there was a Croatian electric hypercar that went unnoticed. It did make a few headlines with its acceleration timing, however, and yes, it is quicker than the Plaid. It is the Rimac Nevera, and it can go from 0 to 60 mph (96.5 kph) in 1.85 seconds.
Rimac is a Croatian automaker that focuses on delivering the highest level of performance in an electric vehicle. They manufacture a major fraction of its components in-house at its headquarters in Sveta Nedelja, Croatia. The company focuses on manufacturing not only electric supercars but also electric drivetrains and battery systems.
Rimac Nevera – The Beast Unleashed
The production version of Rimac's C-Two concept, the Nevera has been designed, engineered and handcrafted in Croatia. Rimac has taken the name Nevera from a Mediterranean storm that hits the coast of Croatia. Technology may be its brain, but it's a vehicle at heart, not a computer on wheels like many other electric vehicles.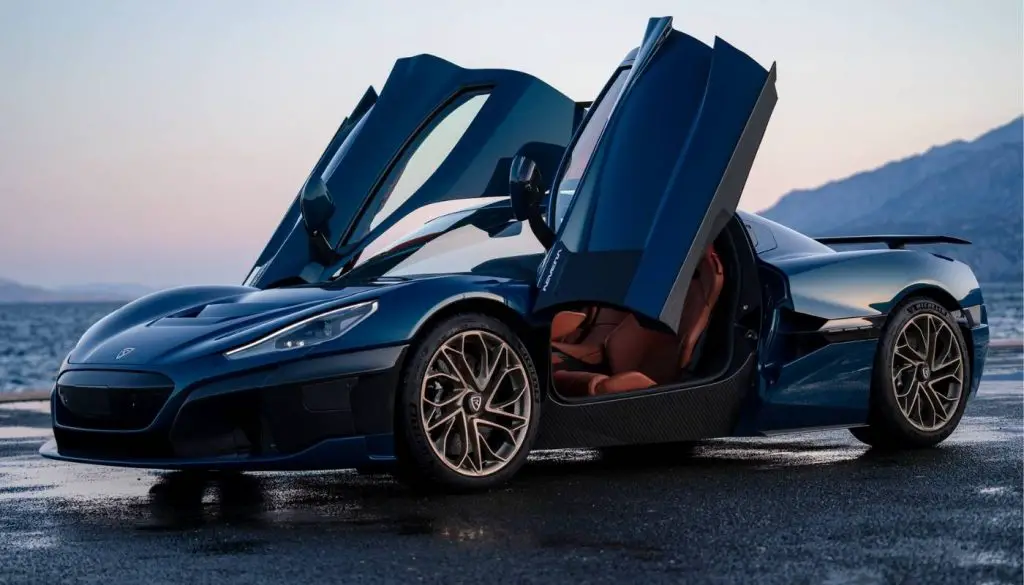 The Nevera has a quad-motor powertrain, with one motor driving each wheel. The front two motors deliver 340 horsepower each, while the rear motors are capable of 612 horsepower individually. Together, the powertrain gives an output of 1914 horsepower and a torque of 2360 N-m. The Nevera has a lithium manganese nickel battery with a capacity of 120 kWh. According to Rimac, the range is around 550 km (340 miles). Fast-charging technology allows 0% to 80% charging in just 22 minutes. Rimac has promised a capability of 500 kW of charging power when it is possible.
Safety systems include torque vectoring with traction control and stability control and ADAS hardware with 13 cameras, 6 radar sensors and 12 ultrasonic sensors.
Drive Experience
All this boils down to some amazing performance on the track. Getting into Track Mode ensures that maximum torque flows through the four electric motors. It doesn't dole out the entire power all at once, so the initial rollout is gentle. But after the first few tenths, the acceleration increases with speed. Basically, it gets quicker as it gets faster. This unnerving experience comes to an end when you pass the quarter-mile in just 8.6 seconds. You reach 300 kph (186 mph) in 9.3 seconds, with a top speed of 412 kph (256 mph).
All in all, this beast feels like it just keeps providing power till the end. There is a feeling of unlimited power, and this gives an unnerving feeling to the driver.
Rimac Buys Bugatti from Volkswagen
Initially, Volkswagen owned Bugatti, the French supercar manufacturer. But yesterday, one of the biggest news from the automotive business industry came to the fore. Mate Rimac, the man behind the Croatian automaker, announced that Rimac and Bugatti have agreed to pool knowledge, technologies and assets to create some very special projects in the future.
Both companies will continue to operate as separate brands, so there won't be a Bugatti-Rimac badge. The aim of this venture is to develop the future of both brands by combining resources and expertise. This will directly employ 430 people when it all kicks off at the end of 2021 – 300 at the new Bugatti Rimac headquarters in Zagreb (on the recently-announced €200m Rimac Campus) and 130 at the Bugatti HQ in Molsheim, France.
Of course, both Bugatti and Rimac are working on projects at the moment – Chiron and Nevera respectively. The production and development of these two vehicles will continue as it is at the moment. Once Bugatti is done with the Chiron project, however, will they go all-electric? Maybe not, according to Mate Rimac:
"We will not simply be putting Bugatti badges on a Nevera, and we will not just be adding hybrid technology to the Chiron. We are developing something all new for Bugatti."
By the end of this decade, Bugatti will have two new models. To start with, there will be a combustion engine that is heavily hybridized. To add to that, there will be an all-electric model as well.
The Structure of this Rimac-Bugatti Venture
The funny bit about this deal is that no money has changed hands. They have formed the Rimac Group newly, which will be 37% owned by Mate Rimac, 24% by Porsche, 12% Hyundai Motor Group and 27% other investors. This Rimac Group will be the umbrella company for two companies – the Bugatti-Rimac venture and Rimac Technology. The Bugatti-Rimac venture has joint ownership – 55% with Rimac and 45% with Porsche. Rimac Technology, on the other hand, is 100% owned by the Rimac Group. It remains a fully independent company that will continue to work with a who's who of global car companies on EV powertrains, batteries and components.
Porsche is the lynchpin to this whole enterprise because really this is a joint venture between Rimac and Porsche. In return for its 45 per cent stake in the new Bugatti Rimac company (on top of the 24 per cent stake it already has in Rimac) Porsche, is taking Bugatti off its parent company, the VW Group's hands and bringing it into the joint venture.
Our Opinion
Rimac Nevera will probably be the beginning of a revolution. As and how companies start developing electric powertrains and battery technology, they will start realizing some of the hidden potential of electric mobility, and, as Mate Rimac mentioned, they can make some really exciting cars. Owning Bugatti has the added advantage of getting a lot of hypercar expertise. That, combined with Rimac's electric vehicular technology, will truly open the doors for some interesting products.