Several complaints have popped up regarding the reduced supercharging speed of the Tesla Model S 85 kWh pack. A video claiming that the charging output has dropped by 30kWh after a recent software update by Tesla Model S has made its rounds on the internet. This article takes a deeper look at this supposed change and what does it intend to do.
Old Tesla's 85 kWh Battery Packs Suffer From Reduced Supercharging Speed
Why Is This Significant
Tesla rocked the electric car markets in June 2012 with the launch of their, then, latest Model S. After the success of the Tesla Roadster in 2008, Model S became one of the most awaited vehicles with 10,000 pre-bookings. The launch itself became historic as the event was kicked off by California's then Governor, and a long time supporter of Tesla, Mr. Jerry Brown's. What the Model S and in specific the 85 kWh version offered 8 years ago was breaking of the illusion that opting for an electric car was a downgrade from petroleum cars and the specs backed this up:
| | |
| --- | --- |
| Battery Capacity | 85kWh |
| Range(miles/hr of charge) | 300 miles |
| Top Speed/0–60 mph | 130 mph / 4.4 seconds |
The pinnacle of these features being the first EV equipped with the supercharging option, which charged the battery pack from 0 to 50% in 30 minutes, yes you read it correctly, in 30 minutes! Although this supercharging feature has come under a spotlight 8 years later in 2020, let's know why.
What Is The Crux Of The Matter
In 2020, several Tesla Model S (85 kWh variant) customers started to complain about a sudden fall in the charging rate after a software update. The Tesla Model S forum was filled with these complaints. Today we will take a look at Bjorn Nyland's report about charging power fade on the Model S 85 kWh, which in 2014 was good for up to 120 kW, but now owners report significantly lower charging output at Superchargers. Bjorn Nyland through a video shows the charging rate of his Tesla Model S (85 kWh variant) in 2014 and 2020.
The disparity in charging rates is noticeable, as depicted in the graph below: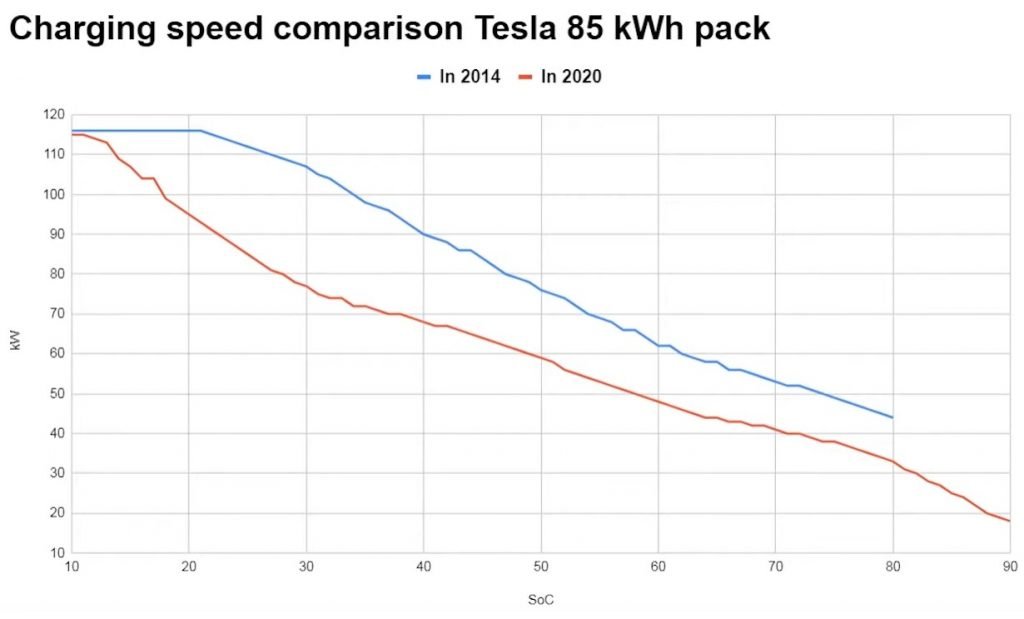 The charger output is constantly 30kWh lower in 2020 as compared with 2014, Bjorn Nyland's states that this drop in output was seen after the recent and mandatory software update by Tesla. The consequence of this lower output is visible in the time taken to charge the battery up to a certain percentage. Bjorn Nyland's went on to compare this time difference, refer the below image:
Note – SOC is the state of charge of the battery pack.
The key features of this image are as follows:
10-50% SOC takes 5 minutes longer(24 minutes instead of 19 minutes in 2014 )
50-80% SOC takes 7 minutes longer(31 minutes instead of 24 minutes in 2014)
10-80% SOC takes 12 minutes longer (55 minutes instead of 43 minutes in 2014)
At the first glance, this time difference may seem inconsiderable but after taking into account that on a long trip, consider 200 miles, a customer may have to charge the vehicle, from 10 to 50% a minimum of 4 to 5 times. This would take almost 20 to 25 minutes longer now as compared to 2014.
Why Has Tesla Reduced The Output Of Their Charger
We consider two main factors:
Chemistry: The Tesla Model S (85 kWh variant) consists of the Tesla patented battery pack design.

The battery pack consists of 16 modules with 6 groups of Panasonic 18650 cells in series (402 volts, 7104 cells). These are Li-ion cells. We know that over time the lithium-ion batteries gradually lose capacity, as well as charge/discharge power output, although the rate of degradation highly depends on various factors, from basics like temperature, through use (how many cycles and what cycles in terms of power, depth-of-discharge), available state-of-charge (SOC) window and on the particular chemistry.
This can be visualized by the following image:
This loss of capacity and charge/discharge output is accelerated by continuous supercharging and this may be one of the reasons for reducing the charger output by Tesla.
Battery Pack Failure
Last year A Tesla Model S 85 customer registered a lawsuit against Tesla claiming the company limited the battery range older Tesla S models. To which a Tesla spokesperson explained that this change was about through the software update to deliver the best possible customer experience with the highest regard for safety. Tesla said, "A very small percentage of owners of older Model S and Model X vehicles may have noticed a small reduction in range when charging to a maximum state of charge following a software update designed to improve battery longevity,".
It added that it was working to mitigate the impact on the range for affected owners and "have been rolling out over-the-air updates to address this issue since last week." The spokesperson further added that this change was brought about after a Model S caught fire in Hong Kong which led them to revise the charge and thermal management on the said Tesla models.
The lawsuit further stated that "Under the guise of 'safety' and increasing the 'longevity' of the batteries of the Class Vehicles, Tesla fraudulently manipulated its software with the intent to avoid its duties and legal obligations to customers to fix, repair, or replace the batteries of the Class Vehicles, all of which Tesla knew were defective, yet failed to inform its customers of the defects".
Another factor to consider is that Tesla had initially offered an 8-year warranty on the battery packs. In light of this warranty ending in 2020 for the first lot of Model S a move to ensure the safety and longevity of these battery packs is possible.
Was Tesla Right In Reducing The Charger Output
Honestly, there is no straight answer to this and it is up to individuals to decide. To sneak this change through a software update without prior notice to the owners isn't the best move although a safe one.