Whenever we talk about electric cars, it is almost always about the United States of America, which has seen a lot of EV start-ups, or China, which is arguably the biggest market for electric cars. Many people also talk about European countries, especially Germany, which is also seeing a shift towards electric mobility. But what many people don't know is the shift towards electric vehicles happening in Norway.
Norway has announced that it will be looking to discontinue the sales of combustion vehicles by 2025. This means that their aim is to ensure that all vehicles sold in the country after 2025 will be either battery electric vehicles, plug-in hybrids, or plugless hybrids. And to facilitate this, they have started giving EV customers a lot of benefits.
Norway: Pioneering The Shift Towards Electric Mobility
Benefits for EV Owners In Norway
In order to completely stop the sales of fossil-fuelled vehicles, it was important for the Norwegian government to provide benefits for buying electric cars. And they have. The government started handing out incentives way before electric vehicles were even popular.
Electric vehicle owners have benefitted since the turn of the millennium. The government minimized road taxes and removed the charges for toll roads and public ferries. Some municipal parks even offer free parking for electric vehicles. There is a 25% sales tax for buying automobiles in Norway, but this was removed for new EV owners in 2001. Since 2005, EV owners can drive in the bus lanes.
While the government started this electric vehicle revolution, private companies have started investing heavily as well. The government had a plan for reaching 50,000 zero-emission vehicles on the road, and this happened three years earlier than planned. And this hasn't provoked the government to take away these incentives yet.
Green Energy in Norway is Actually "Green"
Despite being a major oil industry player, almost all of Norway's domestic energy comes from hydropower. Because of this, it is easier to switch to electric mobility. For countries whose electricity comes from high-polluting coal-powered plants, this "green" mobility does not turn out to be actually green. And Norway has invested heavily in the financial incentives and charging infrastructure.
And this belief in green technology is not limited to electric vehicles. The state-owned operator of a majority of Norway's airports, Avinor, has announced a desire to use electric-powered aircraft by 2030. Scandinavian Airlines have also teamed up with Airbus on hybrid research.
Electric Vehicle Sales in 2020
Despite the economic downturn caused by COVID-19 earlier this year, electric vehicle sales in Norway were less affected as compared to combustion vehicles. Later in September this year, battery electric vehicles (BEVs) accounted for 61.5% of the total registered cars in Norway. When you include hybrids, this total goes up to 89%. That is a staggering figure.
Now, the November numbers are out, and they paint a similar picture. The new registrations last month saw BEVs have a 56.1% share of the total market. Plug-in hybrid vehicles (PHEVs) accounted for 23.8%, while plug-less hybrids had a 9.5% share. The share of fossil-fueled vehicles reduced to a mere 10.5%. November 2019 had seen 27.1% of new registrations being combustion vehicles, so there has been significant progress in the past year.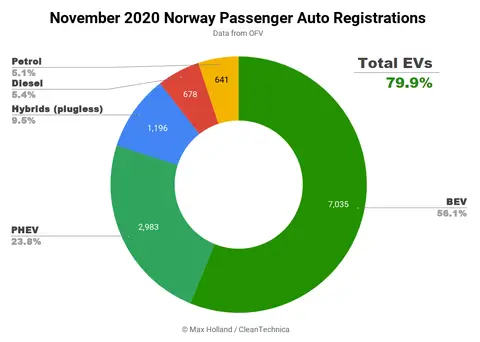 The 10.5% share of combustion vehicles in November is a new record low in Norway, beating the previous 11.1% seen in September. Right now, the cumulative year-to-date plug-in share stands at 73%, which is up from 56% this time last year. This just proves how much the share of the electric vehicle market is increasing in every month.
But Is Tesla Leading This Market Switch?
Tesla is a name that pretty much comes up in every discussion about electric vehicles. But countries like the Netherlands and Norway are considered to be the "greenest" car markets, and for quite some time now, Tesla is struggling in sales in these countries. In November 2020, the sales number for the Californian automaker were astonishingly bad. Normally, the final month of any quarter is the best for Tesla, as they introduce some attractive ways to boost sales. But this hasn't been the trend in these countries.
For the first 11 months of 2020, Tesla's registrations have seen a 78% fall in the Netherlands and 75% in Norway. 2020's sales figures up to October show a peculiar stat – Tesla Model 3 is the highest-ranked Tesla in the list, and it sits at #5. Audi e-Tron, Volkswagen Golf, Nissan Leaf and Hyundai Kona are all above Tesla's current star, and that too by healthy margins.
One of the biggest reasons for this decline in Tesla sales is the increase in choices for European citizens. Norway is one of the most important markets outside China for electric vehicles. Many new vehicles consider Norway to be their first market. Cars like Volkswagen ID.4, Polestar 2, Ford Mustang Mach-E will enter Norway in the coming months. Add to that the already-existing models like Audi e-Tron, BMW i3, Hyundai Kona and Nissan Leaf are already dominating the market. Tesla is in for a tough battle here.
Our Opinion
The reason for so many brands to run to Norway for sales boosts is the number of incentives the government offers. With so many monetary benefits, it's a no-brainer that these many people are buying electric vehicles. This is the sort of market maturity that can definitely challenge Tesla if it reaches markets with larger volumes. Of course, this amount of incentives may not be seen in the USA or China, but once people understand that there are many more options, Tesla's market is going to get diluted.
Norway is slowly going to decrease the incentives for electric vehicles, but this should not affect their goal of discontinuing CV sales by 2025. And if other countries take note, then this electrification phase will go by much faster than expected.