We are no strangers to technological giants stepping into the automobile industry. With the advent of data and technology coming like a big wave, these companies have understood the potential in vehicles, particularly self-driving technology. Apple, in particular, has been making giant strides for the past few years. Other companies are also not too far behind. Sony is already working on a Vision-S concept car, and have already begun the testing on its vehicle.
Sony has been focusing on integrating its software prowess into making vehicles. Hence, you can expect a lot of attention to autonomous capabilities and integrated control of the vehicle. The Japanese company had already begun public road tests in Austria last December. Surprisingly, the project has been on the table for just two years now.
How Sony Managed a Working Concept Car in just Two Years
Sony's executive in charge of robotics, Izumi Kawanishi, said that a majority of their time went into actually firming up the concept. Because of this, the actual development period was quite small. Also, Sony did not have to deal with the unfamiliar combustion vehicle technology. Electric vehicles focus on software, and Sony is good at that. Agile development to adhere to changing production requirements is one of Sony's points of pride.
Sony has deployed agile development in technical fields such as human-machine interface (HMI), and vehicular communication like 5G. Automated driving saw relative success through agile development, according to Kawanishi. However, it was much harder to apply this method in traditional control processes, such as steering and motor control.
That is where they went back to the age-old method of trial and error. Combining these two methods of development helped Sony achieve its target. And that is where these mega-suppliers are improving. With better capabilities than traditional automakers, these 'technology-oriented' companies, without much experience in building vehicles, are developing automotive systems efficiently and quickly. Because of that, these companies, such as Bosch, Continental and ZF are producing entire vehicles, not just vehicular systems. Magna Steyr, another of these companies, has been doing that for years now. Magna Steyr, based in Austria, has actually helped Sony with the vehicular development as well.
Another important factor contributing to the rise of these companies is electric vehicles. It would be incredibly difficult for an electronics company to produce a combustion vehicle in such a short time. There are a lot of other complications when it comes to internal combustion engines. On the other hand, for developing an electric vehicle, a company can procure motors and batteries and design the remaining systems around it.
Sony's Vision in the Automobile World
Sony is currently working on its concept car, known as Vision-S. One of its major goals in the development of this car is to improve image sensor operations. Autonomous driving has sensors at its very core, and this is currently in the development phase. However, having managed to develop its own vehicle, it can evaluate performance and understand what it can offer to beat the competition.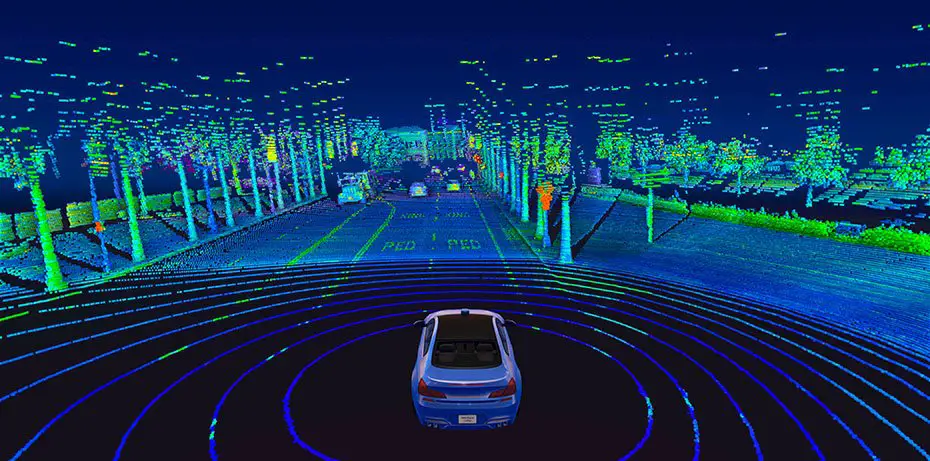 Sony is also developing its own LiDAR (Light Detection and Ranging) system. This will expand the scope of its driving sensors. Advanced driver-assist systems (ADAS) is one of the five main sectors in the core electronic platform of the Vision-S. And to develop robust ADAS, sensor-related technologies will be very important. Sony has said that it will mainly divert its attention to sensor recognition technology. The decision-making control systems will be managed by other companies.
Developing an entire vehicle is not an easy task for an inexperienced company like Sony. Hence, they have decided to take help from companies who have been here for some time now. Artificial intelligence-based semiconductors will be taken from AImotive, a Hungarian company. Nvidia will supply systems-on-a-chip processors and automated driving software.
Increasing the overlap between Sony's Existing Businesses and Self-Driving Cars
This is another aim Sony is looking to achieve with the Vision-S concept. We have already mentioned HMI and communications before. The vehicular communication will be based on a Qualcomm 5G chipset, similar to what Sony uses in the Xperia smartphone. This chipset is already compatible with Sony's existing businesses.
Both HMI and communications will use an onboard ethernet in the vehicle. This will have a data transfer rate of up to 1 gigabit per second. This is crucial for Sony's method of agile development. Automotive networks are typically limited to a few hundred kilobits per second, so this ethernet will provide a nice cushion for the systems engineers. They can focus on software development without worrying about slow data transfer speeds. The ADAS and vehicle movement will also use the ethernet, but Sony has limited its application to 100 megabits per second.
The idea is to develop the vehicle as a "personal internet device". Given that there are very few large-scale internet services in the auto industry, Sony can play this to its advantage. In the future, if Sony develops mobility services, then charging fees based on distance travelled or amount of power used can become easy.
Focusing on Ride Comfort alongside Performance
Ride comfort will be a major area of focus for the Vision-S. This will include noise-cancellation, which is a Sony speciality. Apart from this, they also control the spring constant in the suspension setup to cancel out vibrations caused by irregularities on the road. Sensor technology once again comes to the fore, to measure unevenness on the road.
This comfort will also include an integrated control of the drive motor and batteries. This will incorporate controlling front and rear acceleration with the motor while simultaneously suppressing vertical and horizontal vibrations in the suspension.
What Does the Future Hold for Sony?
Sony is thinking about mass production, but that will take time, if it happens at all. The reason is clear – it is easy to develop a single prototype, but dealing with the supply-demand balance of mass production is always risky. Ask Tesla. Of course, Sony could outsource production to more traditional companies, like Apple is trying to do. But Kawanishi said that the goal behind developing a vehicle is to understand the structures of cars, not mass production.
Moving towards mass production will also impact other ventures of Sony's business. If Sony were to begin mass production, its car would become a competitor to other customers of its sensor business. And don't forget the financial risks in this kind of project. Huge investments are required, and one small mistake in the design could damage the brand.
This does not mean that this won't be possible in the future. There are already signs that horizontal division of labour is expanding. Taiwanese company Foxconn, a major manufacturer of iPhones, has announced that it is working on an EV platform. More than 1,200 companies have said they would participate in Foxconn's EV platform development concept.
All in all, the face of the automobile industry is changing. Companies that acted as suppliers are now stepping into the development of an entire vehicle through the integration of the various systems. And with the horizontal division of labour getting accepted, it won't be long before companies like Apple and Sony, with the help of some automotive companies, make waves in the automobile industry.