With the advent of improving battery and motor technology, many companies are working on their own performance-oriented battery electric vehicles. While many of these are mostly prototypes or concept vehicles, some companies are finding ways to integrate high performance into passenger vehicles too. Tesla recently began deliveries for the Model S Plaid, and it may very well redefine the high-performance sedan segment. However, the concept prototypes coming from other companies aren't far behind in their vision either.
Tesla Model S Plaid vs Ford Mustang Mach-E 1400
Ford, for instance, has developed a purely performance-focused electric Mustang. Named as Mustang Mach-E 1400, it follows into the steps of the all-electric Mustang Cobra Jet 1400. Ford worked on the concept of the Mustang Mach-E 1400 in collaboration with RTR Racing and unveiled the prototype last July. The most striking feature of this prototype is a targetted peak power output of 1400 bhp and downforce of more than 1000 kg (2204 lbs). Recently, Ford CEO Jim Farley took a test drive, and he was definitely impressed.
I can confirm the all-electric #MustangMachE 1400 is an absolute machine. Thanks @FordPerformance for letting me test drive it. pic.twitter.com/NOgtk4ZOhO

— Jim Farley (@jimfarley98) June 12, 2021
Having posted a video of him driving the prototype, he received a bunch of questions about this vehicle. Among them was a fan asking if Ford will race the Model S Plaid for 'bragging rights'. Farley seemed to think that it was a good idea.
Good idea

— Jim Farley (@jimfarley98) June 12, 2021
Ford Mustang Mach-E 1400 Powertrain
Ford's entire idea of developing this vehicle along with RTR Racing is to challenge perceptions of what electric vehicles can do. Its aim is to unlock the maximum potential of a vehicle through performance tuning and advanced electric technology. Ford is targeting a peak output of 1400 bhp. But it is the powertrain design that has raised quite a few eyebrows.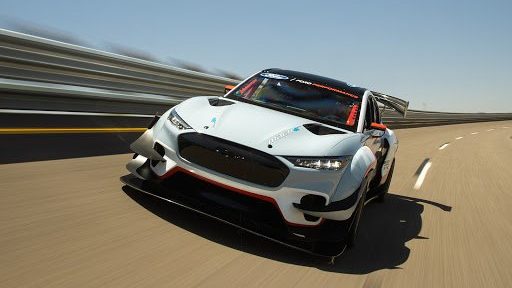 The Mach-E 1400 has seven electric motors. Even the top-end Mustang Mach-E, the GT version, has just two. Of these, three are attached to the front differential, while four are attached to the rear in pancake style. A single driveshaft connects these rear motors to the differentials, which allows for a huge range of adjustability. Because of this, the Mustang Mach-E 1400 can do everything from drifting to high-speed track racing.
The chassis and powertrain interlink with each other in a way to provide different layouts such as rear-wheel drive, all-wheel drive, and front-wheel drive. This helped the team a lot in the development phase while testing the different settings. Drift and track setups have completely different setups for the front-drive configuration. This includes control arms and steering changes which help with extreme steering angles while drifting. Thanks to the enormous number of motors, the system can split the power whichever way you want it to, be it 50:50 or completely towards the front or rear.
Battery Design
Being a high-performance vehicle, Ford has decided to go with nickel manganese cobalt pouch cells in the battery pack. These cells are known for ultra-high performance and high discharge rate. The battery capacity is 58 kWh, and the pack cools down during charging, thanks to a dielectric coolant. This means you won't have to wait long between runs.
Other Systems
Ford has integrated an electronic brake booster into the system. This will form a series of regenerative braking with the ABS and stability control to optimize the braking system. The vehicle has Brembo™ brakes as in the Mustang GT4 racecar. It also has a hydraulic handbrake system for drifting. This integrates with the powertrain to shut off the rear motors if required.
This prototype will also serve as a testbed for new materials. The hood comprises organic composite fibers, which is a lighter alternative to carbon fiber. The remaining body, however, still has carbon fiber.
Ford has built this vehicle with no rules – they have gone about designing the absolute performance beast. Most of the tools have come from Ford race cars and production programs, as Ford and RTR have tried to make the ultimate collaboration. Aerodynamics are optimized for shape and location, with a focus on cooling ducts, front splitter, dive planes, and rear wing. This generates close to 2300 lbs (1043 kg) of downforce at 160 mph (258 kph).
This vehicle is the result of 10,000 hours of collaboration, and there is one major aim – bridging the gap between what an electric vehicle can do and what people generally believe it can.
But Is It a Model S Plaid Challenger?
It is really hard to compare the two vehicles. The Mustang Mach-E 1400 is a testing prototype, something which Ford has manufactured to show what an electric vehicle can do. But it isn't necessarily what an electric vehicle can do on the roads again and again. It is built for the track.
The Model S Plaid, on the other hand, is a performance beast but also seats five people. Tesla has built it for maximizing the potential of passenger vehicles. Of course, it delivers killer performance on the track too, but that isn't the focus here.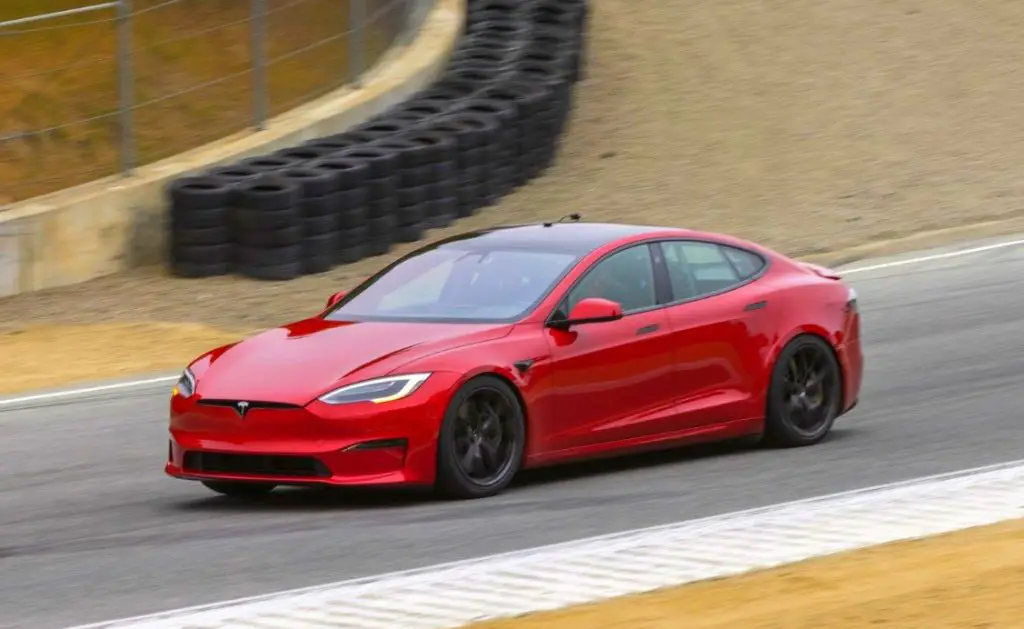 Then again, both vehicles can put up some beyond-impressive quarter-mile performance. Tesla has claimed a quarter-mile timing of 9.23 seconds. Till now, Ford has managed a 10.78-second quarter-mile. So it isn't close at the moment. However, since it is a one-off project, Ford can make tweaks and make this vehicle much more competitive. The powertrain will definitely allow for a lot of tweaking, that's for sure.
Our Opinion
One thing is for sure. With Ford developing this kind of vehicle, the future of high-performance electric cars looks promising. Tesla and Lucid challenged perceptions with the tri-motor powertrain, but this seven-motor configuration is something else. Made strictly for the track, the 3-4 front-rear setup will allow for a number of iterations. A lot of test data can be generated through this kind of powertrain, and then Ford can try to get the best option and put it in a production car.
And this is something that many companies can actually follow. Develop a powertrain completely oriented towards track performance. Add a number of motors and different battery options and test the vehicle on the track. Design the setup in a way that allows for a number of iterations without making any major changes. Then based on the data, select a configuration, or two to three configurations and fit them into a production car.
Something like this will definitely take the future towards performance-oriented electric mobility solutions.