Elon and Twitter are a perfect pair in many ways. He uses the platform to tease, hint, and flirt about various updates. A single tweet sends us Tesla fans into a frenzy. He's done it again! Elon has hinted at a new 'V11' software update. Here's the tweet Elon put out:
Tesla holiday software release is ??

— Elon Musk (@elonmusk) November 18, 2020
The new software update should release around Christmas. Tesla released its last software update, V10, in September. V10 brought UI changes, Tesla Theater, Karaoke, etc. There were many improvements to existing features inside Tesla vehicles for free. Last week we reported about the 2020.44.10.1 Software Update. Here's a summary of the last update. You can check the detailed report here.
AUTOPILOT SPEED SET will now have multiple options. These settings can be set by adjusting Controls > Autopilot > Set Speed. The options include SPEED LIMIT and CURRENT SPEED.
SPOTIFY IMPROVEMENT: you can control Spotify using their logged-in devices. The update includes collaborative playlists and podcasts. Tesla also added the Spotify home tab to the screen. Spotify on Tesla will also offer continuous playback.
MEDIA SOURCES: You can now have up to 7 media sources available at one touch. As per your preference you can reduce these sources to a minimum of 3.
Subtle improvements to the UI like multiple languages. On tapping the notification, Model 3 UI will redirect to the manual, etc. There is also a hidden feature regarding the range of the car.
The V11 Software expectations
Naturally one of the replies was asking about hints. Elon again teased about hints. He replied,  "So many things you want & some you didn't know you wanted"
So many things you want & some you didn't know you wanted

— Elon Musk (@elonmusk) November 18, 2020
The tweet clearly indicates that Tesla will release "many" features that have been requested. Along with these, there will be new features that we don't know about yet. What are these requested features that could feature in the V11?
We reported about the "vector-space bird's eye view." It is coming to Tesla vehicles under the FSD package. The observer is imagined from the perspective of a bird flying over the object or the scene. This feature will primarily be used for parking assist but isn't limited to that. We may see this in the V11.
Video conferencing is another interesting feature that could be in the V11. Tesla already has an in-car camera. We reported about the data it collects. Tesla had put out a statement regarding the camera. The statement was as follows:
"Help Tesla continue to develop safer vehicles by sharing camera data from your vehicle. This update will allow you to enable the built-in cabin camera above the rearview mirror. If enabled, Tesla will automatically capture images and a short video clip just before a collision or safety event to help engineers develop safety features and enhancements in the future. As usual, you can adjust your data sharing preferences by tapping Controls > Safety &Security > DATA Sharing > Camera Analytics." However, Elon had said that it could also be used for native video conferencing. Video conferencing became a requirement during the pandemic. As a result, we expect to see it in the new software release.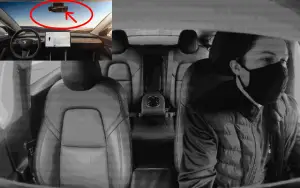 Elon had also mentioned Tesla's being able to speak. Tesla will use external speakers for this. The feature may make custom sounds for pedestrians. Here is a video of a Tesla talking,
Teslas will soon talk to people if you want. This is real. pic.twitter.com/8AJdERX5qa

— Elon Musk (@elonmusk) January 12, 2020
Tesla Arcade
Tesla had listed jobs for the following via their website:
Video Games Engineer, Infotainment Software
Software Engineer, Mobile
Software Engineer, Vehicle User Interface (C++)
Rendering Engineer, Software Infotainment
Here's the job description for video game engineer,
"Tesla strives to make its cars the most fun possible; bringing video game experiences to the car help increase that fun. In this incredibly rare opportunity to help build a video games platform, we are looking for a highly motivated software engineer to help enable the best video game content to be available in-car. Come put that industry experience to great use and help us build this platform."
The V11 may feature some video game updates.
Other possible features
Tesla fans always speculate about the updates. One such fan listed out the features he thinks the V11 may have.
#Tesla v11 holiday software update hints so far :
– vector-space bird's eye view
– enlarged camera view when backing up
– video conferencing
– sentry mode update
– camp mode update
– custom sounds for pedestrian noisemaker

What else ?

— TESLA_saves_lives (@SavedTesla) November 18, 2020
We also reported about the better Range 4D-Radar. The software release may have the locked code for it. Tesla has promised various autonomous features. The V11 may unlock some of these. Tesla always has a trump card in their updates. Let's wait and watch what it is this time. We will report the V11 features as soon as Tesla releases it. Stay tuned for more!