For the last few days, there have been rumors going around about Apple and Tesla. The rumors suggest that Apple could have bought Tesla a few years back, and they could have done it for a very low figure at the time. Elon Musk has confirmed these rumors, saying that Tim Cook, the CEO of Apple, would not even take a meeting with him at the time.
Interestingly enough, Apple could have bought the Californian automaker at a price that was 1/10th of its current net worth.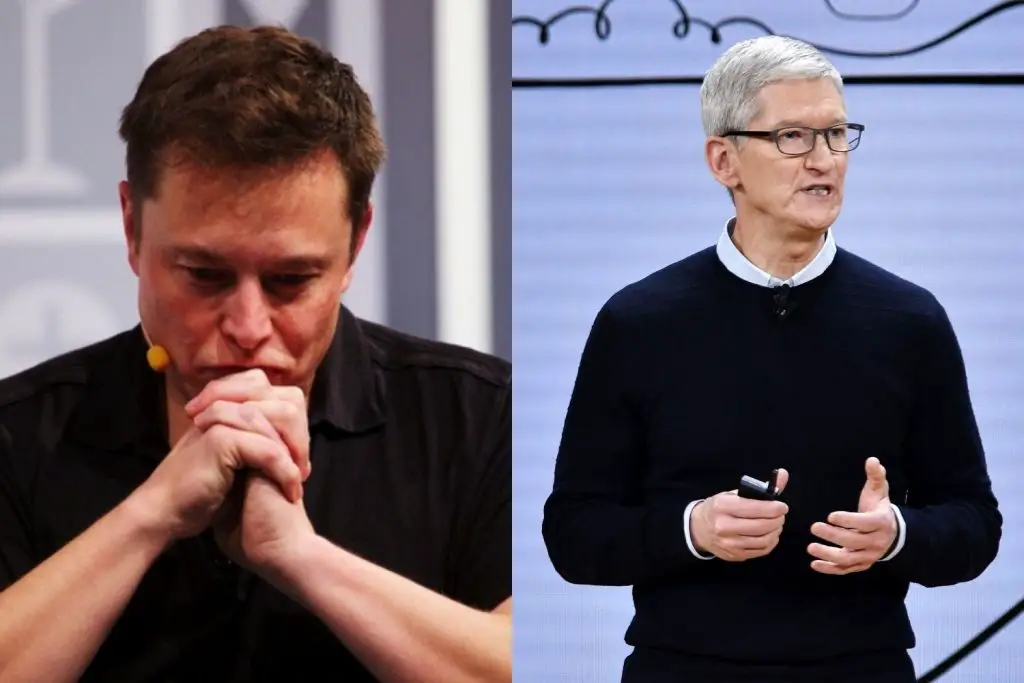 Apple Could Have Bought Tesla For A Fraction Of Its Current Net Worth; Tim Cook Refused To Even Take A Meeting
The Tussle Between Apple and Tesla
There have been a lot of rumors between Tesla and Apple in the past few years. These rumors increased when Apple started its automobile venture. In 2014, Apple started a project called "Project Titan", and they had more than 1000 employees working on it. This project was focused on developing an electric vehicle.
There were many news articles at the time, which said that Apple was hiring ex-Tesla employees to work on Project Titan. And thus, the battle for talent between two of today's biggest companies (in their respective fields) began.
Elon Musk went on to say that Tesla employees would call Apple the "Tesla Graveyard". People who couldn't make it at Tesla went to Apple. And he was dead serious when he made these statements. He did mention that Apple entering the automotive world was good for competition. But the "trash-talk" attitude was evident.
The Story Of The Sale
Back in 2013, Tesla was struggling with the ramp-up for the Model S production. It is known through Elon Musk's biography that he had a deal with Larry Page, the head of Alphabet, which is the parent company of Google. Alphabet was going to purchase Tesla at the time, but the deal fell through.
In order to seek competing bids, Musk had approached Apple. There were rumors that he had even met up with Apple's mergers and acquisitions chief Adrian Perica. But Tesla eventually managed to pull through it on its own. However, their troubles weren't over yet.
According to Musk, during the darkest days of the production of Model 3, he approached Apple again with a similar offer. But, he was unable to get a meeting with Tim Cook, which Musk confirmed through a tweet recently:
During the darkest days of the Model 3 program, I reached out to Tim Cook to discuss the possibility of Apple acquiring Tesla. He refused to take the meeting.
At that time, Tesla's total market value would have been $60 million. Today, Tesla stands strong at $627 billion.
Apple's Current Automobile Plan
Ever since 2014, Apple has been working on this "Project Titan". They have been using Lexus SUVs to test their autonomous systems. They made a $1 billion investment in Didi Chuxing in 2016, a ride-hailing service company which dominated 80% of the Chinese market at that time. Uber then merged their Chinese operations with Didi Chuxing, further increasing the value of Apple's investment. They then purchased Drive.ai in 2019, which is an electric vehicle start-up.
We reported last week that Apple is working with TSMC (Taiwan Semiconductor Manufacturing Company) to produce self-driving chips for its cars. All this says one thing about Apple – it is getting ready to enter the automobile market.
Implications Of Apple's Entry Into The Industry
Tesla's domination in the electric vehicle industry has been on the back of a technological revolution in cars. They have taken it as a technological race, which is why traditional automobile companies are finding it hard to compete. But the entry of Apple could shake things up quite a bit.
Apple is one of the, if not the biggest, technological players in the world right now. And they have been reportedly working on their own 'Car Tech' for close to 6 years now. While this may not mean that they will be a Tesla rival immediately in terms of vehicle design, the size of the company is sure to make an impact. And if they decide to design self-driving systems while pairing up with an automobile company for the vehicle design, they will surely prove to be a huge obstacle in Tesla's current trajectory.
Our Opinion
It is clear that Apple has done a lot of work on Project Titan. They have kept it all under wraps, which is why it is hard to predict a timeline of their entry into the market. Apple recently managed to make a big breakthrough in battery technology, and some sources say they could start production of their own vehicle as early as 2024. Having hired automotive engineers who have previously worked at Tesla, Land Rover and Aston Martin, they seem to have a team ready.
Elon Musk has ridiculed Apple's entry into the market in the past. Even now, he says that their battery technology breakthrough could be similar to Tesla's newest battery design. But among all these statements, it is very clear that Elon Musk has an Apple-sized chip on his shoulder.