There has been a lot of talk regarding Tesla bringing a "refreshed" version of the Model S. Some people on Twitter have been talking about it for a long time now. They have also spotted certain things to predict an upcoming version for Tesla's premium sedan. And now, they have received one of the biggest indications that the 'refresh' is actually coming.
Tesla Model S "Refresh" Spotted Near Tesla's Silicon Valley HQ
A Tesla Model S "Refresh" with a wider body, an updated rear diffuser and some new wheels was spotted near the company's Silicon Valley-based headquarters on New Year's Day. Photos of a blue Model S with chrome-deleted trim and a visibly-wider stance went viral. This could provide further validation that Tesla's flagship sedan is on course for its long-awaited design update. This also includes Tesla's next-generation Tri-motor Plaid Powertrain.
The Sighting
Ryan Levenson, a famous Youtuber spotted this Model S with manufacturer plates on Friday, early afternoon, near the intersection of Arastradero Road and Purissima Road in Palo Alto, California. This is the first known sighting of an updated Model S on public roads since Tesla's September 2020 teasing of the Plaid Model S.
The Arastradero Road near Tesla headquarters is a common place to see Tesla prototype vehicles. This has become a pathway synonymous with an unofficial testbed for new vehicles and Autopilot development.
Matte black window trim is seen on the Model S Refresh, which suggests that Tesla will be doing away with chrome trim altogether. They will likely upgrade future versions of its flagship Model X SUV with similar "chrome delete".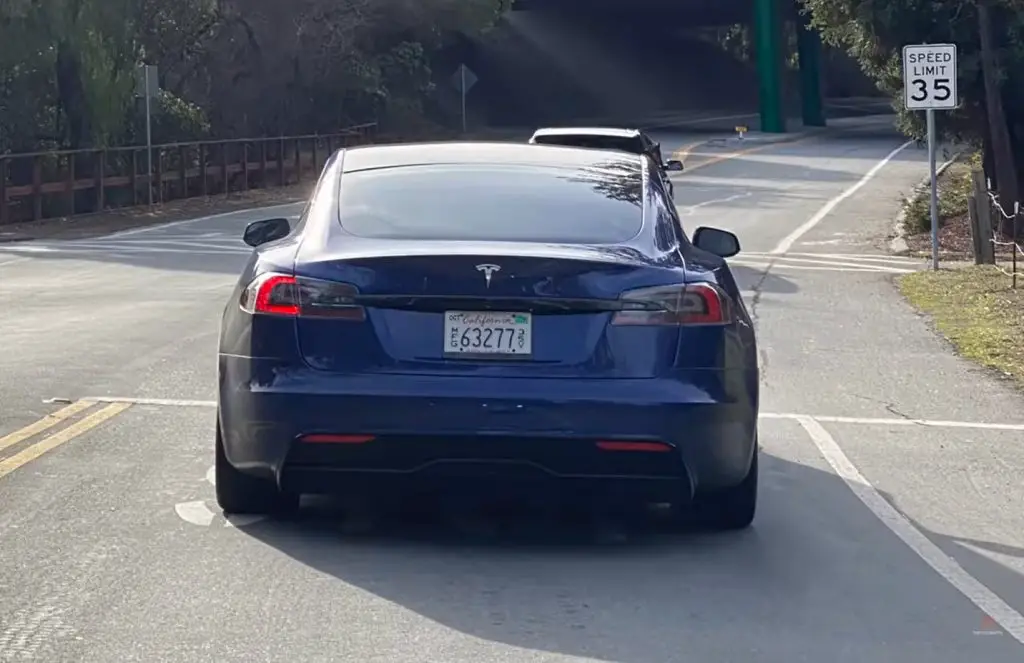 Design changes to the Model S, however, seem quite minimal. It's not clear if Tesla will be making any significant updates to the front bumper design for production of the Tri-motor Model S. The sightings of the race-ready Nürburgring Model S suggest that additional cooling vents and a slightly more aggressive lower lip would be the extent of it.
The Tri-Motor Plaid Version
The Plaid version is something that Tesla has brought in after the Ludicrous mode. This version is pretty much a track model of the luxury sedan. The track-ready version is setting some serious records across different racetracks.
CEO Elon Musk unveiled the Model S Plaidduring Tesla's "Battery Day" event in September 2020. The tri-motor version of the Plaid variant is capable of producing power up to 1100 bhp. This car will have a top speed of over 200 mph, run 0-60 mph in under 2 seconds, and will have a driving range of over 520 miles. The range-topping electric sedan will also be capable of running the quarter-mile in under nine seconds.
With the third motor in place, the vehicle will benefit from torque vectoring. The ability to control what the wheels on opposites sides of the car are doing provides for some fascinating handling possibilities.
It's unclear if the Model S Plaid will use a one-two motor setup for front and rear, or vice versa. Either way, a three-motor Model S is a very interesting prospect. And, the three-motor Plaid setup will make its way to the Model X crossover and the Roadster, too.
Delivery of Tesla's Model S with Tri-Motor Plaid powertrain is expected to begin in late 2021. It will start at a price of $139,990, making it the most expensive Tesla yet.
Our Opinion
One thing is quite clear. Tesla will not be using different design beds for different variants. So, if they need to change the transmission setup for the Plaid version, then all Model S variants will get a hardware upgrade. It has been a long time since the Model S got one, and so, this spotting might be the first of many such 'refreshed' Model S sightings. Till then, we can just wait and watch.