Tesla announced the launch of the 2021 version of the Model 3 around three weeks ago. There were many speculations regarding the launch of this new variant, with many leaked pictures trying to understand the new features. A known leaker in China had first reported the imminent changes in the new version of the Model 3. At that time, it was reported that features such as a new steering wheel, center console, and powered trunk would be included.
Tesla Model 3 Refresh Delivered Early, First Customer Review Out
After the first reports came in on September 15th, fans kept wondering about the launch of the new version. Finally, on October 16th, Tesla officially launched the new Model 3.
The following video shows a customer who got delivery early. He goes through the updated features, although a few of them have not been seen yet.
David Narayan's Story
David Narayan had made a reservation for his Model 3 a few months ago. He then put it on hold for some personal reasons. When he went back to check on his order, he realized that he could update his order to get the 2021 version. He then contacted Tesla regarding his delivery, and they told him that it would happen in early to mid-December. To his surprise, he got a text a few days later saying that his car was ready for delivery.
When he was picking up his Model 3, many Tesla workers there said that it was the first 2021 Model 3 that they were seeing. Apparently, David is one of the very first customers to receive the 2021 Model 3.
Features Revealed
Tesla has changed the wheels on the Model 3, as the Standard Plus variant (that David owns) has received an updated design. The new set of wheels apparently provides more aerodynamic efficiency.
The side-view cameras, rear-view mirrors, and the door handles have all received a chrome delete. The recent updates in the Model Y have inspired this change. The rear trunk is automatically powered, which allows for smoother usage.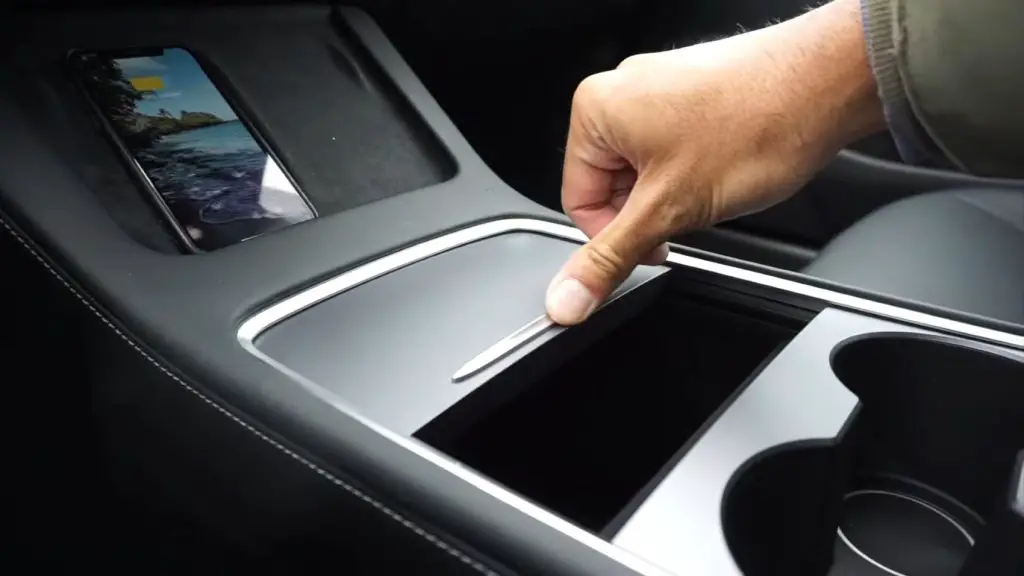 In the interior, the double-layer glass for the windows and the windshield has definitely improved noise isolation. The cabin is much quieter than before. The interior door handles are operated by a button now, as well. Steel knobs have replaced rubber knobs on the steering wheel, adding a durability factor to them. The middle console also consists of wireless phone charging, apart from the USB ports and the cup holders that were already there.
The glove box also comes with a 64 GB flash drive, as we reported last week. It also has a new locking system, which will prevent robbers from robbing your security tapes as well. A technician at Tesla also told David that the frunk now comes with a heat pump, thus improving efficiency in harsher climates.
2021 Model 3 Making Early Deliveries
There is a lot of news going around that the deliveries of many of the 2021 Model 3s are getting preponed. Apart from David Narayan, there also was a tweet from Hong Kong stating that 2021 Model 3s were seen ready to be delivered. These cars were manufactured in the Shanghai Gigafactory, and are right-hand drive vehicles. This means that the new version may soon be seen in Australia, Japan, and New Zealand, among others.
First made-in-China Model 3's with refreshed features spotted in Hong Kong https://t.co/M4kOrRtd6E

— Drive Tesla ?? (@DriveTeslaca) November 8, 2020
Our Opinion
It is good to see Tesla starting deliveries ahead of schedule for a change. Of course, these are just a handful of customers that have received their cars, but it's a start, at least. In David's video, there was no mention of some of the features like a heated steering wheel, updated headlights, or the changed color of the rear blinking lights.
David did mention in the comments that the steering wheel is not heated, though. So, probably not all features that were being discussed have made it into the car. But some of these small changes will definitely refine customers' experience of the Model 3.